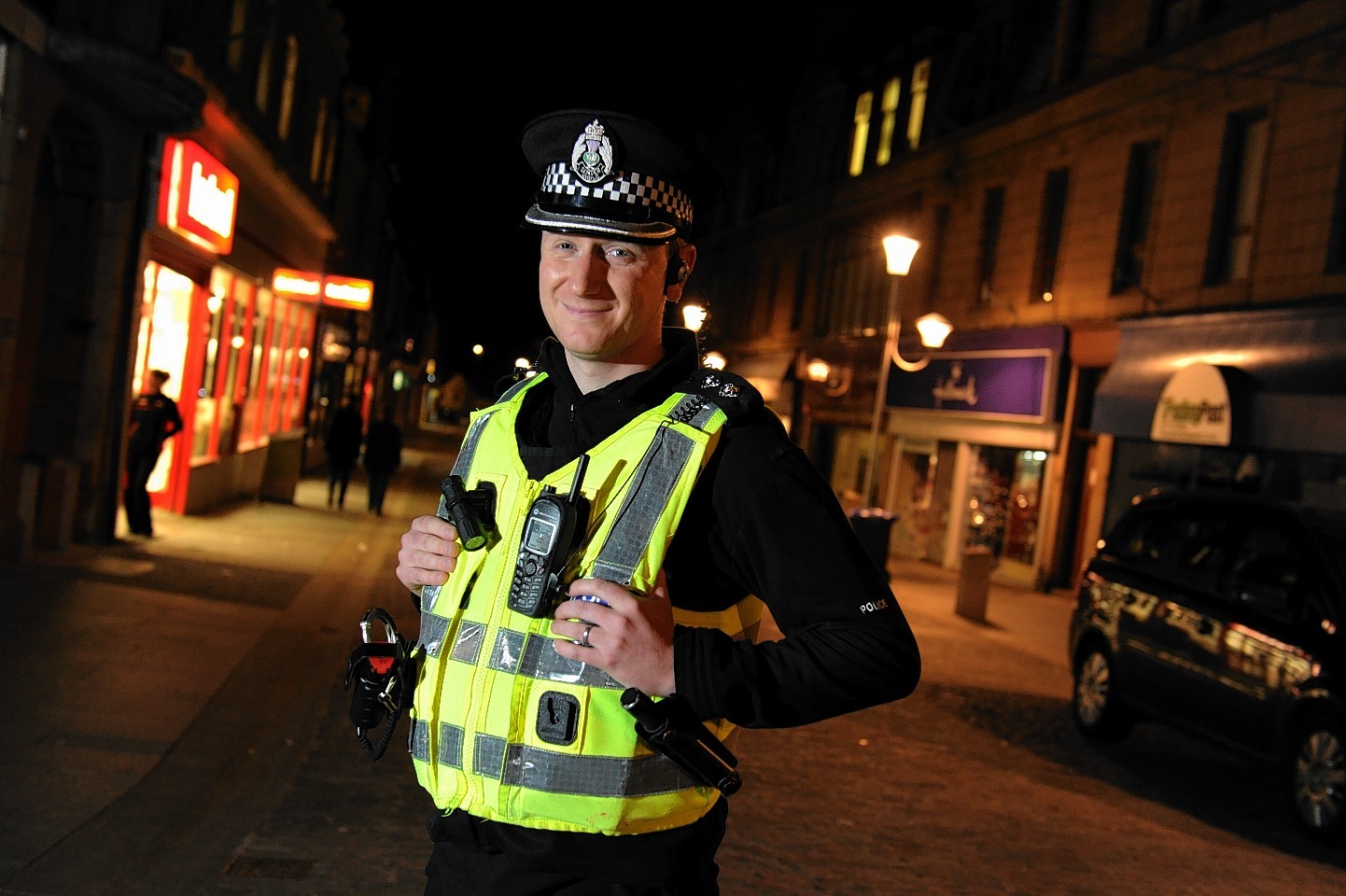 For Police Scotland, crime is a moving target. As a night spent shadowing Aberdeenshire and Moray division shows, the only way to strike the target is to move with it
A custody cell is not somewhere I would want to spend a weekend. The one I found myself in at Fraserburgh Custody Block at 11pm on a Wednesday night was no hotel suite. Nothing more than a steel toilet; a camera in a glass dome above; a plastic yellow mattress propped against the wall.
The smooth white walls were broken only by a solid blue stripe which wrapped around the room – which I learned exists to give inmates a pattern to focus on during their stay, which could last anywhere up to three days, depending on when the next lawful day to appear in court comes around. But for all its starkness, the cell was clean and warm. As Custody Sergeant Bruce Watt and Inspector Simon Reid explained to me, a cell might not be a place to find luxuriant comfort, but it is a place to first and foremost protect your charges.
"When people are in here, we are responsible for keeping them safe," Inspector Reid said, his voice reflecting around the cell walls.
"The most important questions are around their vulnerability. What issues they have, whether medical or dependency-related, and things like a history of suicide and self-harm, which many unfortunately do have."
Individuals brought into custody can be unpredictable – even volatile – when the reality of their actions hits them in the stark light of a cell, more so if they're under the influence of alcohol or drugs.
"So the other primary thing is risk assessment," Sergeant Watt added. "You never take things at face value. And you learn to gauge people. You get to learn when they are telling the truth."
My visit to the Fraserburgh custody suite came at the tail end of Inspector Reid's late shift. The 34-year-old Aberdonian duty inspector had invited me to experience a night in his and his team's lives, and by this point we were following the journey of two 'custodies'. The individuals had voluntarily turned themselves in to Peterhead Police Station earlier that night after they were reported for a serious assault at a local licensed premises that weekend.
A fly on the wall with notepad and pen, I was offered an inside look at the people who are trying to keep the streets safe – a feat only achievable by learning how to adapt to the ever-changing nature of crime.
A MOVING TARGET
"It's almost like a moving target," said Inspector George Cordiner earlier that evening, peering round his computer screen at me.
I was sat in his and Insp Reid's office in Peterhead station as they scrutinised the current list of ongoing live incidents in the region.
The command and control software, Storm, logged 178 live incidents in the Aberdeenshire and Moray divisional area. Take out bail checks and other slower-to-resolve cases, that left 25 in Aberdeenshire, and 21 up in Moray which were being dealt with that very night by police units across the region.
Assaults, house break-ins, shoplifting – all are regular occurrences. Then you get your less frequent, though not unusual, incidences of stabbings, sudden deaths, even murders. All fall within their remit to respond to.
The geographical footprint they cover on any given shift can make this a daunting task to say the least; as a duty inspector, you can find yourself reporting to a fatal road accident in Glenshee one moment, then called south to Stonehaven to the scene of a sexual assault the next.
Given the volume and spread of incidences they deal with, I quickly understood why prevention is as important as treatment for Police Scotland.
Operations and specialist units abound in a constantly evolving, newly unified super police force which aims to get to the root causes of crimes, and to bring communities into the fold as their eyes and ears. It's an approach which is reaping results: in the divisional area alone, violent crime has reduced by 20% in the past two years.
Take for instance Operations RAC and Cedar. The former is a national housebreaking campaign being adopted at a local divisional level, resulting in 78 people being charged or arrested in connection with linked crimes and offences between December and March by the Aberdeenshire and Moray division.
The latter is a divisional road safety campaign that's been brought to the heartlands of the north-east and Moray – a need for which is very real, given there were 26 fatalities on the region's roads between 2013 and 2014.
Both operations are making headway thanks to community-centred approaches. As Insp Reid and I patrolled the Peterhead area that night, I heard of the many ways the division's three Community Investigation Teams are proving vital to this approach.
By fostering close relationships with communities across the region, they can better understand incidences as they occur, and make the best choices when allotting resources.
"It's vital that people feel confident to provide detailed information," Insp Reid explained as we slowly patrolled the lit streets of Buchanhaven. Recognised as one of the most deprived areas of Aberdeenshire, the small village has benefited from the police's community-focused approach.
"If communities weren't telling us what their priorities were, we might not have the information we need to deal with it."
Theft, assault, road safety and alcohol-fuelled assault – all are long-observed modes of criminality which are being targeted by community-focused operations. But what new trends in crime are we seeing in the north, I wondered?
MODERN CRIMES FOR MODERN TIMES
St Fergus gas plant by night is a sight to behold. As we drew up to its gates in the police car, it seemed to engulf us, lit up like a great industrial city which cast an orange haze into the sky that could be seen for miles.
Ministry of Defence armed police guards have a 24-7 presence at the processing plant, but Insp Reid and his team also play a part in its protection, in line with the government's counter terrorism strategy, Contest.
But this is only one strand of counter terrorism activity the Aberdeenshire and Moray division is engaged in. What was previously the remit of specialist units who operated behind closed doors, is now, under Police Scotland's unified force, increasingly 'day business' for officers in all divisions, from the ground up.
"We don't think about the issue of terrorism as something that just affects London," Insp Reid said as we pulled away from the gas plant. "We now think that someone sitting in a remote part of Scotland can be equally influenced by a message as someone who's overseas."
Back at Peterhead station, the conversation turned to another developing area of crime which is also as important to keep track of in the north as it is anywhere else: cybercrime.
"Recorded crime is undoubtedly going down across the board, however crime involving digital technology is going through the roof," said Insp Cordiner, who in May of this year left his previous post as head of the cyber crime unit for Police Scotland's north division.
"Social media, things like Whatsapp, Kick and Snapchat are all there to be used for good purposes, but equally for nefarious purposes too. Particularly for the sexualisation of young people. It's the modern way. And that's challenging for us as an organisation, because how things will develop on social media isn't always how they occur in reality."
While modern on-the-ground policemen and women must learn to work within the wooliness of cyberspace, with its rumour and misinformation, they must also be ever prepared to deal with cold hard reality. That much will perhaps never change.
DISTRESSING INCIDENTS
One of the first incidents probationer constable Linzie Foster had to deal with when she joined the Central Buchan ward of Aberdeenshire and Moray division six months ago was to comfort the parents of a deceased newborn.
The 22-year-old Lanark-born probationer had the support of her mentor, constable Mike Kelman, but she knew she would ultimately need to find the strength within herself to deal with the situation.
"I had never experienced that before – it was totally new to me," constable Foster told me as we sat in the station's kitchen area.
"But I knew I had to remain professional with the family, and think about how you would want to be treated in their place. You have to, because you don't want to show that emotion in front of the family. You are there to support them."
Being the first person on the scene requires a lot of police officers, and incidents like this can stay with them long past clocking out.
"My first shift back in 1996 was in Fraserburgh. It was a drugs death," Insp Cordiner recalled. "Back then you had to take the dead body, and I had never seen one before. It was an eye-opener and a half," he said.
For Insp Reid, distressing scenes don't necessarily get easier, but you learn to rely on your professionalism as a shield.
In 2003, early in his career with the police, he found himself staring down the barrel of a pistol brandished by notorious north-east criminal, Paul Macklin, in Aberdeen's Printfield area.
"It focuses your mind on the risk that, as a police officer, you can face," he told me.
"You can go from driving down a road, pulling over a car, or dealing with a shoplifter to very quickly getting into a fast-paced dramatic situation."
Do you not get terrified in such situations, I asked?
"You would be lying if you said you didn't get twinges of adrenaline in a circumstance that you're concerned about.
"But you are very aware of circumstances you're getting into," the 34-year-old replied.
Insp Cordiner chimed in: "What you find as a police officer is you focus on 'what do I need to do? Who do I need to get statements from?' and so on. There's so much going on in your brain, you don't get time to consider what's in front of you. You just learn how to deal with it."
"It makes you sound like a drone, but it's not," added Insp Reid. "You're just working as a professional."
JUDGEMENT IS THE COURT'S BUSINESS
At midnight, I began to pack up my notepad and pen. My time with Aberdeenshire and Moray division had drawn to a close. It had been a relatively quiet shift, Insp Reid informed me, but a satisfying one nonetheless.
The pair who had been charged with the serious assault at the local licensed premises were released from custody with an undertaking – commonly known as 'police bail' – and were due to appear in court within 28 days. The fact they had turned themselves in voluntarily was heartening to Insp Reid; perhaps an indication that he and his colleagues in the Alcohol and Violence Reduction Unit were getting the message out there that assault will not be tolerated, and justice will be pursued at pace.
The important thing is for the work to be carried out dispassionately and without prejudice, because judgment is the court's business, he said. His role is to continue focusing on the next goal; learn to adapt to the changing nature of crime. And in the meantime, focus on the positives.
"You see people at their absolute worst ebbs, in situations that are incredibly distressing for them, but equally, you see people operating at their absolute best, too – seeing them help people, or save lives, or just doing the right thing."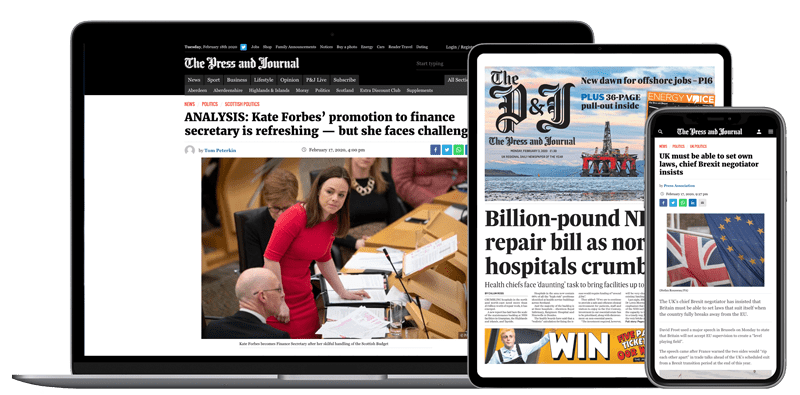 Help support quality local journalism … become a digital subscriber to The Press and Journal
For as little as £5.99 a month you can access all of our content, including Premium articles.
Subscribe