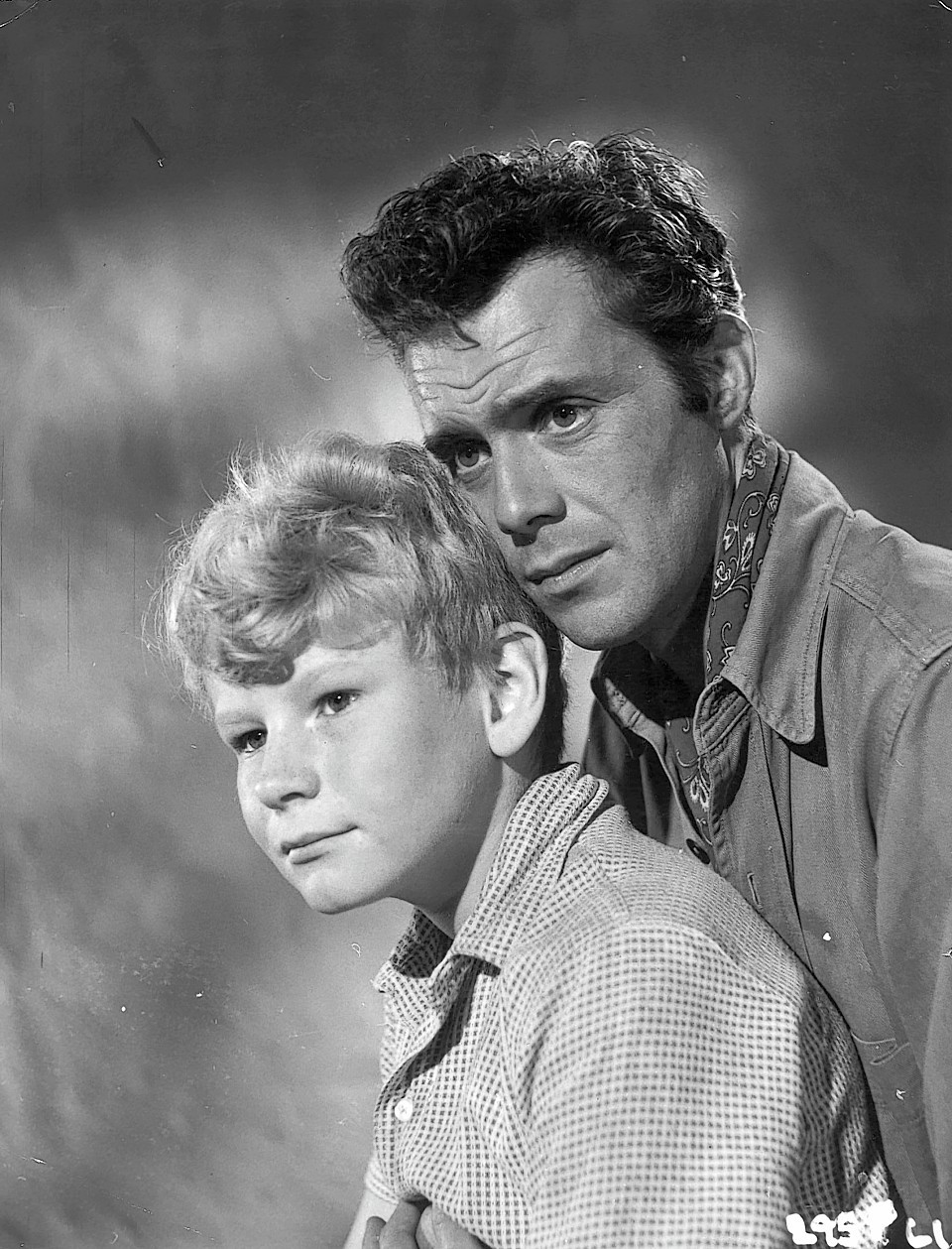 His name will forever be enshrined on the hall of fame walls alongside Shirley Temple and Mickey Rooney for being one of a handful of child actors who won a juvenile Oscar.
And while many of us may think this is something to rave about, Monymusk-born Jon Whiteley says winning an Oscar means nothing to him.
His rise into stardom began age six after his reading of the Owl and the Pussycat on BBC radio grabbed the interest of a film producer at Pinewood Studios.
Jon, now 69 and living in Oxford, was picked for the role in the Hunted – which tells the story of a violent fugitive, played by Dirk Bogarde, who kidnaps a young boy as he tries to flee the authorities – from around 80 children following an audition in London.
But it was a career that his parents – his father a headmaster at the local school – were not overly keen on for their son.
"My parents weren't very keen on the idea of taking time off school and working in the cinema," Jon said.
"The cinema didn't have a very good reputation in certain respects and I was just at the beginning of my school days. So the idea of taking four months off at that period to allow me to work in the great world of cinema was one that they were seriously inclined to turn down.
"It was always school. School was always so important in our lives and anything that got in the way wasn't. Eventually they agreed to let me go and I remember the audition fairly well. It was based on one of the early scenes in the film where the boy comes across the murderer and he grabs the child and pulls him out of a cellar and that was all there was to it.
"As far as I can recall there was no words to it. And of course it wasn't Dirk Bogarde either, it was a double. But it was great fun and later we got a letter asking my parents if they would consider letting me take the part. My grandmother persuaded my mother to give it a shot."
While many would think that starring alongside Hollywood greats would be something to brag about, Jon says he never spoke of his experiences when he returned to Aberdeenshire.
"Life in Moneymusk and life down south were two very different things. It was just a separate category," he said.
After his debut, Jon was asked to participate in a documentary for the Royal Society for the Prevention of Cruelty to Children (RSPCC), something his parents were extremely enthusiastic about.
Soon after he returned to the cinema world, this time in a role in the Kidnappers, alongside another Aberdeen youngster, Vincent Winter.
The boys played two Scottish orphans, who starved for attention from their self-absorbed grandfather, "borrow" a baby so they can raise it as their own.
This time the producers were looking for Scottish children and Jon assumes they hired two from similar areas to make sure they had the same accent as they were playing brothers.
"The truth is we didn't," he said. "My mother came from the Highlands so I think I sound a great deal more west coast than Vincent who had a strong Aberdeenshire accent. So we sounded quite different, a fact that was drawn on at the time by critics who thought it was strange that albeit we were brothers, we spoke quite differently."
Although the film was the same length as his previous work, Jon had a lot more lines and thus was required to spend more time learning them. But he admits that it was an element that he thoroughly enjoyed, it being a far cry from school and homework.
"Learning my lines was part of contributing to the making of the film. I always felt very involved in the films. I thought what was being done was worthwhile. It was art. It appealed to the artist in me.
"I developed a lovely friendship with Vincent during that time as well. That's the charm of working in the cinema. Over the months that you are together it's impossible not to form bonds of friendship.
"We were working in a kind of intimacy which means you become friends with the other actors. Even if you are playing parts intended to be antagonistic. For instance in The Spanish Gardener Cyril Cusack plays a monstrous part and in theory I am supposed to dread his presence. In reality of course we got on like a house on fire, he was great fun. It was always acting. I never felt scared, I never confused it with real life."
Being able to distinguish between the make believe world of film and reality is a debate that has rumbled on for many years when talking about the dangers that child actors can be exposed to.
But Jon believes that during his time in the movie world, he was more aware of that distinction than most.
"I never mistook the people who I was performing with for the people whom they were playing. I always understood what was going on, that it was story-telling, it was like reading a novel."
He does admit though the film industry, certainly back then, could have its dangerous moments, especially involving stunt men when perhaps health and safety regulations were not so strict.
"I remember one particularly horrific scene in Moonfleet where I am walking along the road and I come across a pirate who had been hung on a gibbet and his face has turned purple. It's a scene I guess that would upset any child but this was acting and I simply took it in my stride.
"But during the making of that scene, I began to notice from the purple of this man's make up that his skin was turning into a sort of red and white, which worried me. And after a moment I stopped and said 'look there's something wrong'. What had happened was his harness had slipped and the noose around his neck was throttling him.
"He was nearly killed, he was unconscious when they cut him down. That upset me. It wasn't the horror of the actual film scene that worried me.
"So the distinction between reality and make believe in the cinema is one that children are aware of. Whether they are aware of it when they are watching them I'm not so sure but certainly when we were making them, the difference is absolute."
Jon and Vincent's performances would lead them to join a small group of young actors who were awarded a juvenile academy award in March 1955. The Oscar category was introduced as it was felt it was unfair to compare the work of a child to an adult. It ran for 25 years before it was dropped.
Far from the glitzy award ceremony that many people receive their accolades at, Jon received his in the post after his parents decided he was not allowed to go to event.
"To tell you the truth at that time I didn't know what an Oscar was. So apart from not being allowed to go to America, which would have been fun, it all meant absolutely nothing to me.
"And I remember when it arrived, hearing it was supposed to be something special, I opened the box and I was very disappointed. I thought it was an ugly statue.
"I thought it might be something like the Eros in Picaddily Circus instead it was this art deco and rather stark figure that I thought wasn't at all attractive."
For years it sat on the young boy's dressing table but as an adult, Jon admits he doesn't even know where it is. Not that he's bothered. He told me that the award didn't mean anything to him then and doesn't now.
"Getting a gold statuette might have been more exciting had I liked it more," he added.
After making three more films including Moonfleet and The Spanish Gardener, reuniting him with Dirk Bogarde, Jon's career came to an end. His on-screen brother, Vince, continued to work in the movies both on and off screen including working as a production manager for Indiana Jones and The Temple of Doom. He passed away in 1998.
Jon's ending to his career was something he had been well aware of since it all began.
"It was always understood that when the eleven pluses came, my film career would come to an end. So this was sort of hanging over me all these years. But it was clearly understood that it would end and I would go back to school and acting would be over.
"It did fill me with sorrow. When I stopped, life did become infinitely greyer.
"It was the whole life that I missed. Acting, travelling, living a life of semi-luxury. Living the kind of life that goes along with working in films. I particularly liked the life in the studio. I liked things about it, not just the acting but the smell of the set and the glamour of making a film. It's very attractive."
After leaving the glamorous world of cinema, Jon later won a place at Pembroke College, Oxford. And after finishing his undergraduate degree he completed a doctorate and began his life as a curator at the Christ Church Picture Gallery.
Not long afterwards Jon moved to the Ashmolean Museum, where he has stayed as curator for more than 30 years.
So does he ever think about what could have happened to his short-lived movie career?
"I never thought about going back to it, it was finished. I never wanted to really," he said.
"I never think about what could have happened, I've been very happy with the career that I've had.
"I think if my children were put in the same position that I was in 1961, I would probably be, if not more reluctant than my parents were back then.
"If my son, aged six, came to me and said he wanted to be an actor, I would be dismayed for all the reasons that I think my parents felt back then.
"It's a career that sometimes leads to success but very often leads to disaster, both economically and personally."
And like when he was just six years old, Jon says he never speaks about his past unless it is brought up in conversation.
"For many, many years it was something that happened in the past and was long forgotten but the tiresome thing now is that the internet makes it so much easier to find out about people.
"So when I give public lectures, people tend to look me up and get the lowdown on my past and are irresistibly drawn to mentioning that period when they are introducing me.
"I don't really care, I'd rather people didn't mention it but it doesn't really bother me."
So will he be celebrating the 60th anniversary of his Oscar win? "It hadn't even struck me until you mentioned it," he said. I guess not then.