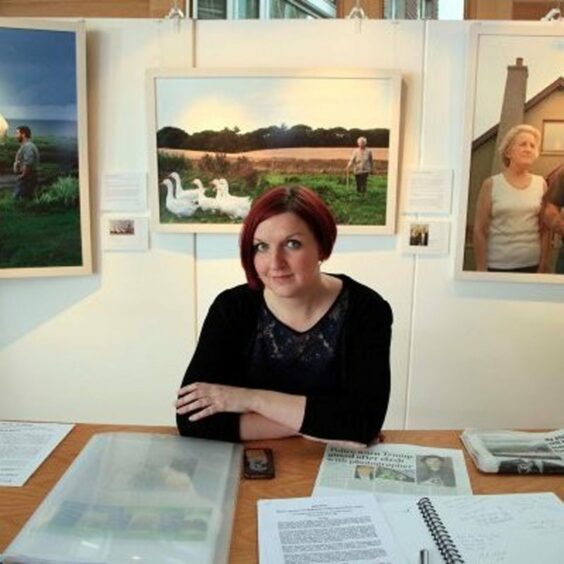 It was one of the power struggles which captured the imagination of many people around the world – and it involved a future American president and the down-to-earth residents at Menie in Aberdeenshire.
Even now, the story of how more than 16 years ago Donald Trump pledged to build the world's greatest golf course with a £1bn investment, including a five-star hotel with 450 bedrooms, 950 luxury flats and the creation of 6,000 jobs, is one which sharply divides public opinion.
There are some who argue that, while the controversial businessman did not deliver on all his promises – or indeed most of them – he and his golfing associates constructed a course which is regarded as one of the best in the country which invented the game.
And then, there are people such as Alicia Bruce, the award-winning photographer who used her camera to chronicle the tactics which Trump employed to force residents such as Michael, Sheila and Molly Forbes and Moira and David Milne out of their properties, even though they realised the venture would mean the destruction of sand dunes along the coast, which were a protected conservation site of special scientific interest.
10 years ago, Trump promised us a £1 billion investment and the world's best golf course: Critic says US President owes Scotland an apology
A protracted drama
This was no Local Hero saga, but a protracted drama, which eventually went through the Scottish courts and gained international coverage, with the New York Times reporting on Trump's reaction to those who opposed him.
The paper said: "The Milnes now fly a Mexican flag from their hilltop house, a former coastguard station, that overlooks the clubhouse of Trump International Golf Links, whenever Mr Trump visits.
"Michael Forbes, a quarry worker whose home sits on the opposite side of the Trump property, added a second flag – which read "Hillary [Clinton] for President" – perhaps because Mr Trump publicly accused him of living 'like a pig' and called him a 'disgrace' for not selling his 'disgusting' and 'slumlike' home."
Alicia read some of the pieces and wondered what on earth was happening. Thus, befitting somebody whose interest in photography "came from hanging around with pals in Aberdeen in the 1990s", she went out to Menie and met the dwellers for herself. And it convinced her that so much of what was being printed was pure fabrication.
'The residents clocked Trump for who he was'
She told me: "What I immediately loved about Mike, Sheila and Molly is that they felt more like my folk than Trump. I visited them as the press coverage didn't seem authentic. The people I met and came to know as friends were nothing like the portrayal given and it horrified me how that swayed local opinion.
"History, as you know, does not favour that sensationalist media approach which can be damaging to livelihoods, home life, mental health wellbeing and the physical safety of those who are carelessly reported about for headlines.
"What impressed me about everyone in Menie, and still does, it the ability to call out the lies, see through imposters, and, above all, want to protect the environment above profit, privilege and executive golf. The Forbes family have a wide and supportive family who look out for everyone.
"The residents clocked Trump for who he was, well before the rest of the globe caught up. He said he would put Aberdeen 'on the map', but unfortunately, it was for his own ends and he has made fools of those who were blinded by empty promises."
An enduring monument
Alicia's new book I Burn But I Am Not Consumed – the title of a song by folk singer Karine Polwart – is making waves, not just in her homeland, but in the United States. She recently took part in a discussion at the International Centre for Photography in New York and lectured in Manhattan and Chicago, where the students were "horrified, but not surprised" at hearing what Trump had done on his forays to Scotland.
And four of her images, based on Mike and Sheila Forbes, are being exhibited at the Museum of Contemporary Photography later this year, with other events being held at Street Level Photoworks and Aberdeen Art Gallery in the coming months.
Not bad for somebody who admits she wasn't a great student, but has now created an enduring monument to one of the murkier chapters in north-east business history.
'The tides have turned'
She said: "The book was emotionally and financially challenging, but it felt vital. It was emotional because it's a tribute to friends in Menie who have passed away, including Susan Munro, Molly Forbes, Sheila Forbes and Mickey Foote, who lived their final years with the stress of the development over them.
"Financially, it was a big commitment, and it was heartening that so many others believed in the project and supported the Kickstarter campaign.
"The reception in the US has been welcoming and supportive so far. The preview copies all sold at the signing and I've had supportive messages from those who bought them.
"In Scotland, there has also been a lot of public support and the tides have turned in terms of Trump's popularity. And mentorship is always valued. I was lucky to get a place on the Trace Mentorship programme during the making of my book which was a serendipitous magical godsend."
A return to the White House?
Alicia might have had to change her original ambition of going to university and becoming a sleep psychologist, but she has certainly opened people's eyes during the many years she has spent working with ordinary people.
She may have started out with a yearning to take photographs of pop stars for magazines such as NME, but as soon as a friend taught her how to print in the darkroom, she was hooked and has thrived on honest portraits of individuals in often difficult circumstances and showing the creased, craggy commitment in their faces.
That's one of the most obvious features of her new book: the way it concentrates on the disparity between grounded working-class characters such as Michael Forbes and Morag Milne and the fashion in which they retained their dignity and decency.
All of which leaves one question hanging in the air. Namely that Trump remains favourite to gain the Republication nomination for the 2024 presidential race and, given the polls, could be back in the White House in less than 18 months' time.
'Beyond terrifying'
So you can understand Alicia's reaction when I put that scenario to her.
She replied: "It's beyond terrifying and I hope that the media and policy makers are reflecting on their part in this.
"How run down and exhausted has the western world become that such majorities are bought over by taglines, empty promises and perpetuation of hate?"
It's a question which all of us, on whatever side, will approach with some trepidation.
Alicia will be appearing to promote her book at Aberdeen Art Gallery on August 24 and at Stills in Edinburgh on September 14. Copies can be ordered directly at:
https://aliciabruce.co.uk/book/iburn
FIVE QS FOR ALICIA BRUCE
What book are you reading? Why Women Grow by Alice Vincent
Who's your hero/heroine? The Menie residents, local heroes, national treasures, international examples of protecting land and heritage over profit.
Do you speak any foreign languages? I spik Doric which is a curiosity met by bafflement wherever I go outwith Aberdeen. Languages are something I want to work on, I ken wee bits of French, German and Polish and can count to 10 in Cantonese.
What's your favourite band or music? David Bowie. I will never get over him being replaced by The Darkness at T in the Park one year. I should also give a shout out to the wonderful Karine Polwart whose track I Burn But I Am Not Consumed gives the book its title and the lyrics of the song are in the book.
What's your most treasured possession? I'm not a fan of the word "possession" but my home and, more so, those I share it with including my family, pets and oor ancient tree. I possess none of them though, we share a life.