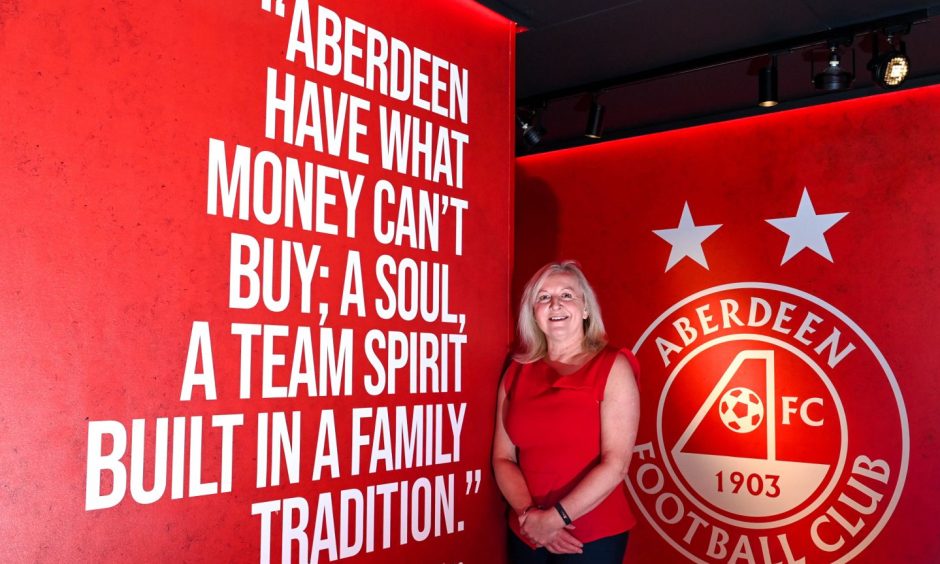 Some sports personalities live in a self-contained bubble, mindful only of their own concerns and oblivious to the vagaries of the wider world.
Nobody is ever going to accuse Elaine Farquharson-Black of belonging in that company.
On the contrary, the former professional golfer, who captained the Great Britain & Ireland Curtis Cup team aginst the United States in 2016 and 2018, has flung herself into a variety of roles in her home city of Aberdeen and, amongst other things, is currently a partner in Brodies, specialising in planning law; the vice-chairwoman of Aberdeen Inspired; and a director of the organisation Homes for Scotland.
Championing the trust's work
Oh, and she has just become the chairwoman of the Aberdeen FC Community Trust, which carries out a wide range of activities in the north-east. It is a move which takes her back to a setting where she once watched matches at Pittodrie during the halcyon days of the 1980s, while her father, Colin, was the sports editor of the Press & Journal.
Yet that's the past. Elaine, for her part, would prefer to talk about the present and the future and why she is so committed to championing the trust's work.
She told me: "I know from personal experience how important sport is for physical and mental wellbeing. It helps develop confidence, resilience, accountability, determination, problem-solving and other life skills.
"I love how AFCCT uses sport, and football in particular, to encourage youngsters to engage in education, helping them with numeracy, literacy and STEM [science, technology, engineering and mathematics] subjects as well as with physical, social and emotional wellbeing.
The trust helps people of all ages
"I have also taken part in the reminiscence groups which form part of the trust's active ageing programmes and which aim to tackle social isolation, loneliness, and build stronger relationships.
"So I have seen, and heard, first-hand, the life-changing impacts that the trust's education, football, health and wellbeing programmes are having on people of all ages across Aberdeen and Aberdeenshire.
Elaine Farquharson-Black is first female captain in 117-year history of Deeside Golf Club
"But what many people perhaps don't know is that the trust also runs the Pittodrie Community Hub which provides a safe, warm environment; hot food; food parcels and access to local advice and support organisations for the many households in this area who are experiencing poverty.
"Almost 10,000 people in the last year alone have benefited from the work which the trust does and our aim is to extend our reach to help more people and communities maximise their potential."
Gearing up for a busy Christmas
Elaine is well-versed in the sporting, business and charity sector and clearly isn't content to leave the burden of social responsibility to other organisations.
With the festive season gearing up, she is determined that Aberdeen FC remains true to the ethos of being a genuine community club and existing as far more than a club which only opens for two or three games a week.
She said: "As the trust works in 27 schools across the region, we will be caught up in the usual excitement in the run-up to Christmas.
"The team helps to identify children and young people within the schools who may not have the same type of Christmas that so many of us take for granted.
"Our staff and volunteers then work in partnership throughout December with another fantastic local charity, Northsound Cash for Kids Mission Christmas, to make sure that these children will have plenty of presents and enjoy a wonderful Christmas morning.
Plenty of festive spirit to share
"The Trust will also be hosting its annual Festive Lunch at Pittodrie for our active ageing group at which a choir from one of our partner primary schools will be singing. We will also be delivering hampers to those who are unable to join us for lunch.
"We want to help to make Christmas special for everyone in the community."
Many years have passed since her proud father used to contact the sports desk at The Scotsman in the 1980s and let us know about the latest exploits of his daughter.
In those days, Elaine was involved in playing in the Curtis Cup and was a member of the successful British & Irish team at Royal Liverpool in 1992.
Making waves on and off the links
She also had the distinction of skippering the side when they triumphed over their American rivals in 2016 at the Dun Laoghaire Golf Club near Enniskerry in Ireland and became the first-ever female captain of Deeside GC in 2020.
As you might expect, she has plenty of fond memories of growing up in Aberdeen. And her myriad reminiscences took us on a whistle-stop tour down memory lane.
She said: "My memories are mostly from behind the scenes. My father, Colin, compiled the AFC match day programme for 10 years in the 1970s and 1980s and gave the AFC match report on Scoreboard, the Saturday afternoon results programme on BBC1.
"My parents also opened the first AFC merchandise shop in Nelson Street which was open on match days and some of my earliest memories are of players such as Martin Buchan, Joe Harper and Drew Jarvie coming in after a game to sign autographs.
There's a Dons family connection
"My sons' paternal great grandfather, Willie Mills, played for Aberdeen in the 1930s, so there is a familial connection on that side too.
"Latterly, I have been working with Aberdeen FC on their plans for a new community stadium and training pitches. Cormack Park is a fabulous facility which is well-used by the trust and community groups.
"I think that having a new community stadium would be a gamechanger for the trust in terms of its ability to deliver more programmes and reach more people, so that's probably what I am looking forward to the most.
Neil Drysdale: Martin Buchan's lustre hasn't diminished 50 years after leaving Aberdeen
There are no airs and graces with Elaine. She cares passionately about Aberdeen – the city and the club – and is exactly the sort of driven individual to make a difference.
As she added: "I was born and grew up in Aberdeen and still live and work here. Some people know me as a golfer and some people know me as a lawyer as I have been lucky enough to combine careers in both."
She's being too modest. Luck hasn't been the major factor in her success. We should look elsewhere at attributes such as hard graft, ambition, dedication and leadership.
She and the trust are a perfect fit.
Five questions for Elaine
What book are you reading? Winning: The Unforgiving Race to Greatness by Tim Grover
Who's your hero/heroine? Growing up, it was [American and Spanish golf legends] Nancy Lopez and Seve Ballesteros.
Do you speak any foreign languages? I did O Grade German and Higher French at school and took a Spanish night class, but I am probably better at reading foreign languages than speaking them these days.
What's your favourite band/music? I like a wide range of music; generally things I can sing along to in the car. As a family we are going through a bit of a country music phase at the moment!
What's your most treasured possession? That's a difficult one as I am known for keeping everything! In terms of what is most important to me, it's my family and friends. I couldn't have achieved what I have done and couldn't do all the things I still do without their support.