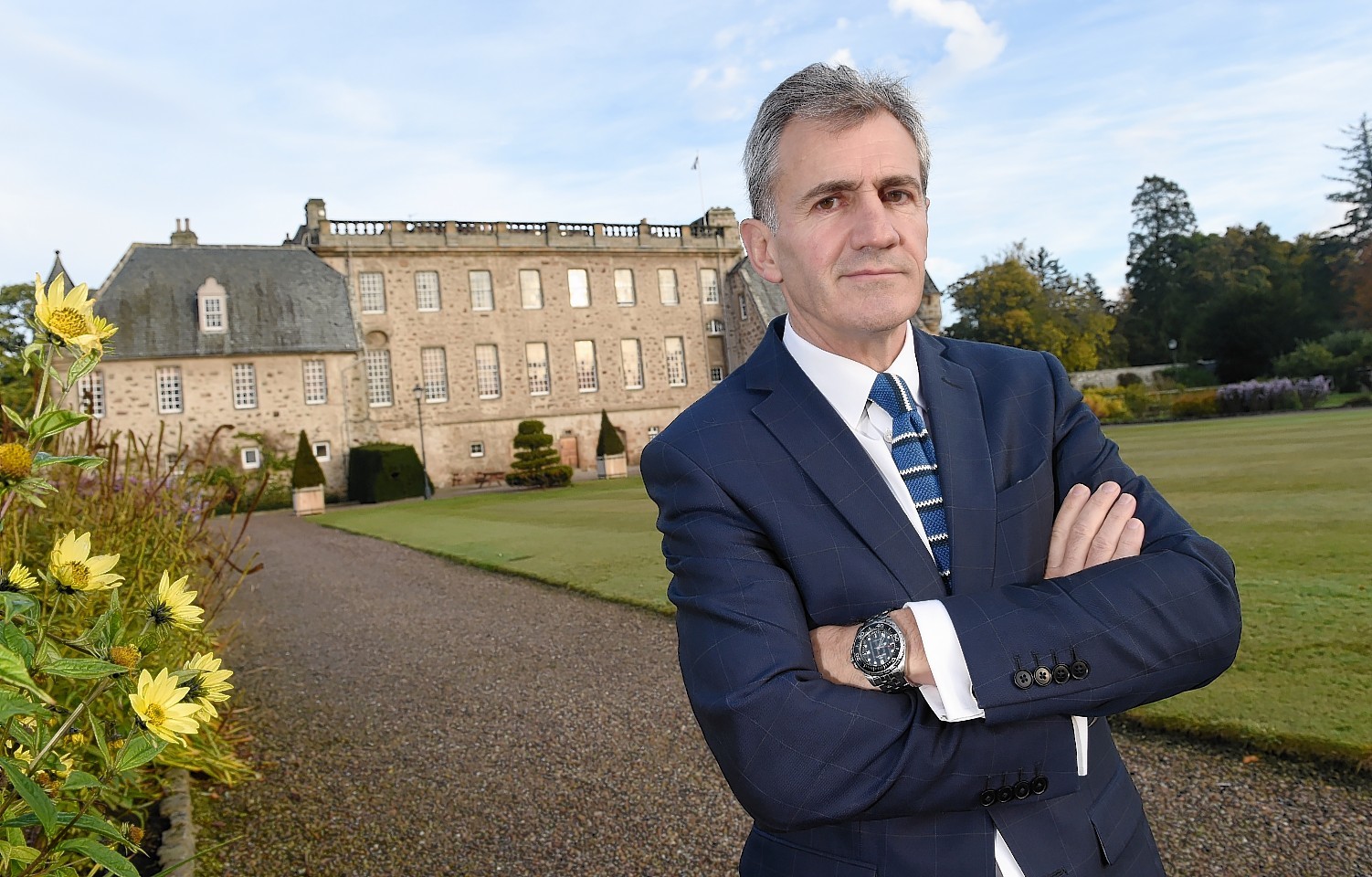 Susan Welsh meets the stars of a new TV series about Gordonstoun and nails a few myths about Britain's 'poshest' school
A gentle breeze blowing across the grounds sent hundreds of russet and golden leaves spinning onto the immaculately tended lawns, while the buildings were bathed in glorious early morning sunshine.
The tranquil scene changed in a second with the sound of a Typhoon jet taking off from nearby RAF Lossiemouth, and the bell on St Christopher's Chapel ringing out, gently reminding everyone that all the senior pupils at Gordonstoun should, by 8.15am precisely, be inside the chapel and ready to start the day.
That was how Tuesday morning of this week looked for me, but it's one repeated seven days a week at the school, although the youngsters at what's often referred to as Britain's poshest school do get a bit of a long lie on Sunday mornings. The school, which sits on the edge of the Morayshire hamlet of Duffus, counts among its former pupils Princes Philip, Charles, Andrew, and Edward. David Bowie sent his son here as did former Bond star, Sean Connery.
Ask the man on the street his impression of it and you may well hear that it's a school with tough regimes, popular with the well-heeled brigade who don't mind paying an arm and a leg. Then there's the elephant in the room… The story that no one at the school wants to touch with a bespoke barge pole. That famous quote from Prince Charles who described it as: "Colditz with kilts." As soon as I mention it here, people smile, although an expression of "not that again" flickers across their faces. You can't help but feel their pain because as a new TV documentary reveals, Gordonstoun School has evolved and is nothing like the school of Charles' time.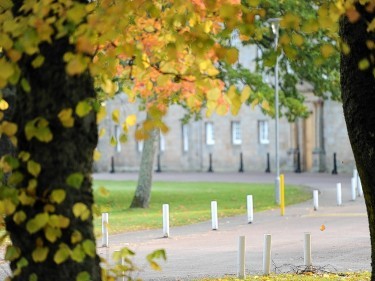 The first episode is due to be aired next week, and apart from being a wonderful tourist boost for Moray, thanks to some stunning aerial views which showcase the natural beauty of the area, looks set to make the school even more popular after it allowed a camera crew to film the highs and lows of life at the school for an entire year.  It offers a fascinating insight into a world the majority of us have no knowledge or experience of and also puts paid to a few myths surrounding the school, which is one of the few remaining full boarding schools in the UK.
It was founded five years before the outbreak of World War II by Dr Kurt Hahn, who had been forced to flee from his native Germany in 1933 after speaking out  and standing up to the Nazis. He started with just three pupils –  today there are almost 900 who still follow his philosophy which was based on encouraging young people to develop as individuals but also part of the greater community. Compassion, honesty, using your initiative, having adventure while being of service to fellow beings remain key components of life here, but what's changed are some of the well-documented harsher elements of life at school such as forced daily morning runs and cold showers. "Look, hot  showers," says one pupil delightedly during the documentary.
Making my way along the elegant drive which slices through the 200 acres of grounds, I pass rugby pitches, football pitches, tennis courts and an outdoor gym. But in the first episode it's two youngsters whose talents lie in a more artistic direction who take centre stage. Ben Parker, now 15, whose father's work in the oil industry means the family currently lives in Oman, describes Gordonstoun as an "awesome school." The show follows him as he prepares to join the school band and play a tricky guitar solo during a concert for a special guest  –  the Duke of Edinburgh.
Saying he's afraid of "looking like a complete plonker" if he doesn't get it right, he spends every spare minute practising. Not that youngsters here get much spare time. From the moment they get up until lights out, pretty much every minute of their time is taken up by either class work, homework or activities.
"I was always going to be going to boarding school but as dad had been a pupil here we decided to have a look at his old school. The first thing I saw when I walked in was three pairs of skis, so that was it for me," said Ben who also plays drums and is sports mad.
"You don't get many spare minutes here, because you are so busy, which is why it was so hard for me to get the music right." When his red letter moment arrived, he performed well although he described it as: "Having a few blips which hopefully no one heard."
And while music is one of his main passions, like a lot of teenage boys, food is hugely important to him. During a camping trip he complains that the dehydrated food they have to eat is so bad he has to survive on bread rolls and croissants. Food is also important to Hugh Brown, Gordonstoun's financial director for the past 11 years.
"Gordonstoun is technically the biggest restaurant in Moray as we serve about 1,800 meals a day with all the meat coming from a butcher in Hopeman. We cater for a full range of religious requirements and personal preference, so there's everything from halal to vegan and lactose-free dishes available."
As well as having its own fire station and 80ft yacht, the school has its own laundry employing six members of staff who clean, on average, 20,000 items of clothing a week. "Running a yacht and lots of outdoor education events costs a lot of money. Our fees would probably need to be 5% higher than they are to cover these extras," said Hugh. "Our fees are about 40th in the league table of costs of independent schools in the UK so considering the extra costs incurred for outdoor education trips, it's still good value for money."
To board here costs from £31,650 per year, more if you join the school just for the last few years. However, 34% of the pupils pay less than the full fees, while some don't pay anything at all. "Our gross turnover is £17.8million and £2.7million of that goes on means tested fee reductions while there are other reductions which aren't means tested.
"It's been said before that Gordonstoun was founded only in intellectual capital and we've done our best to keep it that way. It's an expensive school to run, and that's reflected in the fees, but it's not a wealthy school," said Hugh.
The school also contributes a huge amount to the local economy. "We have 306 employees, 245 of whom work full-time but it's been worked out by an economist that the school is responsible for more than 200 additional jobs in Moray."
Earlier this year Gordonstoun was awarded the coveted 2015 Moray Chamber of Commerce Main Business Award for outstanding contribution to the Moray economy.
Principal Simon Reid said: "Our contribution to Moray is not just economic. An important part of Gordonstoun's ethos is that our students give back to the community, for example through our role as part of the Scottish Fire and Rescue Service and Coastguard as well as the school's community and conservation services.
"The school's facilities are used by many outside groups. We wish to add our advocacy for Moray as a wonderful place to bring up children and have them educated, to live, to work, build a business, shop, take holidays and retire."
PLUS EST EN VOUS
Another star of the TV series is Kelly Martin from Lochardil in Inverness, who has had two life-changing experiences since joining the school last year.  Now aged 19, Kelly, a former pupil of Inverness Royal Academy said: "Due to unfortunate circumstances, including a bereavement, I didn't get the exam results I wanted. Overall, it was a pretty hard year. One of my friends had come to Gordonstoun and told me about all the fantastic things that happened here, so I thought I'd apply for a scholarship."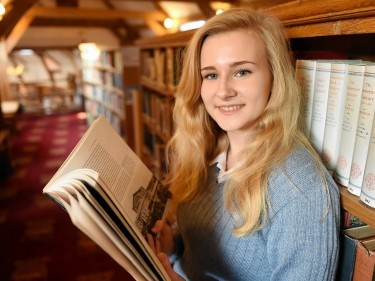 Since joining she is living up to its motto,  plus est en vous, which means  'there is more in you'.
"To get a place here involved a whole weekend of exams, interviews and evaluations which made it quite intense," said Kelly. The ballet-mad teenager is seen auditioning for and winning one of the 14 available spaces at the school's elite dance company. "During the audition they put on a bit of music and said move. I was a bit stressed out that they'd just see me as a ballet dancer and I wouldn't fit into the mould."
A week later she learns she's won a place and as a result, earlier this month, she was part of a dance and drama group which visited New York to present Romeo and Juliet. "It was an amazing experience and my first trip to America," said Kelly. "My first year here wasn't quite what I thought it would be as there were much more opportunities to try things than I'd expected. I've done things I could never have done if I hadn't been at the school.
"My pals thought it was a bit odd as they opted to go to university while I've taken a different path. This summer I visited Thailand with a 20-strong school group to build safe drinking water tanks at a remote village. It's been the highlight of my year. I loved New York but got much more satisfaction coming home and seeing what had been achieved," said Kelly whose goal is to gain a geography degree and work for an aid organisation overseas.
SIR ROBERT GORDON
"Gordonstoun gets under your skin and into your blood," states Philip Schonken. Originally from South Africa, he is house master for Round Square. Built in the 17th century by Sir Robert Gordon, the circular-style  building was designed to house horses, carriages and equipment for the estate.
Today the listed building provides accommodation for some 60 boys. In addition to Philip or an assistant housemaster being on duty, there are always tutors present as well as matron Susan Ball on hand to ensure the boys have that home-from-home experience.
Regular events here include a 'brew' – a social get together where boys and tutors eat and drink in a more casual way. "Brews definitely help improve the relationship between teacher, housemaster and pupil. They're relaxed and get everyone talking about all sorts of subjects from getting a little homesick to the usual teenage angst topics," said Philip.
"One of the reasons I agreed to take part in filming was because while you can read and hear about Gordonstoun, it's very difficult to describe what the experience here is like.
"As an institution, Gordonstoun has changed dramatically over the last 40 years. It's not a case of being sent to Gordonstoun as a punishment or seeing it as a dumping ground but it is all about the education and welfare of each child. We are very engaged with the families and it's often the children themselves who ask to come here. Here, every child gets a chance to shine and what makes me proud is seeing students mature and grow and get really excited about something they want to do. What I like best is hearing parents say they can't believe the change in their son or daughter since coming here."
Principal Simon Reid is equally thrilled seeing youngsters realise their potential. "We believe that it takes life skills as well as academic excellence to succeed in life."
The last word goes to the man who unwittingly condemned it all those years ago. In a speech to the House of Lords in 1975 when he launched the Princes Trust, Prince Charles spoke fondly about his time at Gordonstoun and said: "I am always astonished by the amount of rot talked about Gordonstoun and the careless use of ancient cliches used to describe it. It was only tough in the sense that it demanded more of you as an individual than most other schools did – mentally or physically.
"It taught me to accept challenges and take the initiative  –  why else do you think I am brave enough to stand up before your Lordships now?"
Gordonstoun 1, Elephant Nil.
Gordonstoun: A Different Class starts on Friday, November 6, Sky 1, 8pm.