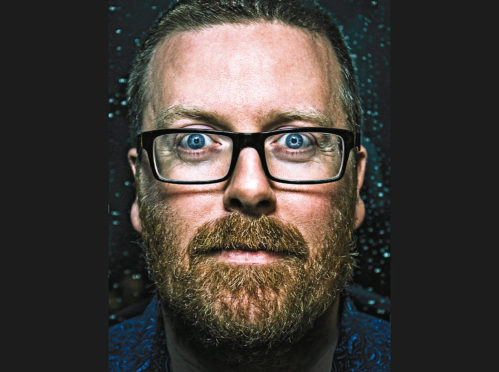 Frankie Boyle is on his first Scottish tour since 2008 and is playing two nights at His Majesty's Theatre in Aberdeen.
But this is no ordinary tour. Trailing behind Frankie on his stops in Oban, Ayr, Aberdeen, Dundee, Edinburgh and Glasgow are a camera crew and production team.
Between gigs, Frankie will be visiting people and places around Scotland, looking to get under its skin.
"The episodes will be themed around land use, community, language, things like that," Frankie explained. He already has a few north-east stops lined up.
"I'll be going to Findhorn. It's a dead interesting place. I did a gig there a while ago and expected it to be dead weird, but actually folk came from all the towns round about and it just ended up being a normal Scottish gig.
"So I'm looking forward to going and learning more. An old Scottish comedian Phil Kay lived there. Last time I was up I was chatting to him and was like 'what you been up to today man?' And he told me he'd spent the day practising chipping golf balls over a cow! So aye, I'm keen to find out more about Findhorn."
Language is the main theme for Frankie in the north-east. He's fascinated by Scots language and Scottish languages generally, although admits he's a relative newcomer to Doric.
"Until a couple of years ago I didn't know the idea of Attic and Doric in Scottish language. That idea that 'proper' language was termed 'Attic' and wrong language that termed 'Doric'. And basically, everything outside of Edinburgh English, so all Scots dialects everywhere, were labelled 'Doric' at one time."
To further his knowledge of Scots and its varieties and use, Frankie will be going out in a fishing boat to speak to fishers about their language, and will attend a Scots language class in HMP Grampian, where the inmates are studying the mither tongue in collaboration with Aberdeen University.
"For me language was always really heavily policed. It's a class thing in Glasgow. So even working-class people would stop each other saying Scottish words, because you didn't want to be seen as 'a bam' or that.
"Both my parents are Irish, so they were more about saying 'don't use those Scottish words'. I didn't really know it was part of something bigger until quite recently."
Even Aberdonian accents were initially unfamiliar to him, and to wider audiences.
"Glaswegian is a culturally dominant identity in Scotland, so most TV accents are Glaswegian, and people are used to it. The difficult thing for comedians from Aberdeen is that folk aren't used to it. You'd struggle to understand the accent and catch up with the jokes at times. And across the UK, Glaswegian accents are sort of known and understood through the media. But Aberdeen and other Scottish voices maybe don't get the same media exposure."
Representation is a big driver for Frankie and a key motivation behind the tour; giving fishermen and inmates a platform to discuss language; going to the Findhorn Foundation to talk about community building and land use, as well as other groups across Scotland.
"I'm not going into it with preconceptions about what I'll find. I want audiences to see bits of reality you don't normally get access to through TV.
"That's why I think representation is so important. You watch different people and think 'oh that's what it's like.' You can build understanding that way.
"I think people are OK with the idea of talking about stuff, about having serious debates about Scottish history, language, identities and that.
"Folk are ok with diversity in theory. As soon as it comes to practice, it changes. Can we really talk about radical Scottish history, or radical Scottish language ideas? You often find that when you push that stuff, you get a lot of pushback, because there's a policing of that sort of thing.
"I feel we really missed an opportunity at the last independence referendum to have deeper conversations. Conversations about identity, language, history, all that stuff. Maybe we'll get a better chance next time round."
Although it's been 11 years since Frankie's last full Scottish tour, Aberdeen was a big part of his early years as a comedian.
"I was doing clubs for 10 years before I got anywhere. I came up and did Aberdeen loads. A guy ran a gig at Aberdeen Uni, he'd organise it, and compere it, and do his own jokes and that. Occasionally they'd do a club night at the Lemon Tree. I compered it a few times. It was always wild. That was the late '90s or something.His
"I mind someone told me that if I was playing Friday nights in Aberdeen, I had to get off the streets before 8pm. It was the sort of Cinderella hour after which everything became a bit bananas.
"One night I was out having a walk on Union Street on the bridge before the Lemon Tree gig. I remembered what this guy said, looked at my watch and it was exactly 8 o'clock at night. Just then, a guy ran across the road with a belt wrapped round his knuckles and leathered this other guy. It was like this beautiful Scottish Cinderella moment.
"I think that if you were looking to toughen up, then Aberdeen in the late '90s was probably the perfect place to hone your martial arts skills."
Frankie Boyle plays two sold-out shows at HMT on August 27 and 28. Tickets are still available for his Oban show at Corran Halls on Monday September 2. Call 01631 567333.