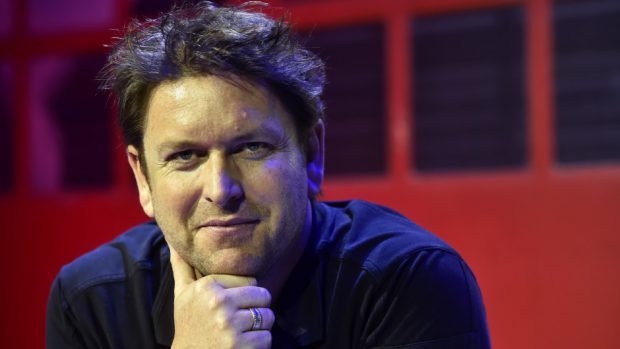 It's just after 8am but despite the early phone call, celebrity chef James Martin sounds bright, breezy and full of the joys of life.
To him, this is not an early start because for more than a decade he regularly rose at 5am in order to host the hugely popular weekend cooking show, Saturday Kitchen – a time when many younger viewers would have still been out night-clubbing.
"I've been up since 6am today, that's something of a long lie for me," said James, who is the headline guest at this year's Taste of Grampian, the annual festival that sees thousands of people head for Thainstone, Inverurie to sample the best local produce from across the north-east of Scotland.
"I've just been out watering the plants at the bottom of my garden, something that gives me a huge amount of pleasure," said James.
Spending time in his garden is something he likes to do every day, but especially so at weekends as he now regularly gets a day off.
"To be honest I don't really miss having the alarm going off at five on a Saturday morning, but I do miss the crew and the camera guys. I did it for 10 years so I did my time, put it that way," said James who last appeared at the Taste of Grampian festival, with fellow chef, Paul Rankin, in 2001.
"I always remember Terry Wogan saying, know when it's time to go, and for me, it was time to go. I'd done 10 years and I wanted to pursue other avenues and take up other opportunities. Looking back over the years, highlights for me were getting some of the greatest chefs in the world, and the UK, on to show what they could do. It was a platform for them to showcase their restaurant and their skills.
"Before Saturday Kitchen, there wasn't really a show that did that, certainly not a live TV show, and they were perhaps used to having three days to film a cookery piece, whereas on this show, they had eight minutes and had to cook live, which really showcased their talent.
"It wasn't until I was interviewing Sir Michael Parkinson that it suddenly hit me that what we were doing was special, and that people wanted to be a part of it."
After leaving Saturday Kitchen – an event that made headline news – he had the opportunity to do a myriad things, but his first priority was to have a holiday.
"I hadn't had one for quite a number of years and remember sitting with my diary and realising I'd only had six days off one year, seven days off another year and nothing else," said James, who is pretty familiar with Scotland as he previously worked in the Isle of Bute, spent six months at Glamis Castle and spent a week cruising around Scotland on his motorbike.
"The scenery was fantastic, particularly around Fort William," he said.
"I didn't want to go straight back into working seven days a week so took a bit of time out, and I still do now, which feels kind of weird because I'm back to having a normal life. I run my restaurants but have a day off which I love to spend pottering in the garden – it's my little oasis."
And while for many it's the smell of newly cut grass, school erasers or chlorinated swimming pools that instantly takes us back to our childhood, for James it's the distinctive smell of tomatoes growing in a greenhouse which transports him back to his youth.
"When I was young my family were farmers and my grandfather and uncle were great gardeners. I remember being about seven, perhaps younger, and visiting them and going to help them in the garden. The smell of fresh tomatoes growing on the vine was just fantastic and has always stayed with me," said James
"Hence, when I bought this house, before I did anything else like build the kitchen, I built a greenhouse and created the garden because I wanted to be able to smell tomatoes growing."
His garden extends to around four acres and includes a walled garden where he produces most of the vegetables and fruit to meet his needs.
"I learned how to look after a garden when I was a kid. The family makes you a person and shapes you into what you are and I was quite fortunate to have great grandparents and especially a grandmother with a great attitude in life."
His beloved granny, who he speaks about regularly and instilled a love of cooking in him, passed away 15 years ago and was, said James, "a huge, huge inspiration to me." She shared his passion for good food, and like him had a zest for life. This attitude, along with good looks, made James an instant pin-up when he burst on to our TV screens and won him an army of female fans. Sadly ladies, he's not on the singles market these days and is spoken for.
"Gone are the days of me being considered a pin-up," said James laughing loudly. "That was fine when I was in my 20s but I'm getting middle age spread now!"
It's no secret that for years, James had a rather unhealthy diet, often getting through long shifts by drinking cans of Red Bull and eating Mars Bars.
"Now I try to drink bucketloads of water, at least three or four litres a day, and I'm not eating chocolate any more. Plus I don't really drink alcohol, just one or two units a month. If I do drink it just makes me feel knackered.
"I've always enjoyed my food and enjoy my life and that's the key to it all. I don't really exercise – it's not what I'm in to – but I try not to eat or drink to excess.
"I do know though, that I can't do what I used to do in my 20s. I did a 19-hour shift in the kitchen yesterday and at the end of it thought, my knees hurt, my back hurts, but I still enjoyed it."
Looking ahead to Taste of Grampian he said: "It's been a long time since I was there and I'm really looking forward to coming up.
"I'm still figuring out which recipes to do but I'll be showcasing local produce from the area. I've spent God knows how many years of my life supporting food from the UK, and Scotland has great seafood, great beef, and great produce which makes it quite easy for a chef. I'm looking forward to tasting the best beef in the world and the best seafood which might give you a clue as to what I'll be cooking."
Tickets for his masterclass at Taste of Grampian sold out within hours but there are still lots of events to be enjoyed at the festival which takes place on Saturday, June 3 from 9.30am-5pm.
The festival programme also includes live music, street performers, the Press and Journal motor show, children's entertainment, arts and crafts, cookery competitions and demonstrations. This, coupled with our celebrity chefs and guests, will ensure a fun packed day for all.