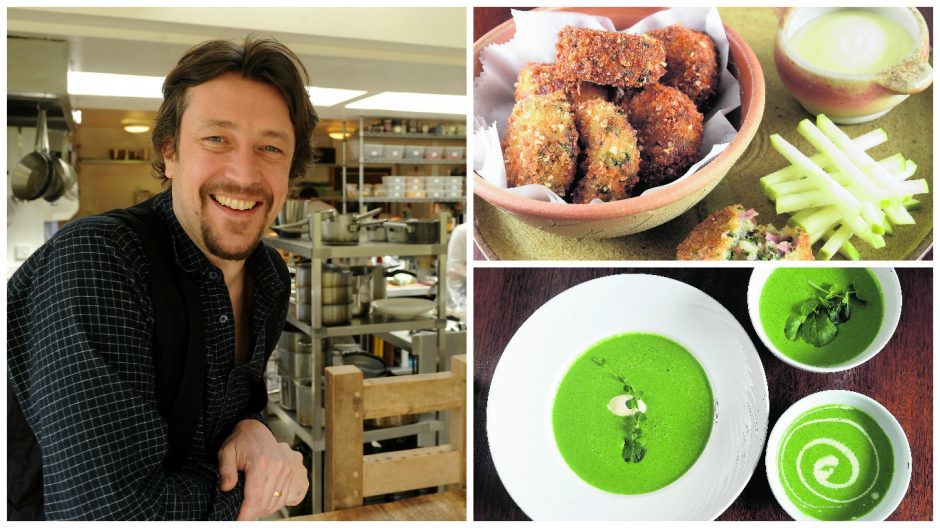 One of the signs that spring has arrived is seeing British watercress for sale in the shops as it comes into season each April.
Watercress has a peppery little leaf and is regarded as something of a superfood. Today's first recipe is for watercress soup which is a delicious and light soup that is quick and easy to prepare and showcases the fresh, peppery flavour of this lovely little plant.
When you think of smoked haddock, dishes such as Cullen Skink, chowder or fish pie may spring to mind, but this fantastic fish can also be used to make very different and moreish croquettes that can be served as canapes – delicious with a chilled glass of white wine – but which would also make a substantial supper dish.
Watercress Soup
SERVES 6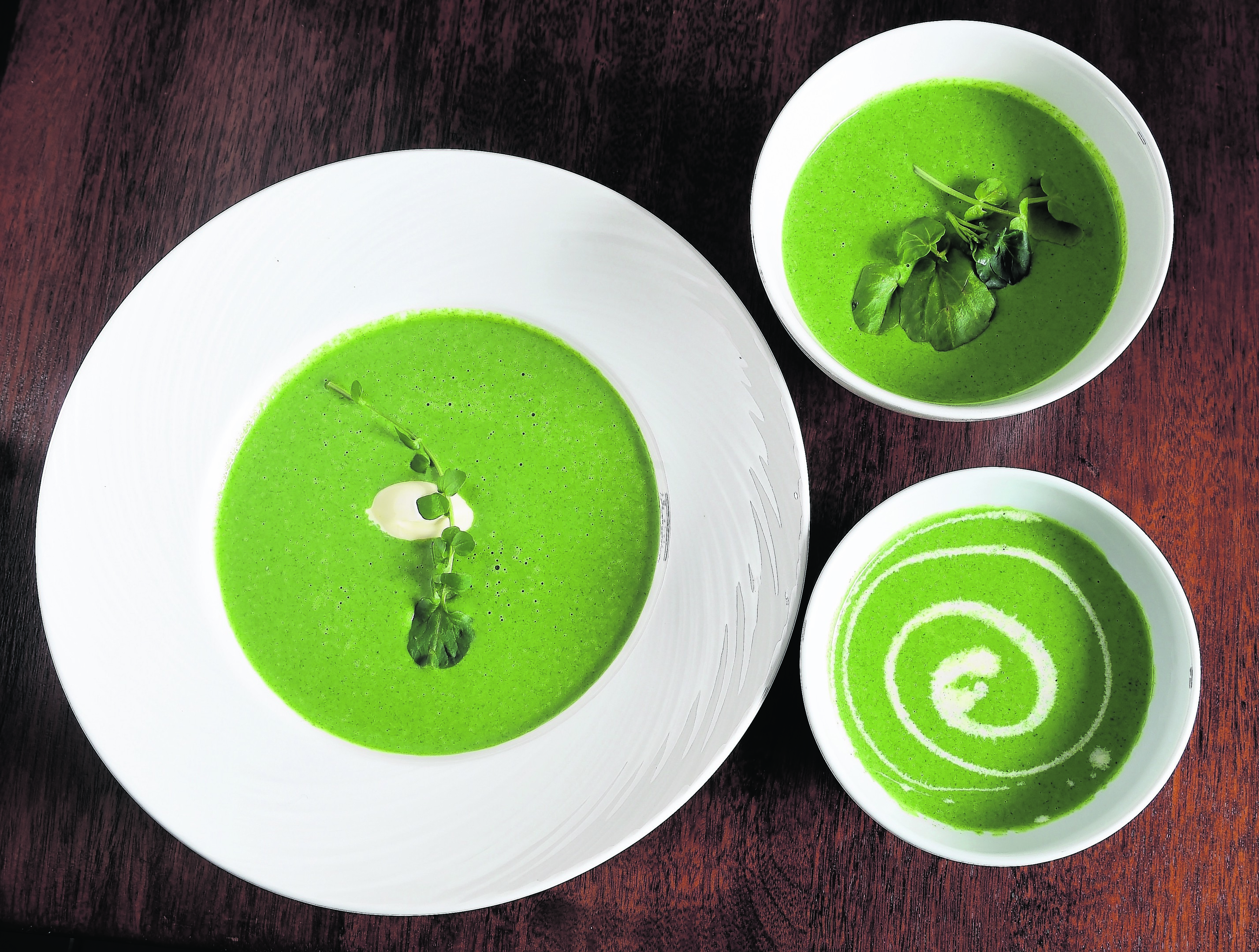 The ingredients
2 tblsps vegetable oil
1 potato, peeled and cubed
1 onion, chopped
Quarter of a tsp of salt
Quarter of a tsp of ground black pepper
600ml chicken stock
600ml milk
300g watercress, large stems removed
4 tblsps cream (optional)
Watercress leaves for garnish
The method
Heat oil in a large saucepan over medium high heat. Add the potato and onion, stirring to coat with the oil. Season with salt and pepper to taste. Reduce heat to medium, cover and heat for 5 minutes.
Pour in the chicken stock and the milk, bring to the boil, reduce heat to low and simmer for 10 minutes, or until potatoes are tender.
Stir in the watercress and simmer, uncovered, for 4 to 5 minutes, or until watercress is just cooked. In small batches, transfer the soup to a blender or food processor and puree until smooth.
Return the soup to the pot, season to taste, and ladle into individual bowls. Top each serving with a swirl of cream, (if using) and garnish with a few watercress leaves.
Haddie and Ham Croquettes
MAKES 12-15 CROQUETTES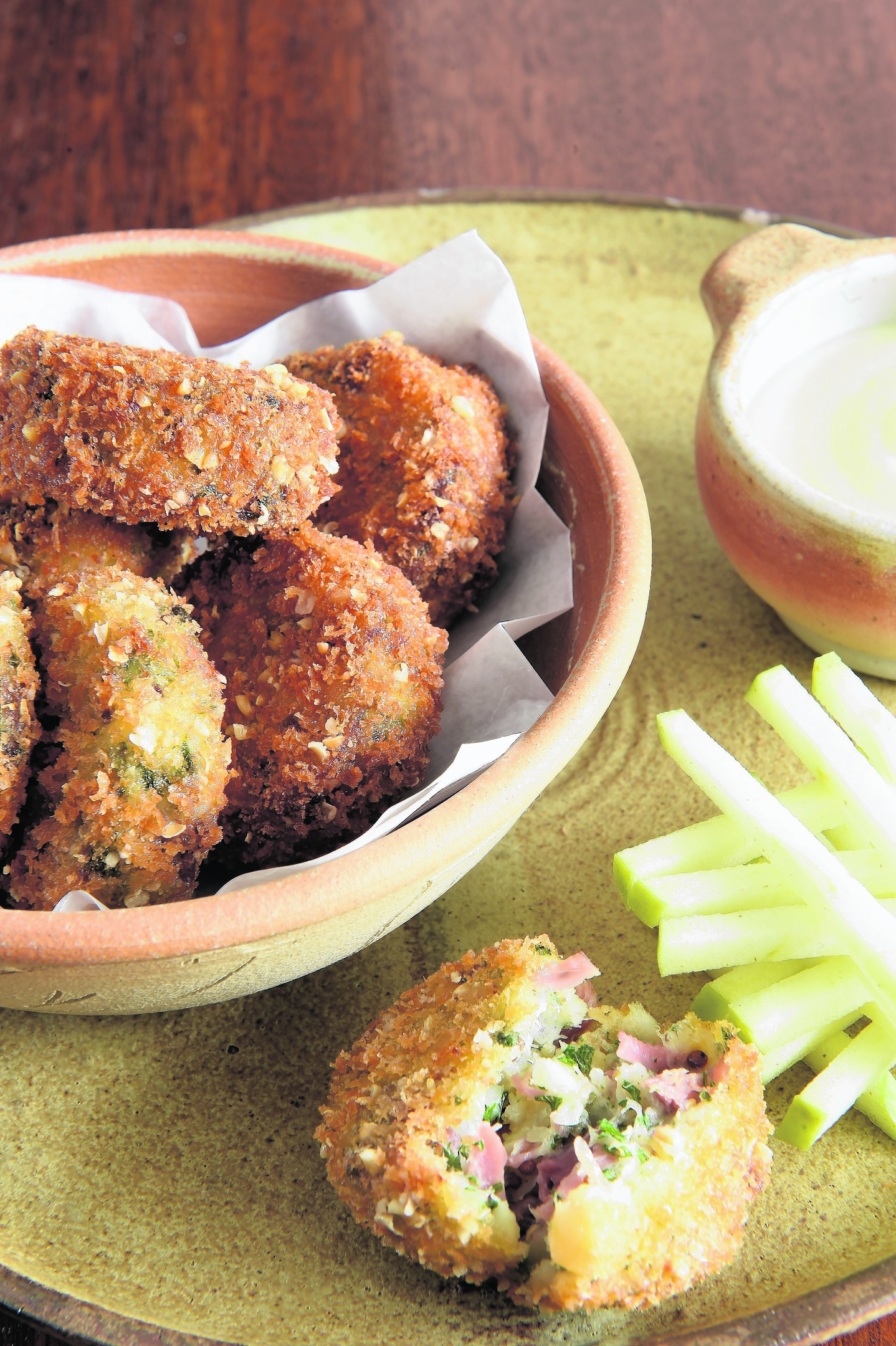 The ingredients
200g smoked haddock, undyed
100g cooked ham, shredded
Chopped curly parsley
Grain mustard
Lemon juice
Beurre blanc (see recipe below)
One and a half tblsps chopped shallot
1 bay leaf
2 black peppercorns
4 tblsps white wine vinegar
2 tblsps dry white wine
8 tblsps double cream
150g cold butter, cut into 1cm pieces
Plus, flour, egg and breadcrumbs
The method
To make the Buerre blanc, place the shallot, bay leaf, peppercorns, vinegar and wine in a saucepan. Bring to the boil, then reduce heat to medium and continue simmering until only 2 tablespoons of liquid remain.
Pour in double cream and bring to a simmer; simmer until the cream has reduced by half. Increase heat to medium-high and rapidly whisk in the butter, piece by piece until it has melted into the cream and thickened it. Pour the sauce through a mesh sieve to remove the spices. Set aside in a warm area.
Poach the haddock very gently in some milk on a low heat for 3-4 minutes until just warmed through. Remove and drain. Carefully remove any bones while breaking up the fish into flakes and placing in a clean mixing bowl.
Add to this the chopped ham, parsley and grain mustard, all of which you can do to your own tastes. Spoon in enough of the beurre blanc to coat all the ingredients well, check the seasoning and adjust the acidity with freshly squeezed lemon juice.
Place this mix into a clingfilm lined shallow baking tray, evenly spreading to about 1 inch thick. alternatively, roll the mix up in double wrap cling film to make a sausage like shape. Refrigerate for 12 hours.
Cut the chilled and set mixture into small croquette size pieces then flour, egg wash and coat in breadcrumbs the way you are familiar with. The croquettes can now be deep fried at 180C for 2-3 minutes until crisp and golden. Serve as a canape, snack or supper with mayonnaise.