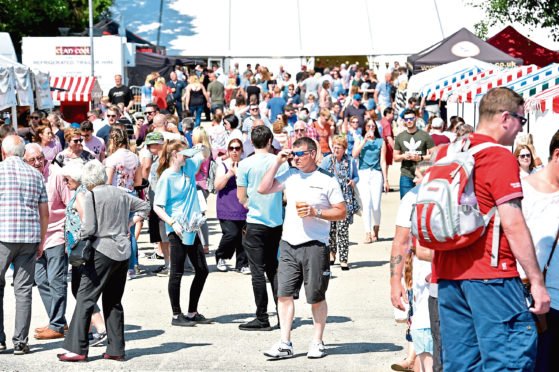 Saturday will be a red letter diary day for thousands as they make their way to the Thainstone Centre in Inverurie for the 20th annual Taste of Grampian Food and Drink Festival.
As always, the festival has attracted a host of top celebrities including MasterChef Judge John Torode, reality TV show star and Celebrity MasterChef finalist Spencer Matthews, Scotland's first national chef, Gary Maclean, and baker extraordinaire, Helen Vass.
During the day, the Chef's Theatre hosts several local, entertaining chefs including the Kilted Chef from Eat on the Green, Ross Cochrane, from the Rothesay Rooms, and the Chester Hotel's Kevin Dalgleish, while the BBQ Cook School sees award-winning butcher John Davidson host a series of masterclasses.
Not to be missed either is the cookery dual featuring auctioneer Colin Slessor and Sandy Greig.
John Torode: 'Why I'm looking forward to Taste of Grampian 2019'
While food and drink play a huge role, there's much more to this festival than simply getting a chance to try food and drink from the region. On hand to provide plenty of laughs and gasps is Chris Cross, a multi-award-winning comedy contortionist, magician and escapologist.
"This is about my sixth visit to the festival, which is always great fun," said Chris.
"I'm bringing with me Mr Freak, who is a sword swallower, and Charlie Burns, who is a whip cracker and likes to lie on a bed of nails and invite members of the public to stand on his tummy at the same time."
Chris, who began doing magic tricks when he was 10 years old, added: "There's a famous saying that you don't get into magic, but magic gets into you, and once you've been bitten by the magic bug, like I was, there's no going back.
"I saw Paul Daniels when I was 12 and after seeing the master at work I knew I wanted to make my hobby my job.
"By 13 I was working on a semi-professional basis around the clubs in Newcastle then left school to do magic full-time.
"Since then, every year has been busier.
"Magic has taken me around the world and I've entertained at parties for the likes of Prince Harry, Boy George, Alice Cooper and Mike Tyson," said Chris, whose shows can be seen at the festival's Street Performers Corner.
Taste of Grampian chef raiding kitchens in a bid to reduce food waste
Other outdoor attractions include a funfair and stalls, while the Exhibition Exchange marquee is where families can learn all about the countryside, farming and agriculture; meet calves, ducks and chickens; take part in a treasure trail and make their own smoothie while riding a bike.
Food Standards Scotland (FSS) is delighted to be returning to Taste of Grampian once more, bringing advice and activities for all visitors.
Visitors can test their food knowledge and solve clues to win a snack box or pick up a selection of free recipe cards featuring healthy, quick and tasty meal ideas.
Look out too for the FSS mascot, Millie Moo, who will be wandering around the festival throughout the day and handing out treasure hunt forms.
This year, FSS is taking part in judging of the primary schools competition to create a healthy packed lunch.
Judging will take place at 9am by MasterChef: The Professionals winner Gary Maclean with the winners receiving their prizes from celebrity chef John Torode.
Throughout the festival, you'll hear music ranging from traditional sounds courtesy of Inverurie Pipe Band to rock and pop provided by a host of talented up-and-coming local musicians.
Those appearing on the entertainment stage include the Strathspey Fiddlers (9.20am); Millie Chapman (10am); Megan McCann (10.40am); Micha Buchan (11.20am); Stewart McLeod (noon); Finn HP Music (12.40pm); Amanda Penny (1.30pm); So On Fire Salsa Band (2.10pm and 4.20pm); Nathan Brown (2.50pm) and HaleX (3.30pm).
Taking the 30-minute noon slot is singer-songwriter Stewart McLeod from Lossiemouith who previously won a competition to support Sir Elton John at his Aberdeen concert and has appeared on TV show The Voice.
Taste of Grampian takes place on Saturday June 1. Gates open at 9am and close at 5pm. Car parking is free. See tasteofgrampian.co.uk