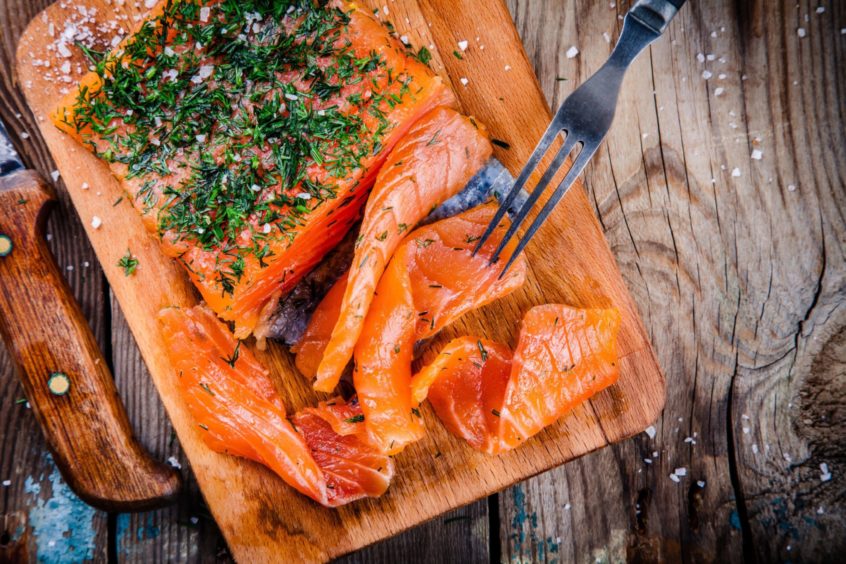 It's the nation's biggest food export, with overseas sales totalling £618 million last year alone.
But with global distribution chains disrupted during the coronavirus pandemic, there is an abundance of Scottish salmon in the local marketplace of which consumers are being urged to take advantage.
The fish is naturally rich in Omega-3 fatty acids, is a good source of protein along with a range of vitamins and minerals including potassium, selenium and B12.
And at a time where there is concern around the availability of some shellfish and whitefish products, the continued supply of salmon in the UK is comforting news.
Gerry Corish is marketing director of The Scottish Salmon Company, one of the biggest suppliers of farmed salmon in Scotland, operating 41 marine sites and two processing plants in Cairndow, on the banks of Loch Fyne, and Marybank in Stornoway on the Isle of Lewis. He says the message from salmon producers is clear.
He said: "Our teams are still working, and we're open for business. The number one challenge and first priority is to protect our staff and we've done that by changing shift patterns to allow for working two metres apart and being as safe as they can be.
"As of January, we were exporting to 26-plus countries around the world – US, Asia, mainland Europe – and the biggest challenge to us right now is our distribution network has been interrupted.
"Primarily we produce fresh salmon, not frozen, so we are trying to get fresh produce around the world. In Europe that goes via the Channel Tunnel and the fish is flown elsewhere usually in the holds of commercial flights.
"Then there's the food services area. Our whole position has been [to provide] Scotland's finest fresh salmon to premium hotels and restaurants, but with those closures then that's suddenly a lot of business drying up."
It takes up to three years to grow a salmon to the point where the fish can be harvested, with restrictions in place over the weight of fish kept in pens at marine sites. Within the past few days, the Scottish Environment Protection Agency issued a temporary change in regulatory controls over fish biomass limits which means, in some cases and depending on environmental factors, farms could be allowed to increase the livestock they are holding at any one time by up to 25%. While this will allow salmon farms some room for manoeuvre, the majority of fish must still be processed.
Gerry added: "We try to reflect as much as possible the natural growth of a fish as it changes from being a freshwater animal to saltwater breathing, so we try to replicate that process until we get the fish to a level of 5kg. It takes a long time. We still have a lot of live animals and as much as we are primarily focussed on staff we have a duty of care to the fish to, we're farmers like any other so we make sure they are well fed and looked after.
"Those animals are still going to grow and at some stage they'll get so big you're going to have to harvest and process them through our processing factories. There's a limit to the volume of fish you can keep in any particular pen."
So for Scottish salmon producers the focus now shifts to getting the product out as widely as possible through UK retailers.
"People want to buy great food and they're still buying salmon. The coronavirus crisis means we're more focused than usual on the United Kingdom.
"We're letting retailers know that we have product available and if they want it we'll handle the logistics together and get it to them.
"Fish are very good for you and our salmon is particularly high in Omega 3 – something that is true in general in Scotland – but we feed ours with a high marine diet which is very good for the fish and means they have high levels of Omega 3. So the good news is that salmon is a healthy product and is in steady supply and people will get a lot of benefit from eating fresh salmon."
That message is one that is being echoed by Scotland's many smokehouses, including the Falls of Dochart Smokehouse in Killin, Perthshire.
Though the business – run by the owner of the Falls of Dochart Inn – only opened in August last year, trade has been swift. The products were mainly sold in the smokehouse shop which was has been forced to close during the lockdown period, but, says sales and marketing manager, Patrick Baines, customers haven't lost their appetite for smoked salmon and have moved online.
He said: "We've been really lucky with the footfall we get here. Falls of Dochart is such an iconic landmark, a lot of tourists stop off on their travels so we've learned a lot in the last six/seven months. We started smoking small quantities and then we became really busy through the shop. In late October our website went live and we had a very busy period sending salmon all over the world to the US, Hong Kong, France and Canada, so for a new company we were really touched by the response.
"The hotel and restaurant are now closed as well as the shop, but it's been really heartening as to how many online orders we've received since then. We'd had a few months of regularly attending local farmers markets so we kept people informed on social media that we'd be happy to do free deliveries in the local area and where those markets had been happening. We've been blown away by the number of orders we've received.
"I think people have been watching the news and seeing scenes in supermarkets and choosing instead to have fresh luxury food delivered to their door free of charge. We're putting the extra miles in and it's been worth it. We'll be staying open for as long as it takes. We're still getting dozens of orders by the day really. Our local Post Office is only doing one collection a day so we have a mad few hours packaging orders and getting them there on time. We're speaking to suppliers and other companies and we're all looking out for each other. We're all in the same boat at the end of the day.
"Some producers rely on markets for their income, with those being disbanded they're in difficulty so we got in touch and now we're selling them on our online shop and when we reopen we'll be selling a wide array of local produce."
With so much short and longer-term uncertainty for the food and drink industry, the focus must remain on distributing products as widely as possible day-to-day. But, says Gerry Corish, one of the outcomes may well be that consumers look more closely at labelling and food provenance in future.
He said: "There are a lot of questions around the medium-term impact [of the crisis]. We believe there will be certain lessons going forward, and that trust in food sources and whether it has been responsibly grown – full traceability – will be very important.
"How exactly the market changes afterwards we are not yet sure, but people are going to want good-quality food and we want to maintain the standards. We see ourselves as flag carriers for Scotland around the world; salmon is the biggest fresh food export from Scotland. We have a lot of brands performing well internationally. There's Lochlander in the US and Tartan Salmon in Japan which have been received really well. It's the traceability, the provenance of Scottishness that people can trust which is important.
"We should be proud of that in Scotland because we've got a great product."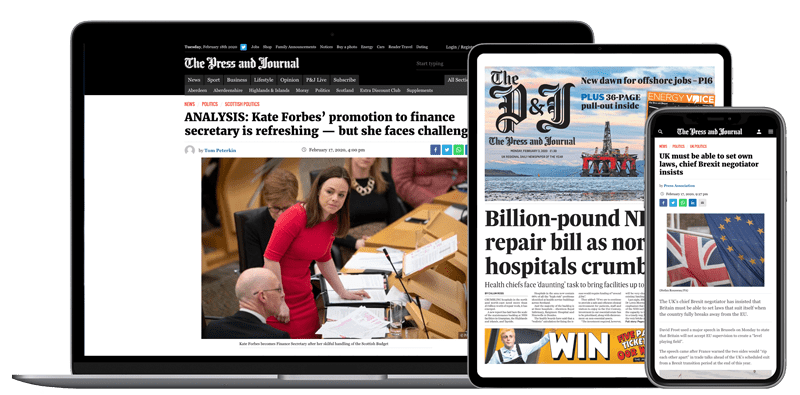 Help support quality local journalism … become a digital subscriber to The Press and Journal
For as little as £5.99 a month you can access all of our content, including Premium articles.
Subscribe