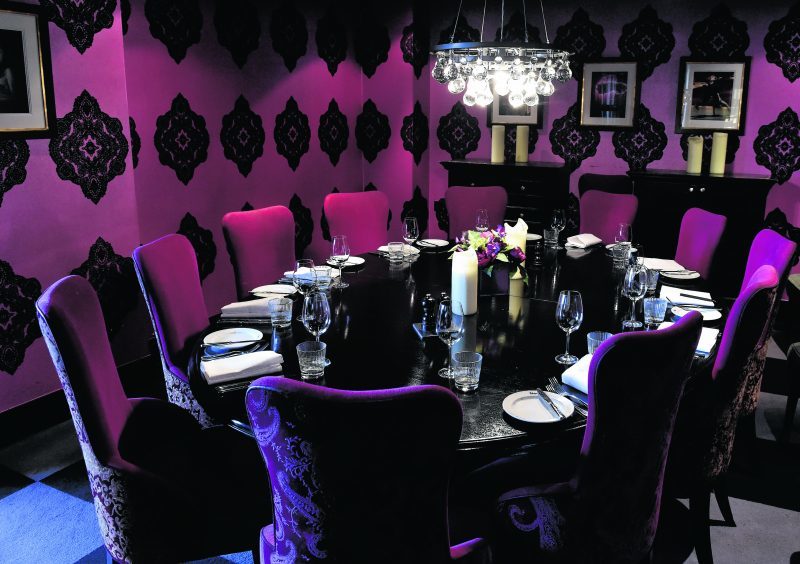 Napoleon was a quick eater, apparently, who liked to soak his bread on the plate and had a weakness for a dish of beans and onions.
It's not clear if this was his meal of choice while residing at Chateau de Malmaison, near Paris, before his exile after defeat at Waterloo.
Given his tastes and reputed 15-minute turnaround, the eponymous Malmaison in Aberdeen might not have appealed to Napoleon gastronomically, but I loved it and so did many others who crowded in one Saturday night recently.
Maybe it's just me, but there is something deliciously decadent and sensuous about the styling at Malmaison, and it was no surprise to learn that the hotel chain's decor was inspired by Napoleon and Josephine's sense of style at their chateau.
This description seems to pop up whenever you do a review search of Malmaisons around the country, which shows all that hard work with branding has paid off.
A lot of effort goes into creating an atmosphere which is so relaxing, yet tingles with expectation.
I loved the soft-lighting, dark corners and shadows, with candles shimmering as people brushed past.
In the main dining room, the ceiling space is industrial chic, with rows of spotlights and exposed air-con piping. In the shadows below, we luxuriated in the classy theatrical feel of the furnishings.
I could have sat here all night, but it had its downside: I left my scarf and car keys behind in the darkness and had to make two trips back inside to retrieve them after we had left.
To be honest, it was tricky reading the menu in candle light, which is maybe why we missed the eye-watering service charge that appeared on our bill. People have mixed views about service charges, don't they?
Especially on a £156 bill for two, as ours was.
Where did all the money go? Now, let's see.
It all started with a sushi-style tuna at £12 from the starters menu, ahi tuna tartare, with avocado, wasabi, pickled ginger, black sesame and soy dressing.
Carpaccio was another renowned historical figure and this 15th century Venetian artist has a colourful dish named after him: a prime steak carpaccio arrived on my wife's side with watercress, Parmigiano Reggiano cheese and truffle dressing.
The tuna was a spectacular starter, but I half-expected it to be seared and I was taken by surprise by the chilled effect, which is not my thing with tuna. I was glad to take a risk, though, to widen my horizons. My wife's carpaccio boasted handsome looks and was a delicate and satisfying contrast to my starter. So, £22.50 for two starters? Well, it is a premier eatery, let's face it.
We had booked into a cosy little side-alley, which skirts around one side of the dining room. This was a tight squeeze, but I loved the way both sides were lined with intimate little tables for two. It was so cosy, my wife managed to knock the salt & pepper pots off both our own table, and our next door neighbour's, on our way out.
Even the waiters had to perform some Lionel Messi twists and turns to squeeze through tightly-packed tables in this section, but it all added to a special-night-out atmosphere.
Steaks are king here: you can order virtually anything in the steak line – steak strips and Black Angus steaks, too.
Staff walk around showing off a blackboard with all the meaty options. What I found impressive was that our waiter explained different styles and cuts in such an informed way, to help us choose the right one.
A little later, Cote de Boeuf ribeye, on the bone, appeared at my wife's elbow. This was a beauty, but by no means the most expensive at £36. The kitchen had also rustled up a red-wine jus, at my wife's request, which was not on the menu – a lovely touch by them, we thought.
As usual, I was quick to share a portion of her steak – it was absolutely delicious, tender and bursting with rich flavour, which was more intense due to being cooked with the bone. It was worth the money for that alone.
I was slightly miffed because my herb-crusted rack of West Country lamb, with three small cutlets, seemed a little lightweight by comparison. Even although it was presented beautifully, it was cooked pink, as is the done thing, but seemed a bit elastic and over-chewy. It will be well-done next time, even if the foodie mafia don't like it.
We had some sides at £4 each, including delicious sauteed field mushrooms and cumin-roasted carrots, but we found our truffle mash and parmentier potatoes on the awkward side of lukewarm.
With a few glasses of Prosecco, things were going just fine, so we plunged in for puddings, too.
My wife must have had carpaccio on the brain, as she rounded off with a dessert version of her starter, pineapple carpaccio (in delicate round slivers) and a mint, lime, chilli and coconut sorbet. A real scene stealer.
For me, a rather substantial, but absolutely delicious, lemon meringue cheesecake.
It had been a lovely night, but I have to admit I had met my Waterloo. I was so full I had to leave my pudding half-eaten.
MALMAISON
QUEEN'S ROAD, ABERDEEN. PHONE 01224 507097.
3 PROSECCO £23.85
2 SCHWEPPES TONIC £4.00
1 STILL WATER 750 £4.00
1 ARTISAN BREAD £4.00
1 STEAK CARPACCIO £10.50
1 TUNA TARTARE £12.00
1 JOSPER PRIME RIB 4 £36.00
1 BEARNAISE SAUCE £1.50
1 LAMB RACK £21.00
1 FIELD MUSHROOMS £4.00
1 MASH £4.00
1 CUMIN CARROTS £4.00
1 LEMON MERINGUE £6.50
1 PINEAPPLE CARPACCI £6.50
1 SERVICE CHARGE £14.18
£156.03