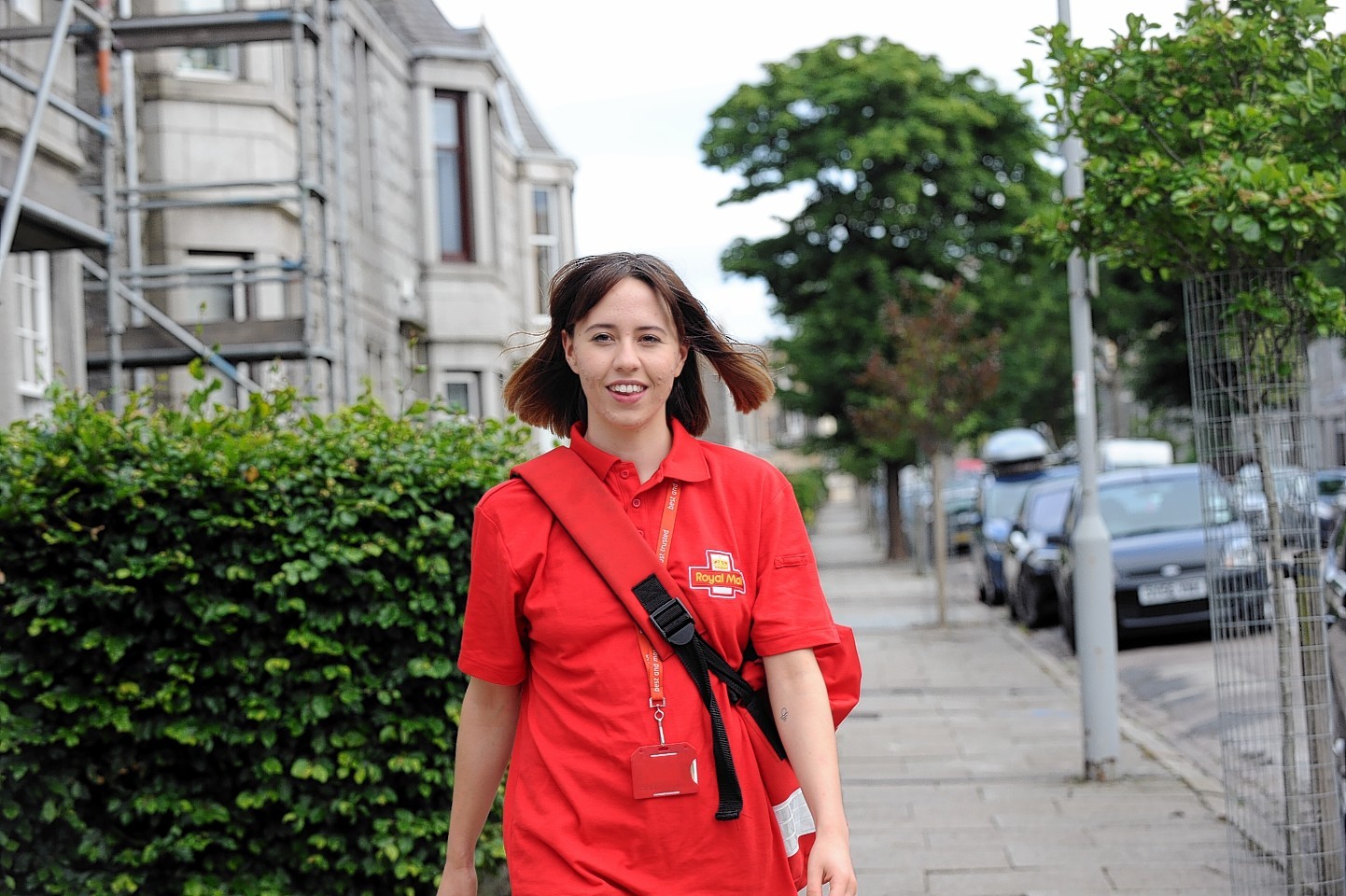 Most people look forward to the summer months, but if you're a postie it's a scary time as that's when dogs are more likely to attack, writes Susan Welsh
Laura Grant breaks out in a cold sweat when she recalls being attacked by a dog while working as a postie.
She was delivering mail to a second-floor flat, part of her usual round in Mastrick, Aberdeen, when she heard the building's security door opening and closing.
This was instantly followed by the sound of an agitated, barking dog racing upstairs towards her.
"I heard a dog running really fast upstairs, while its owner who was looking after a small child at the same time, was screaming at it to come back," said Laura, 27, one of more than 40 postal workers attacked by dogs in the north-east last year.
"Before I had time to defend myself, the dog jumped up and bit me on the back of the upper thigh of my right leg, drawing blood.
"I screamed, which seemed to scare the dog, but it was still barking like mad at my feet.
"It was really scary. You don't know what to do as you've got letters in your hand and are trying to keep the mail safe, while trying not to cry because of the pain and protecting yourself at the same time.
"We are advised to use our postbag to protect ourselves and always use a dog peg (a red plastic peg used to push flimsy mail through letterboxes) so you don't get your fingers bitten by dogs just waiting on the other side of the letterbox.
"But none of this is any use if a dog comes running towards you, determined to bite you," said Laura who now works in admin for the Royal Mail.
"When the owner of the Scottie dog, who lived on the third floor, came upstairs she said for me not to worry as her dog would never bite – but by that point it had already sunk its teeth into me.
"She was horrified and insisted I go to her house where, having locked the dog which was going crazy in another room, helped me wash and dress the wound."
Laura didn't require hospital treatment and was able to continue with her round, but she ensured her bosses were told what had happened.
Her tale is not unique.
Man's best friend can sometimes be enemy number one for Royal Mail workers. Between April 2013 and April this year, some 41 postmen and women were attacked across the AB postcode, which covers an area that includes Aberdeen and Aberlour, Banff and Laurencekirk.
That's 41 more attacks than there should be. Royal Mail is determined to drive this number down via its annual Dog Awareness Week.
Running from Monday, June 30 until Friday, July 4, the week aims to raise understanding of the issue of dog attacks on postmen and women in the AB postcode area.
Dog attacks, which increase during the summer and school holidays, are a significant hazard faced by postmen and women on a daily basis. There were more than 3,000 attacks last year across the UK, many of them extremely vicious.
Deborah Rodger, Royal Mail delivery director for the AB postcode area, said: "Following the success of last year's campaign, there is growing awareness of the issue of dog attacks and the problems our postmen and women face when they are delivering the mail.
"However, last year there were still too many incidents in the AB postcode area and we need to reduce this number further as even one dog attack on our people is one too many.
"We know that most dogs are not inherently dangerous. However, even the most placid animal can be prone to attack if it feels its territory is being threatened.
"Our first priority as an employer is to ensure the welfare and safety of our people who provide a valuable service to our customers.
"We appeal to dog owners in Aberdeenshire to keep their pets under control, especially if they know their pets have a territorial nature.
"It can also be simple things that help – for example just making sure the dog is kept inside when the postman calls."
While MPs, councillors, political activists and other campaigners are also at risk from dog attacks when out canvassing and leafleting in their local areas, it seems to be our hardy postmen and women that antagonise dogs the most.
Dog behaviour and training specialist Mike Grantham from Inverness – known locally as the dog whisperer – believes there's more than one reason as to why this is the case.
"An awful lot of pet dogs do become agitated when someone comes to the door, and the problem is that people haven't learned to control this behaviour," said Mike.
"Often it starts when the dog is very young and bad behaviour is unintentionally encouraged by the owner perhaps thinking its funny or cute for the puppy to bark or jump up.
"It's a good adage to remember that when your dog is wee, you shouldn't let it do things you wouldn't want it to do as an adult dog.
"Dogs don't realise he or she is grown up and shouldn't be jumping up or going on the furniture. It's the same with over-excitement and agitation when someone comes to the door.
"It should really be thought of as soon as the dog is brought home for the first time, so when someone comes to the door you get the dog to sit calmly – give it a treat for staying calm and quiet, so the dog learns it's not their job to get agitated when someone comes to the door."
As to why dogs are particularly aggressive towards postal workers, Mike said: "The postman or woman is one of the few people who will come to the door, and as the dog sees it, doesn't get invited in but interferes with the house and goes away.
"It's a similar story with delivery men.
"Dogs associate the uniform or cap with the sort of people who are not invited into the house as accepted guests of the family.
"There's also a territorial element about it. Although you can't generalise in breeds, some dogs have been bred to show more territorial activity than others, so for example, German shepherds and rottweilers will tend to be a little more territorial than your average greyhound or beagle because it's in their nature.
"If your dog has a problem with the postie, I'd suggest getting experienced professional advice or take it to a training class."
Mike's next training class, which he runs for the Highland Canine Association, will take places at the Cameron Hall, Inverness, on October 1.
For details of dog training
classes in Aberdeenshire, e-mail
environmental@aberdeen
shire.gov.uk or visit ww.aberdeen
shire.gov.uk/animals/classes/
TOP TIPS FOR DOG OWNERS
Even the most loveable dog can be a danger to postal staff. Dogs are territorial by nature and if they feel they need to protect their family, they can become unpredictable.
Here are some ideas to help your postman deliver your post in safety:
Ensure your dog is out of the way before the postman or woman arrives. Place your pet in the back garden or a faraway room.
If you have a back garden, close off the access, in case your dog could get round to the front when the postman calls.
Dog attacks can happen when you've opened the door to sign for an item. Please keep your dog in another room before answering the door and make sure children don't open the door, as dogs can push by them and attack.
Give your dog some food or a toy to occupy them while your mail is being delivered.
Wait 10 minutes after your mail has arrived to let your pet back into your hallway. Keep everything as calm and low-key as possible.
If your dog likes to attack your mail, consider installing a wire letter receptacle. It will protect your post and your postman's fingers.
If it's not practical for you to keep your dog away from a postman delivering your mail, please consider fitting a secure mailbox on the edge of your property.
There is a dedicated advice page on the Royal Mail website for dog owners at www.royalmail.com/
dogawareness