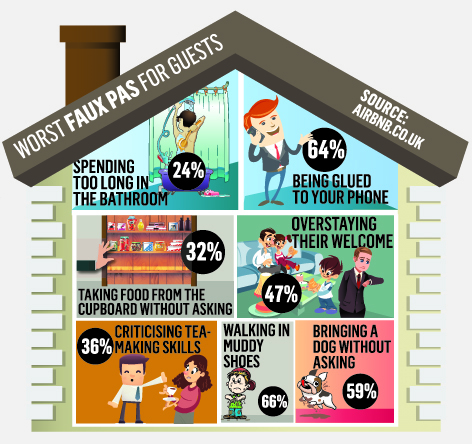 A new guide to etiquette promises protection from the pitfalls of housesharing while on holiday
If you're hosting guests, or going to stay at someone's house, certain codes of behaviour go without saying.
Keeping the toilet roll replenished is a no-brainer for hosts, while guests are always considerate and respectful. Or so you would think.
The emergence of an online handbook for housesharers proves that what's obvious to some is a complete surprise to others, especially in our digitally-focused, tech-frenzied world.
The new Debrett's Guide to Homesharing Etiquette – a collaboration between the time-honoured etiquette experts and the housesharing website Airbnb – is aimed at smoothing relations between guests and hosts.
It aims to mix guidance rooted in centuries of British etiquette, including rules on punctuality and how to make the perfect introduction, with advice on modern predicaments like smartphones and social media at the dinner table, and smoking electronic cigarettes indoors.
This advice is clearly overdue, considering research by Airbnb found more than 68% of people think social etiquette is on the decline.
Even shockingly basic standards like getting too drunk, wearing dirty shoes, poking around uninvited and announcing special dietary requirements at the last minute came up as potential guest pitfalls; while a failure to have clean bedding, provide toilet rolls and offer that British staple – a cuppa – were common howlers of the host.
James McClure, general manager of Airbnb UK said the survey results are "interesting".
"They dovetail with our advice that manners are there to make everyone feel welcome, remove any anxiety, and minimise social difficulties or awkwardness.
"It's not difficult to be a great guest or host – you just need to make sure you are fully engaged with the other person, give them your full attention, be courteous and be respectful."