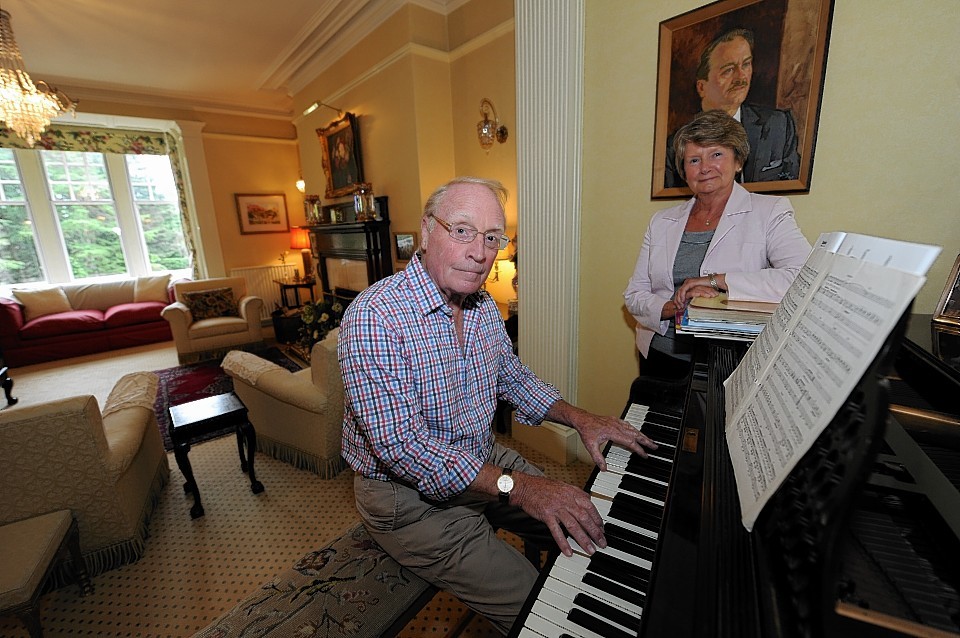 It has been home to the same family for more than 50 years. Now it's time for another family to enjoy this much-loved home in Aberdeenshire. Cheryl Livingstone finds out more
Built circa 1890, Greystones, Abergeldie Road, Ballater, was home to a retired naval captain. Fast forward 70 years and it became home to the Nelson family.
And 20 years ago it was passed down a generation to Iain Nelson and his wife, Catriona.
Iain's parents bought the grand period home in the early 60s, having spent around 30 years living in Bombay, India.
"My father worked for Cadbury's chocolate. He worked in India for more than 30 years," Iain, 70, explained.
"Then he dispatched my mother to Scotland to look for a house for them to retire in.
"They were originally from Kirkcaldy in Fife and she looked all over the country before coming across Greystones and they just loved it. They were attracted by both the house and the area, and particularly the views over the 16th tee of Ballater Golf Course."
Now with their children having flown the nest, Iain and Catriona have decided to sell their house, which is on the market for offers over £900,000.
But, as they explained, they have absolutely loved the area and have no plans to leave Ballater any time soon. In fact they are not planning to move very far at all – within the grounds of Greystones, to be exact.
"We are proposing building our new home in the garden," said Catriona, 68.
"The property has over an acre of ground with a plot to the right of the house which we never used, it was just a neglected wood. All the trees are down now and there is space for a house without it encroaching on Greystones and its position."
"And we don't need six bedrooms at our age," Iain added.
The project will be a first for the couple, although they have taken on house extensions and the like in the past. They even took on a massive renovation of Greystones itself in 1995.
They tore the house to bits and put it all back together again, as Catriona put it, and they should definitely be proud of their efforts.
Each room of this magnificent six-bedroom house has been beautifully restored and brought up to date, with the couple also being able to put their own stamp on it.
The entrance vestibule has a wealth of period features, including the original tiled floor in a mosaic design, glazed leaded windows and pine panelling. A beautifully etched, glazed inner door with glazed etched windows either side makes for a fine entrance.
The drawing room and sitting room at the front of the property are fine entertaining spaces with dual aspects, and box bay windows offer wonderful views across the garden and the golf course. Both reception rooms have open fires and cornices; the drawing room has decorative pillars and a picture rail, while the sitting room has a shelved alcove.
The dining room is an atmospheric room and has an open fire. The adjacent kitchen is the hub of the house with an Aga, island unit and ample space for a dining table. There is a range of white, fitted units with Corrian worktops, and French doors lead to a terrace where you can sit and enjoy glorious views of the garden.
Upstairs, the south-facing master bedroom is very light and spacious, with an en suite bathroom and dressing room with fitted hanging and shelf space. A door leads on to a sun-filled balcony with fine views. Bedroom two, another spacious room, also connects to the balcony.
"It's a fantastic family home. It really comes into its own when it is filled with people," Catriona added.
"I love it at Christmas and New Year, the house can sleep around 16 people with sofa beds and the six bedrooms.
"It doesn't overtake you either. I think the ceilings are so nice and low compared to other Victorian homes, which certainly gives an atmosphere of a cosy home rather than a large house.
"The main room, the large drawing room, is wonderful at Christmas time. There's plenty of room for everyone.
"The piano is in there so we've had many a party in that room. The kitchen opens out on to the garden so that's another room in the summer time."
The outside is equally impressive and another space that the Nelson family have spent a lot of time in.
Catriona said she never tires of sitting on the bench at the front of the house in the garden, while Iain believes the view of Ballater Golf Course is one of the many jewels in the crown of this home.
It is one that Iain has been admiring for a long time, ever since he was a student at university some 50 years ago.
"I was in university when my parents bought the house and I came up to the house to study for my re-sits and I remember sitting looking at that view of the golf course and feeling determined that I was never going to fail an exam again, so I could actually play golf instead of just looking at it."
The village of Ballater is also a place close to the Nelsons' heart – so much so that they were determined not to leave it.
Ballater is the south-eastern gateway to the Cairngorms National Park and is set in magnificent scenery and is within easy reach of Balmoral, the Scottish holiday home of the royal family.
The village offers a range of local amenities, including a variety of shops, award-winning restaurants and hotels and primary schooling. Secondary education is at nearby Aboyne.
"There is a saying that if you can't get it in Ballater, you don't need it," Iain said.
The Nelsons will be a big part of the history of Greystones, but now somebody else has the chance to start a new chapter in this grand home's life.
So how are they feeling about leaving this much-loved home?
"Spilling out from the house on to the lawn and the flowerbeds, that's what I will miss," Catriona said.
"That aspect from the kitchen looking down the garden to the copper beech tree is delightful, so I will definitely miss that view too."
"I'm quite happy because I'll still have the same view of the 16th tee of the Ballater Golf Course," Iain added.
"I think we feel its about time to let someone else have the chance to enjoy this particular house."
Contact: Strutt & Parker on 01330 826800.