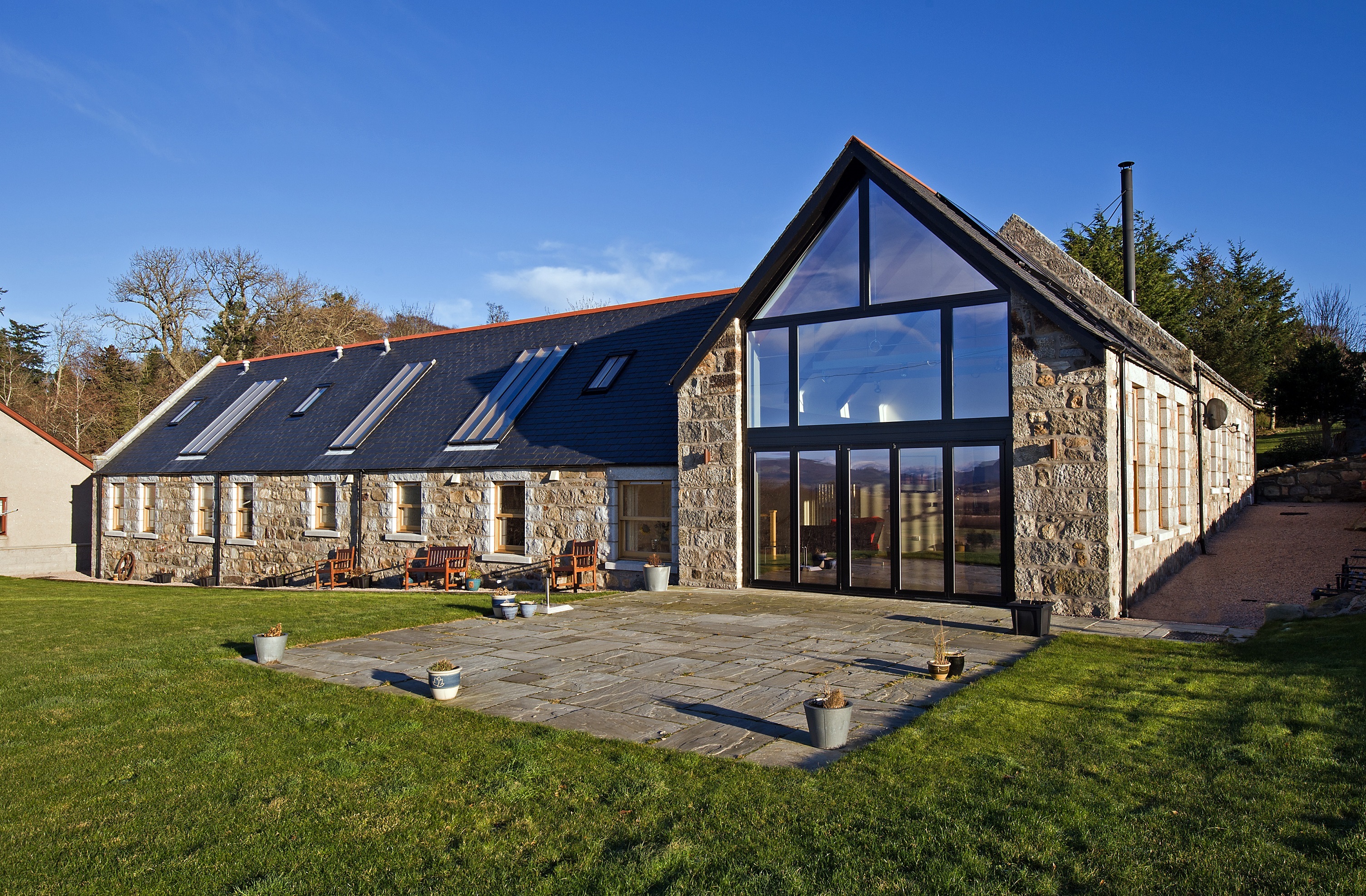 Steading conversions are quite a common type of property to see on the market these days, but I visited one recently that really does stand out from the crowd.
Edindurno in Whitehouse, near Alford, is a stunning, charming, contemporary, traditional five-bedroom steading which is unbelievably impressive inside and out.
On the day that I visited the sun was beaming down on us and added to the charming location the house is in. After a lovely drive from Aberdeen – which takes around 40 minutes – I found myself in front of a large elegant building surrounded by rural views as far as the eye could see. I honestly couldn't decide what I wanted to look at more – this house or the picturesque countryside.
Luckily Edindurno's owner, Robert Holt, was there to meet me to give me a tour of his grand home which, along with his wife, Paula, he has lived in for the past four years.
The couple have owned the steading for around 20 years after buying it along with the house just up from it. The pair, originally from Aberdeen, had been living down south when they decided to return to the north-east with a countryside location in mind.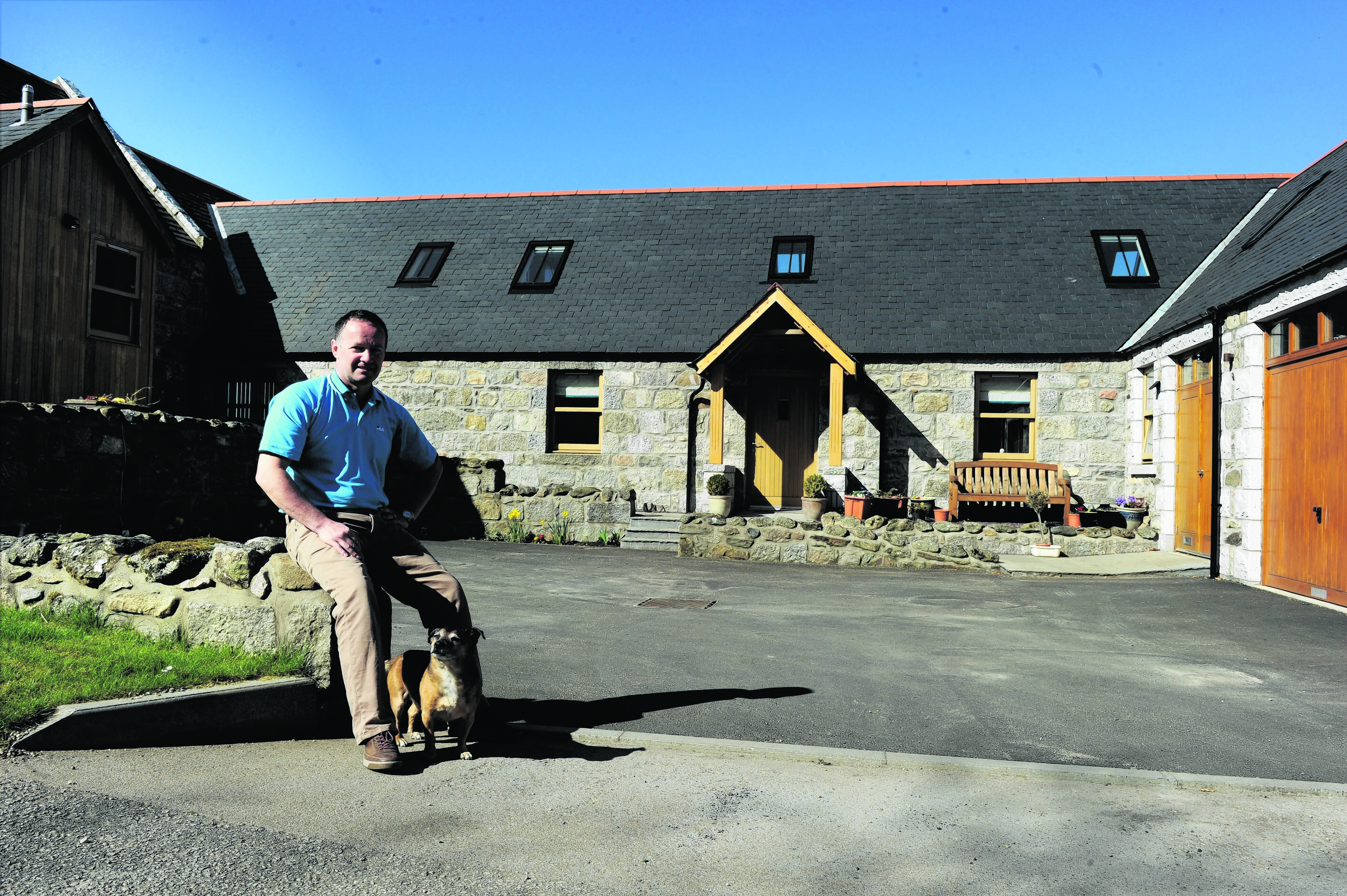 They lived in the house with their two sons before finally taking on the challenge of converting the old steading.
Robert, 54, who works as an operations manager, said: "Developing the steading was always something we wanted to do, but it was always on the back burner. It wasn't in a great condition. It hadn't been converted yet when we bought it. It wasn't derelict but it was just a farm building that was disused.
"We had some experience, we built our own house in 1987 when we lived in Drymen, Loch Lomond. I did it myself, it was a new build so totally different from this.
"It was just the right time to do the conversion. When you've got small children you don't have the time or money to do it but we did always want to do it."
When they did come to start considering the conversion, Robert said they were limited to what they could do due to the shape and layout of the building. But they didn't let that stop them. They had some ideas and, along with the architect, they have created a home that is a far cry from a disused farm building.
Now the house is warm and bright with large windows flooding the home with sunlight and also revealing the stunning views of the surrounding countryside. There is an open plan layout in the kitchen and lounge while bi-fold doors lead you into what has got to be the jewel in the crown of this great home.
There is a family room with a large glass gable end where the views are really the focal point of the room. Another set of bi-fold doors allow you to open up the room, bringing the outside in.
Robert said the glass gable end was one of the many features they were very keen to incorporate. They also wanted some eco-friendly elements in their build. Those come in the form of a wood-burning stove in the lounge, an air source heat pump and solar panels. All these elements ensure the house is toasty all year round, while there is also underfloor heating.
There are some lovely features in the house as well from cathedral ceilings with wooden beams drawing your eye up, large windows sloping down the roof of the building in the upstairs bedrooms and an extra special window in the kitchen wall.
Robert said: "The kitchen used to be a hay loft and my kids used to play in here. At the top there was a door. When we did the work the wall was in a poor condition so we had to take it down and rebuild it. So we thought there was no point putting the door back in which would never be used so we decided to make a feature out of it. When the sun shining the circular window reflects a pattern from it across the gable end."
Work started in April 2009 and was completed in May 2011. While Robert did a lot of the work himself, he did have help from contractor Jack Duncan and stone mason Dod Stewart.
"Both the guys did a fantastic job, especially Dod," Robert said.
"We've had a lot of comments on his work and said how great the stonework is.
"I enjoyed the project when we were finished. It was hard work but it was definitely worthwhile in the end."
Now with both their sons off to university, Robert and Paula have decided it is time to downsize and move closer to Aberdeen. The father-of-two said it will be a big change for them.
He added: "I will miss the peace and quiet. It's been a fantastic place to live and it's going to be hard to leave it, but it's the right time."
Edindurno is on the market for offers over £595,000. There is also lot available for offers over £50,000 which includes nine acres of rough grazing land located to the south east of the property. The lots can be bought together or separately. For those with equestrian interests, this would be a fantastic opportunity to own a gorgeous house with your horses right on your door step.
The steading is situated in an exceptionally peaceful, elevated location on the edge of the Howe of Alford approximately 25 miles west of Aberdeen and three miles east of the village of Alford.
The village of Alford is a thriving community with a range of clubs and many amenities, including a hotel, restaurants, convenience stores, a butcher, a delicatessen, and a monthly farmers' market. Free transport is provided to the local schooling at Alford Academy and primary. Primary schooling is also available at Tough and Keig nearby. New facilities including new schools, a community library, swimming pool and gym are planned for 2016.
Contact: Strutt & Parker on 01330 826800.