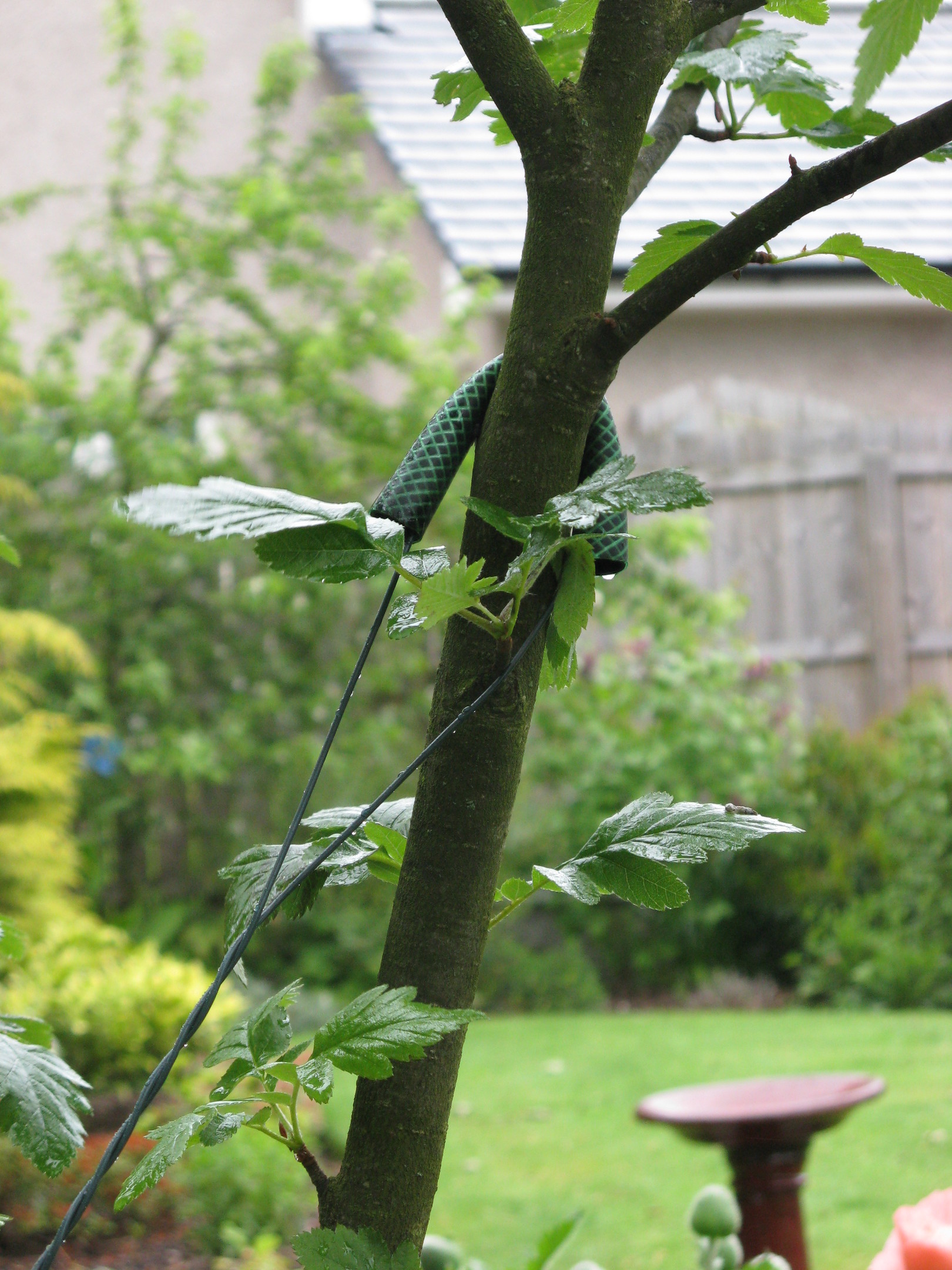 Outside our SW boundary are three sizeable Sycamore trees. They are growing in what was part of the glasshouse nursery attached to Glengarioch Distillery.
As many of you will remember I was part of the team that pioneered the use of waste heat from the distillery to grow tomatoes and other crops under glass.
It proved to be an initiative 20 years before its time and is sadly no longer.
Anyway, as well as tending more than 10,000 tomato plants we kept the surroundings pretty tidy too.
To put this in context, we are talking the 1980's and to return to these sycamores, I actually removed quite a number of self sown seedlings and saplings from inside the boundary fence of the nursery, selecting three well spaced youngsters to remain and they have grown rather well.
At this point in time with hindsight I am reminded of that famous phrase of Captain Mannering – "stupid boy!"
Had I known then that in another 25–30 years time I would be gardening on the other side of that same fence, I might have removed ALL the seedlings!
Apart from the infernal nuisance of being plagued with annual crops of seedlings coming up everywhere, the shade the three trees cast is affecting the garden.
I have actually raised the crown of each specimen by removing lower branches to let in more light and improve our view.
The downside, however, is that one of our young trees, a Sorbus intermedia, is beginning to lean away from the sycamores, searching for better light.
Whilst the main stem is still young and pliable, I am going to attempt to straighten it using a Spanish windlass.
In this situation, the technique may not have a long lasting effect but in the medium term, I hope it will improve the 'look' of the tree.
I have used the technique successfully elsewhere, indeed I remember applying the method on a Laburnum that had semi-keeled over at Beechgrove.
It is fitted as follows:
1 Create a guy rope of a double wire stretching from the crotch of the tree, in this case about 1.75m from the ground to a stout anchoring peg hammered into the ground a couple of metres from the bottom of the stem on the side nearest the offending sycamores.
2 Halfway down the guy rope, insert a stout piece of wood between the two strands of wire and start turning. As the wire tightens, it gradually pulls the stem towards the vertical.
3 From time to time, give the wooden handle several more turns, until the main stem reaches the vertical
A pointless exercise? It might be but I would always regret it if I didn't have a go.
Ground Cover Plants
On bare ground and where the mulch is wearing thin, weed seedlings are becoming a bit of a nuisance. They are easily dealt with, if you have the time.
Choose a bright sunny day and run through the borders with a Dutch hoe, leaving the seedlings to shrivel up on the surface.
The other day, I reached a wee corner that had been missed and the Hairy Bitter Cress seedpods were popping, showering ripe seeds all over the surface – grrrrrrr!
I should listen to my own advice more often, – catch the annual weed seedlings before they flower.
To my point, one successful way to reduce weeding is to use ground cover plants and there are plenty to choose from if you read the gardening press. Some are more effective than others.
Shortly, I will be looking at a wee selection that we have been growing at Beechgrove.
We chose a few herbaceous and woody perennials, planting one per square metre to see how long it would take them to blanket cover such an area. At home I have one or two crackers.
The first is Maianthemum bifolium which I first saw several years ago in a garden in the Scottish Borders.
I have a suspicion that there may be some of you out there who would like to be rid of this plant because once it starts, it can spread pretty quickly.
To my mind that is not a good enough reason for extermination.
If it is doing a good job for you then you must look after it.
Keep it within bounds, exactly where it is meant to be.
Just like the big hooligans such as Japanese Knotweed, you mustn't turn your back on it; fortunately it is quite easily kept within bounds.
Maianthemum bifolium, The Spanish windlass: a) guy rope positioned round the crotch of the tree (note the protection provided by a piece of hosepipe)b) The other end of the guy rope round a stout peg in the ground c) The windlass, located mid-distance