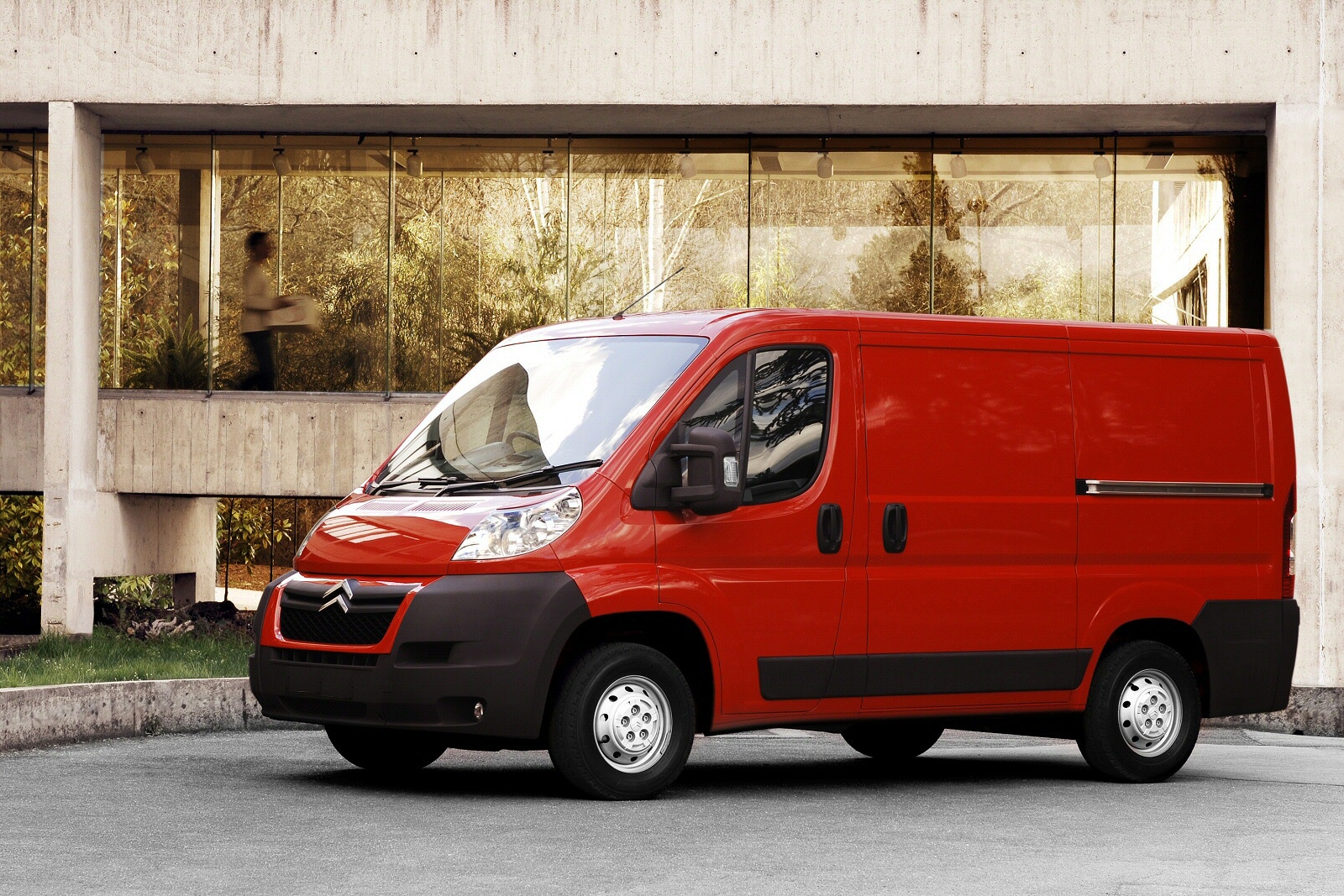 The Relay is Citroen's entrant in the large LCV panel van sector. On paper, it appears to tick all the boxes. Jonathan Crouch puts it through its paces
So what's it like to drive? Well, for a start, there's a big climb up into the cab, which means that the driver has great panoramic views of the road ahead.
At the top of the range, there's a 3.0 HDI 180 model with 180bhp but beneath the right foot of most customers will lie a 2.2-litre common rail Hdi four cylinder 16-valve diesel engine offering a choice of either 100 or 120bhp, with enough grunt to haul a braked trailer grossing a 2000kg. While the more powerful unit is mated to a 6-speed manual gearbox, the entry-level 100bhp powerplant must make do with a 5-speed transmission.
The base 100bhp model also does without variable assistance for the power steering to keep it light in town and heavier on the highway. Even with this feature in place, some drivers may find the helm a little light on the open road but there's certainly no issue around town where this van can make light work of tricky urban situations with a tight 10.8m turning circle between kerbs. On longer trips, you'll notice that this isn't the quietest LCV of its kind: the standard fitment of a bulkhead behind the driver's seat would help a great deal to alleviate this.
Suspension is something of a Citroen speciality and not only in its passenger cars. Here, for example, the's the option of replacing the simple single leaf spring rear suspension set-up with a double-leaf layout if you've going to be regularly carrying heavier loads or even a pneumatic self-levelling system. Whichever you choose, the Relay handles very neatly, remaining composed in the corners and smooth on the straights. If it does get away from you, there's ABS as standard with brake assist to make it more effective, while ESP stability control is optional.
List prices suggest that you'll be paying somewhere between £18,000 and £25,000 for your Relay van excluding VAT, around the same as you would for obvious rivals like Ford's Transit or Peugeot's Boxer but a little less than you'd be looking at for say, a Volkswagen Transporter.
A great deal of emphasis has been placed on rendering the Relay as user-friendly as possible. Access is by means of a sliding nearside door, plus the usual twin side-hinged rear doors which can be glazed or unglazed as required. Go in via the side and there's plenty of room for a Europallet, with an aperture 1485mm high by 1075mm wide. Most of the time though of course, you'll be lumping things in through the back where you've 1520mm of height and 1562mm of width to play with. Here, the standard 90-degree opening can be extended to 180-degrees by releasing these stays. If you want to go further, an optional modification is available to allow 270-degrees of opening
So stuff will fit: but what about actually getting it in? Well, it helps that access is via a wide non-slip step and that the loading height can be as little as 530mm, depending on the model, which can be reduced by a further 70mm if you specify the optional air suspension. Once inside, there's 2670mm of load length in the standard 8m3 load volume Relay most choose, with height of 1662mm. You've 1870mm of width that narrows to 1422mm between the wheelboxes, which means that there's enough space for an 8×4 sheet to be loaded flat on the floor.
At the pumps, 35mpg as a regular average should be quite achievable from the 2.2-litre variants as long as all their work isn't all urban-based. Oh and the environmentally-aware will also want to note that both of the available engines will run on fuel containing up to 30% biodiesel without needing modification.
Citroen is serious about replicating its compact van sales success in the large LCV sector. They've collaborated on what is arguably the best design in this marketplace, then equipped it to stand out from its Fiat and Peugeot van stablemates.
There may be more desirable large panel vans but few make more sense than this Relay. If you're business is shopping in this sector, it has to be on your list.