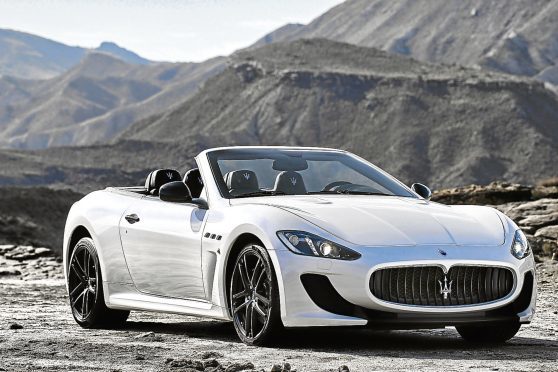 This Maserati GranCabrio MC features the sort of go-faster work you wouldn't really associate with an open-topped car.
The engine is a 4.7-litre V8 that cranks out an astonishing 453bhp and 383lb/ft of torque.
That's enough to punt this hefty hunk of automotive real estate to 62mph in just 4.9 seconds and on to a top speed of 179mph. The MC Auto Shift transmission isn't some lazy slush-box. It includes a launch control mode called MC Start Strategy and a number of manual modes where wheel-mounted paddles can be used.
This six-speed ZF has a Manual-Sport mode which allows the driver to hang onto a gear right on to the rev limiter if necessary without the system intervening to change up.
Single-rate dampers are fitted and braking is taken care of by Maserati's patented Dual Cast system which includes brake discs with aluminium and steel surfaces grabbed by massive Brembo calipers.
They've got work to do, as despite the sports parts, this is a car that weighs the best part of two tonnes. Maserati has worked to ensure that the GranCabrio MC disguises its weight well through firm body control and has also done well in reducing the sort of scuttle shake that afflicted early GranCabrio models.
The Maserati GranCabrio is one of those cars where the detailing takes precedence over the basic proportioning.
At first glance, your eyes tell you that this is one of the most beautiful cars to turn a wheel.
It's a convertible Maserati. Then your rational brain kicks in. It's huge. The wheelbase is enormous.
Isn't it ever so slightly odd-looking? The thing is, if you're at the wheel of the GranCabrio MC, onlookers aren't ever going to lay eyes on it long enough for rational thought to enter their heads.
Therefore you can enjoy this car's elements of practicality while wowing all and sundry with its sheer, well, Maserati-ness. The MC-specific exterior changes include a front end inspired by the MC Stradale coupe, a bonnet with two air outlets for cooling purposes, brake disc cooling vents, a large rear spoiler, centre exhausts, rear bumper air ducts and some rather lovely 20-inch MC design alloy wheels.
The styling changes have an effect too, with Maserati claiming 10% more downforce over the front axles and 25 per cent more at the rear.
The interior of the GranCabrio MC has received a pretty comprehensive overhaul with particular attention paid to ergonomics. There are redesigned seats with integral headrests and completely different seat frames.
Available in a completely carbon-fibre version, the frames add 20 mm more legroom for the rear passengers. The steering wheel has been updated, with the rim flattened at the top and bottom for greater clearance of clocks and driver's legs.
The GranCabrio MC also incorporates the Trofeo-design steering wheel paddles as standard, with increased dimensions as seen on the GranTurismo Sport. You also get an aluminium pedal box. The asking price for all this?
Around £112,000. That's about £8,000 more than a GrandCabrio 4.7 V8 Sport and around £14,000 more than the standard GranCabrio model.
That compares reasonably well with rivals from Bentley and Aston Martin and is only around £12,000 more than BMW will charge for an M6 Convertible, a car that's quicker on paper but which offers only a fraction of the Maserati's sense of occasion.
It's impossible to pretend that the Maserati GranCabrio MC will be anything other than a terrifyingly expensive car to run. Residual value is the big ticket item and no car in this class does particularly well, so singling the Maserati out for particular abuse would be invidious. Insurance is an eye-watering group 50, servicing and spares are expensive and fuel economy is an optimistic-looking 19.5mpg.
In case you're interested, carbon dioxide emissions are rated at 337g/km. Even these numbers won't dissuade the target clientele, however, who may well see the up-front price as such a conspicuous bargain that it offsets the ongoing costs with change to spare.
There's something wholly delightful about the fact that Maserati already had a fast four-seat convertible in its range. They even had a go-faster version of their fast four-seat convertible and now they have a go-even-faster model in the shape of this GranCabrio MC.
On the face of it, this car makes little in the way of sense. About the only sensible things about it are the fact that the price step up over the GranCabrio Sport isn't huge and also the fact that rear seat passengers get a better deal than before. Other than that, it's hedonism all the way.
With Maserati making noises about challenging BMW on certain product fronts, we wondered whether the Italian company might be getting a bit sensible.
Here's all the evidence you need that there's still plenty of old-school Italian running through the product planning department.
Long may that continue.