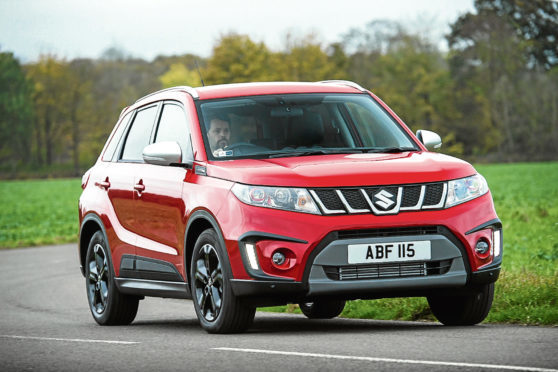 Small SUV-style "Juke-genre" Crossover models are all the rage at present. Every mainstream brand, it seems, must have one.
Here's Suzuki's offering for customers in this sector, the surprisingly light, lithe and fashionable Vitara.
The Vitara is the kind of youthful, dynamic-looking product that buyers of compact Crossover models seem to want.
On paper, it certainly seems to tick all the "Juke-genre" boxes, with lifestyle looks, trendy cabin technology and supermini-standards of efficiency.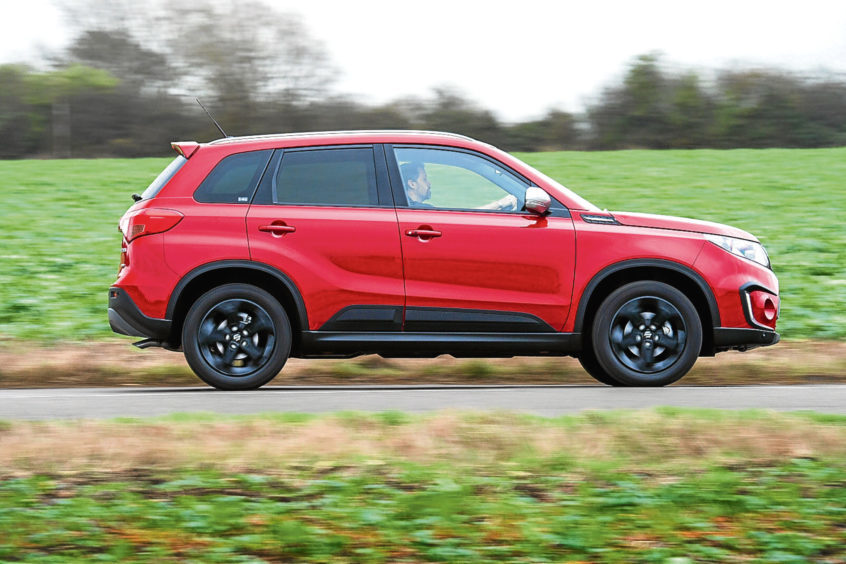 It even claims to be a rewarding steer on twisty tarmac, especially with the 1.4-litre BOOSTERJET petrol turbo engine that the Japanese brand has added since this car was originally launched.
That really would make it different from small Suzuki SUVs of the past.
There are familiar touches though: value pricing, high specifications and a 4WD option – something actually relatively unusual in this segment.
It all sounds quite promising. Time to put this car to the test. The performance-orientated 1.4-litre petrol turbo engine is one of Suzuki's newest units and gives this car a reasonable turn of speed, enabling it to make 62mph in 10.2 seconds en route to 124mph.
Otherwise, the mechanicals aren't anything too surprising, shared as they are with the existing SX-4 S-Cross.
That means buyers get to choose between either a 1.6-litre petrol engine or a much preferable Fiat-sourced 118bhp 1.6 diesel, both being offered in front or four-wheel drive guises.
The petrol engine is fitted with a five-speed manual gearbox as standard with an optional CVT transmission also offered.
Go diesel and you get a six-speed manual box. The short overhangs will help with off-roading but the 185mm ground clearance isn't that generous.
The ALLGRIP four-wheel-drive system is standard with the 1.4-litre petrol turbo and optional with the 1.6-litre variants.
The set-up features an electronically controlled clutch pack, controlled by a four-position switch on the centre console.
Choose "Auto" and it'll stick to driving the front wheels unless slip is detected, whereupon the rear wheels are pressed into action.
"Sport" diverts up to 20 per cent of torque to the rear wheels to give livelier handling.
"Snow" offers permanent four-wheel drive with the system choosing how much torque to split front and rear, while "Lock" splits the torque equally between front and rear. With tight proportions and a front end that has more than a hint of current Land Rover design about it, the Vitara is quite an assured piece of design work.
There's also a blacked-out floating glasshouse, heavily sculpted flanks and a very neat tail-lamp finish.
Buyers can also specify a rugged package which adds front and rear skidplates as well as additional body side mouldings.
Suzuki cabins have long been the marque's weak link but this Vitara shows the company is pulling its socks up a bit.
Okay, so the idea of body-coloured metal across the dash isn't a new one (many of you will recall the Fiat Coupe mining that trend way back in '93) but Suzuki also offers chrome around the gearlever and door trims, plus an analogue clock.
It's by no means a large vehicle, breaking the tape at just over four metres long, but still features a 375-litre boot.
Prices start at around £14,000 for the entry- level 1.6-litre petrol version, but you'll need a £20,000 budget for the petrol ALLGRIP 4WD version.
For the 1.4-litre petrol turbo ALLGRIP model, you'll need around £21,000.
The Vitara's CO2 emissions are low thanks to the use of high tensile steel and other weight-saving measures in the body plus an Engine Auto Stop Start system which shuts down the engine when stationary.
Go for the base 1.6-litre petrol engine and you'll manage 53.3mpg and 123g/km, while the 1.6-litre DDiS diesel manages 70.6mpg and 106g/km.
Obviously, expect those returns to take a bit of a knock if you specify ALLGRIP 4WD. The 1.4-litre petrol turbo ALLGRIP variant manages 127g/km of CO2.
Residual values might well stack up better than the industry average if the current crop of Suzuki models is anything to go by.
Strong reliability records and modest optional equipment lists have helped to keep "real world" residuals buoyant.
The Vitara shouldn't divert too far from that template even if it does promise additional personalisation options.
Customers wanting a small Crossover of this kind now have so much choice that for many of them, it must be difficult to know where to start.
If that's the case for you, then beginning your search by looking at a great all-rounder in this segment seems to make a lot of sense. And this Vitara is certainly that.
In this test, we've looked at some of the reasons why.
The way the affordably priced base petrol version is so much more efficient than many cheap petrol-powered rivals.
The extra space you get inside compared to key competitors like Nissan's Juke.
And the high standards of specification that'll sugar the showroom proposition.
Plus for what it's worth, this Vitara is also a bit more capable in poor conditions than most of the alternative choices you could make, provided you can stretch up to one of the pricey ALLGRIP 4×4 models.
This is, in other words, in every sense, a Vitara for the modern world. A car that's a little more than just a fashion statement.