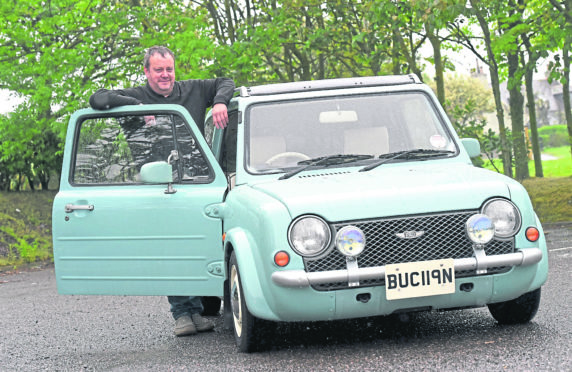 The problem with classic cars is that, well, they're old.
Iconic brands and retro styling go hand in hand with unreliable engines and a never-ending rust problem, meaning owning a vintage motor isn't always as straightforward as it might seem.
The Nissan Pao, however, is an unusual breed, and one of very few cars which bridges the gap between classic cool and modern reliability.
First built in 1989, the Pao was the second in what Nissan called its Pike series of cars, designed with retro styling yet built to meet modern specifications.
They proved extremely popular in their day, though it wasn't a car we in Britain were familiar with due to the limited-edition run destined solely for the Japanese market.
Perhaps that's why James Buchan's aqua blue Pao attracts so much attention.
Originally built for navigating the streets of Tokyo, Fraserburgh is hardly the Pao's natural habitat. But 44-year-old fisherman James has been cruising the streets of The Broch for the last three years since purchasing the unusual car.
"They're not common cars in Scotland and I'd never even heard of them until about six or seven years ago," he said.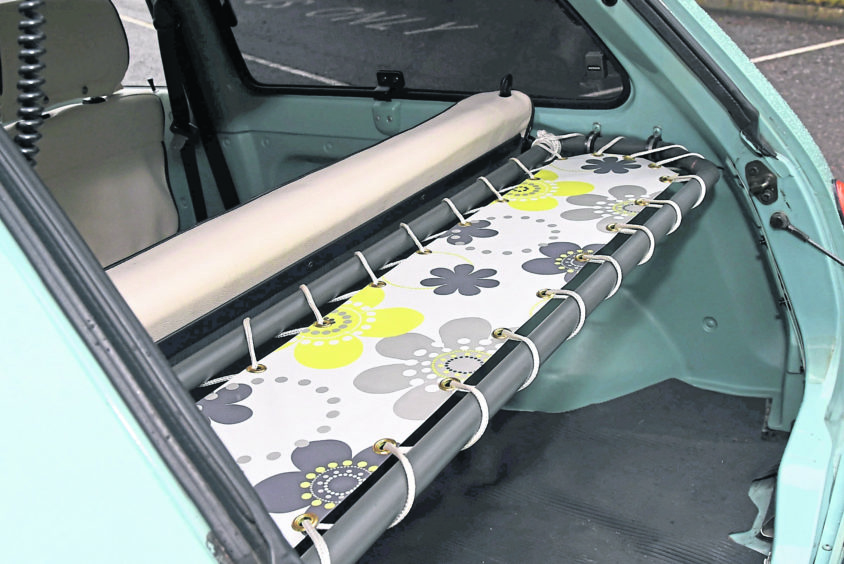 "It wasn't until I stopped at a petrol station in Mintlaw one day that I got to hear about them. I watched a lady drive up to the pump next to me with a fantastic old car that I'd never seen before.
"She'd only recently bought it and was chuffed to see me taking an interest.
"She showed me around and told me it was a Nissan Figaro, a front-engined retro-styled car from the early '90s.
"It piqued my interest and after some research I found out the Figaro was actually part of a special-edition line of cars which also includes the Pao."
Despite never having had a particular interest in motoring or classic cars, James found himself longing to own one of the quirky Japanese hatchbacks.
"I'd never really taken much notice of cars before then," he said.
But it seemed that all James had to do was find the right kind of car, and he was hooked.
It wasn't long after the episode in the Mintlaw petrol station that he bought his very own Nissan Figaro and began learning more and more of the story behind the Pike cars.
The range begins with the angular Be-1, a friendly-faced little thing with round headlights based on the bones of a Micra.
Next up was the Pao, which looks something like a cross between a Fiat 500 and a Mini, followed by the pint-sized Figaro. Completing the range was the S-Cargo, aptly named for its snail-like appearance.
"There are only about 150 Paos left in the UK at the moment," said James, "which is why it took a while to find one for sale.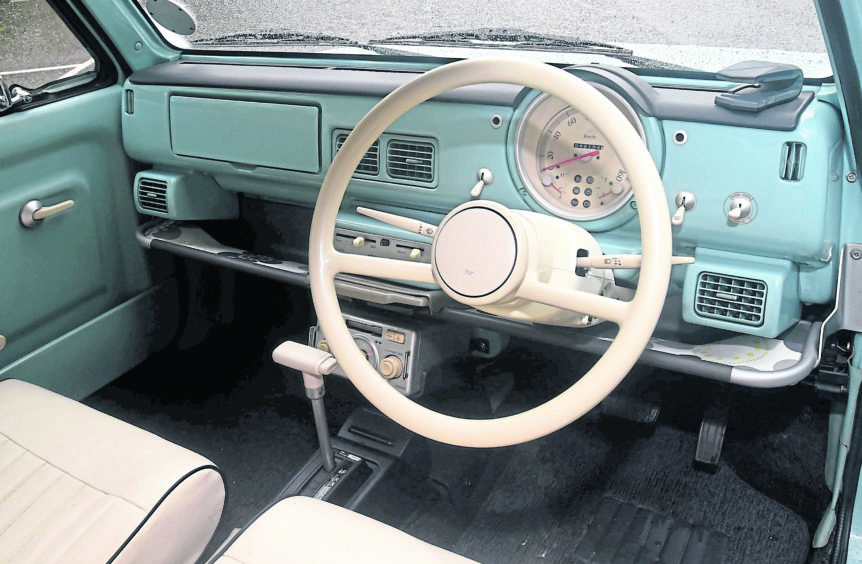 "Eventually I spotted one on a Nissan Pao Facebook group and I jumped at the chance.
"It was in really good nick luckily. The chap I bought it from had imported it from Japan in 2007 but had only driven it for about a year before it sat in a garage until I bought it.
"Owning the Figaro already gave me a base knowledge about how the Pao worked as they are quite similar under the bonnet.
"They are some of the last cars which were built totally computer-free, but are just modern enough to be reliable – so it's the best of both worlds really."
And Pike enthusiast James is keen to collect a full set.
Alongside his original Figaro and the perfect Pao, he has also recently acquired a Be-1 – a rare find in the UK where there are thought to be fewer than 50 such models on the roads.
"I didn't set out looking for the Be-1, it sort of found me," said James, sheepishly.
"You hardly ever see these cars for sale and when you do it's always in the south of England.
"So when this one came up in Motherwell it seemed like a sign that I should go for it.
"I always laugh about name though, 'Be-1' was apparently the number of the design but compared to Figaro and Pao it just sounds like maybe it was the end of the designer's shift and he didn't have time to think up anything else.
"As for the S-Cargo van, well I like the idea of a full set but then I'd have to drive it round Fraserburgh and it's a bit of a Marmite car – you love it or hate it."
It's certainly true that the S-Cargo is a rather unusual motor to be lusting after, and it's not just the outside which is decidedly quirky.
On the inside, there are snail-themed floor mats, a single-spoke steering wheel and a removable sushi tray.
Admittedly they're not to everyone's taste, and as a range each of the motors comfortably cruises at just 55mph on a good day.
But they're also unique, tiny, four-wheeled tickets to stardom at your local car show.