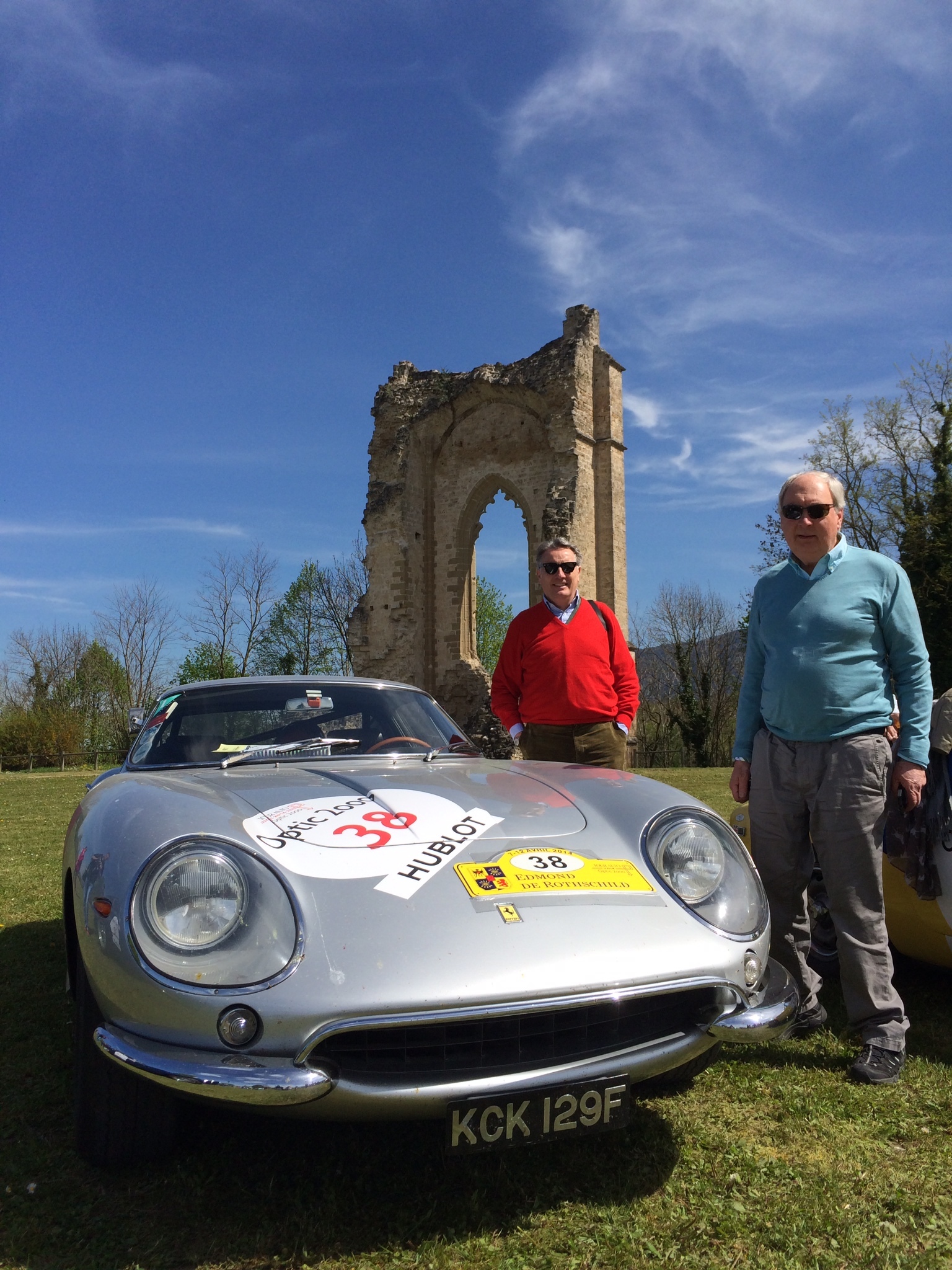 Cheryl Livingstone speaks to David Forfar about his taste of playing a rich man's game
How would you feel if you were at the wheel of a vintage Ferrari car, worth nearly £2million, driving fast around circuits and along clifftops?
It's a terrifying prospect and one I don't think I'd be able to handle.
But David Forfar says the thrill is more than worth being behind the wheel.
The car in question is a 1967 Ferrari 275, owned by his friend and co-driver, Anthony Pozner, who also owns one of the UK's oldest classic car dealerships, Hendon War Motors in London.
"Any Ferrari is a desirable car, but this 275 is just fabulous," David, 54, who is a partner in the Energy Team with legal firm, Stronachs, who also sponsored the car, said.
"Ferrari made around 280 of this model between 1966-67. It's the four cam version, it's the rarer of the two versions that they made. The car today at auction would probably fetch somewhere between $3-3.5million.
"So it was a bit nerve-wracking driving someone else's $3.5million car."
The car accompanied the pair earlier this year as they once again competed in the Tour Auto event, a prestigious road rally that takes part over different routes across France annually and attracts drivers from across the globe. Usually there are around 250-300 entrants.
With a nearly £9,000 entrance fee, and an estimated £2,000 costs for petrol, it's certainly not for everyone.
The event, which was originally called Tour de France, ran for years before it was banned by the French authorities in the 1960s after a number of spectators were killed.
It was resurrected in 1992 by the now organiser, Patrick Peter of Peter Auto, as a controlled race event and has been going ever since.
While Anthony joined the event from its infancy in the 90s, David's first experience came a few years later in 1995 and would continue, with some gaps, until the present day.
"As a teenager I was interested in cars and I just became more and more interested in these older sportscars.
"The chance these days, unless you are an extremely wealthy individual, even to sit inside a car like this is quite rare, let alone drive it for five days."
"And, if you are a lover of old cars, to have the opportunity to go on one of these events is something you just couldn't say no to."
The Ferrari is one of many cars that David and Anthony have taken on the challenge with over the years.
In the past they have raced a 1961 Jaguar E-Type, 1965 AC Cobra, 1973 Porsche Carrera and a previous Ferrari 275.
So which one is David's favourite so far?
"I was very fond of the 1961 Jaguar; we raced that for three or four years.
"It's totally different to the Ferrari. But I drove this Ferrari a lot this year and once you get over your nervousness, it is a magnificent car to drive. I am a Ferrari man, I love older ones although I could never afford to buy one."
Being a Ferrari man, one highlight from this year's event was getting up close to a very rare model from the Italian marque.
The "Breadvan" was actually designed not by Ferrari but by a racing enthusiast who wanted to challenge the Ferrari factory's 250 GTO.
"It is known as the Breadvan because it simply looks like a van at the rear and there is only one. Nobody knows its current worth but it could be worth $100million. That was undeniably the star of the show."
The event itself is a mix of distance racing and special stages including racing around circuits and taking on hill climbs where entrants are giving a basic route and an average speed to complete it in.
This year the race started in Paris and concluded in Marseilles with the special stages taking place throughout the route. It might sound easy getting from one part of France to the next but after seeing the maps drivers are given, I can tell you it definitely is not.
Rather than a traditional map with road names, competitors are given a thick book of directions and instructions with "features" on it and the distance it takes to get to them. Navigating your way across the country and hitting certain checkpoints is just one of the ways drivers can gain – or if they miss them, lose – vital points.
"You spend five days travelling through France but you don't actually know where you are until sometimes only at the end of the stage", David said, laughing.
The race circuits are equally interesting and challenging. Competitors go around the track a number of times with the aim of getting the same time for each lap.
This section is a favourite of David's and one that the pair are particularly good at – having won a trophy at one of the stages this year.
The hill climbs, however, are by far the most nerve-wracking tests of them all.
"The idea is that you are given a route and told what the average speed is for it and you have to try and get from A to B with that average speed limit," David explained.
"But you don't really know what the road looks like, whether there's hairpins or what the road conditions will be like, or the gradient, so it can be quite difficult.
"On one special stage this year, we were doing quite well and we started coming down a hill and the road split in two. I wasn't quick enough to tell the driver to turn right or left so we ended up having to reverse the car, by which point the next car was coming down the hill at about 100 miles an hour. Things like that, you can't plan for them and sometimes you need to decide direction or distance very quickly.
"It is exciting though, some of the roads that you go along have a 2,000ft drop straight down the side. I was absolutely wetting myself but you can't stop and think if we make a mistake here we are over the side. You don't even allow your head to go there. But there is excitement in it. But just being in a car like that is a very thrilling thing to do."
Despite their achievement in the special racing circuit stage, this year did not go too well for David and Anthony, after an alternator belt shredded on the last day which meant they couldn't get on the racing track.
But David admitted the competitive element was not really an attraction for them and they still managed to enjoy themselves.
He said: "We only do Tour Auto once a year and the first day is always a disaster as we have to relearn the rule books. We usually get the wrong route or the likes but France is beautiful from the North to the South.
"You are up in the mountains and there is snow everywhere and then you come down towards the Riviera and the temperature change is absolutely spectacular. And by the time you are down off the high ground, it starts to get pretty hot. The weather this year was particularly good.
"The event is incredibly well organised, its chateau to chateau, champagne flowing, it's a rich man's game really."