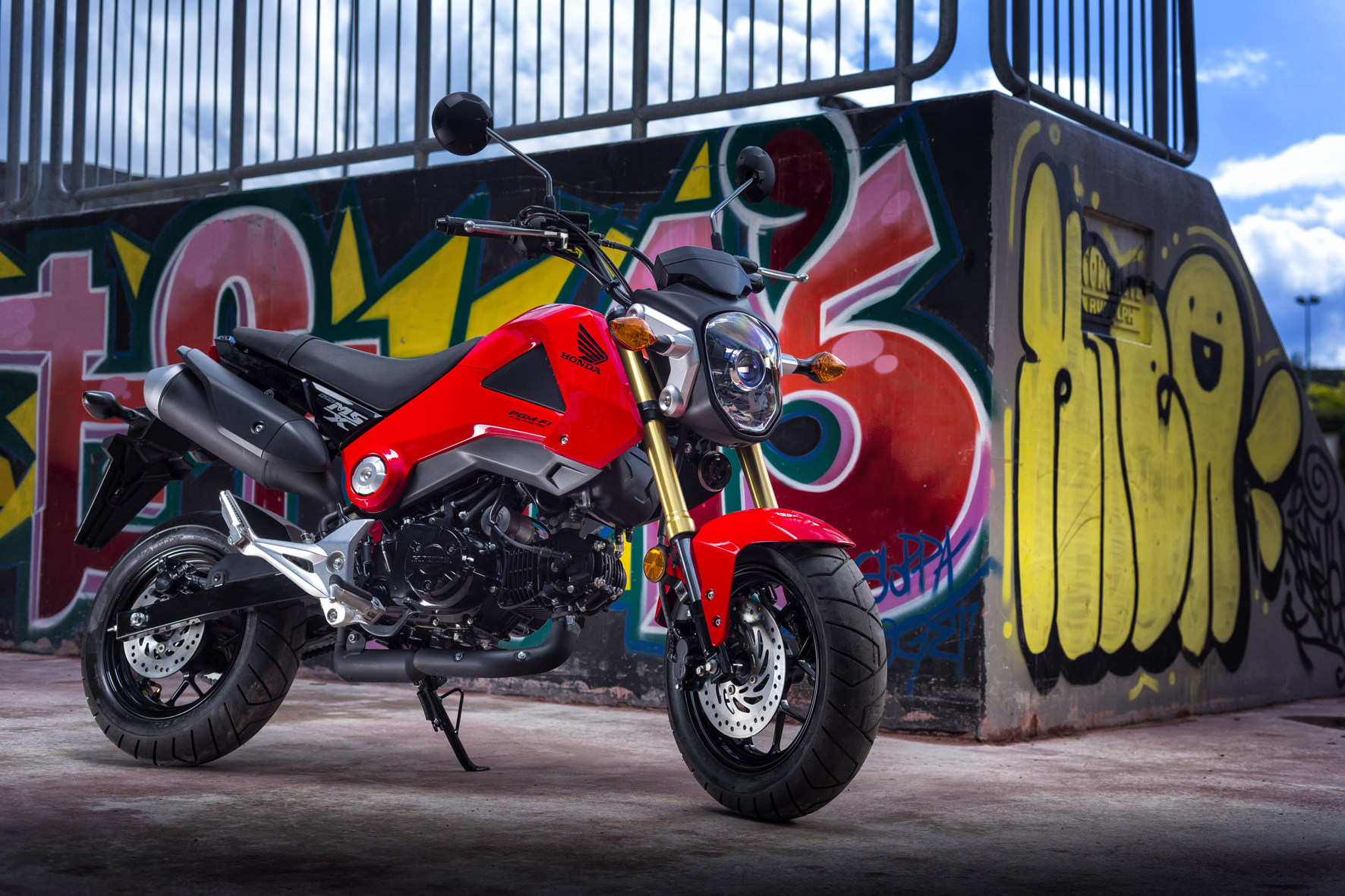 Renaud Amand tries out the small but perfectly mad Honda MSX 125.
Honda's promotional films for the MSX would have you believe that it's a fun-packed little hooligan with a proper clutch and the ability to mix it with the big boys in the fun stakes.
The reality is that, with just 10 horses hiding underneath the MSX's admittedly funky framework, wheelies are harder than scoring a date with Taylor Swift.
There's no denying that such a power deficit is ideal for the target youngsters, who could come unstuck with fiercer anchors and a panic-braking scenario. The bike is unlikely to stoppie unexpectedly at a red light, but shift your bodyweight as far forwards as possible, grab the lever with determined fingers and the MSX's rear hops up playfully.
You'll also see plenty of rear-end sliding in Honda's internet movies. Laying suitably anti-social black lines requires a fine combination of hard front braking to lighten the back end, a touch of rear brake and a considerable amount of engine braking. The aim is to let the rear wheel slip without locking up. It is no mean feat on the MSX but, on the plus side, the bike is so light and low that you can easily dab the ground with your foot to get yourself out of trouble. It's fun, but it's no supermoto.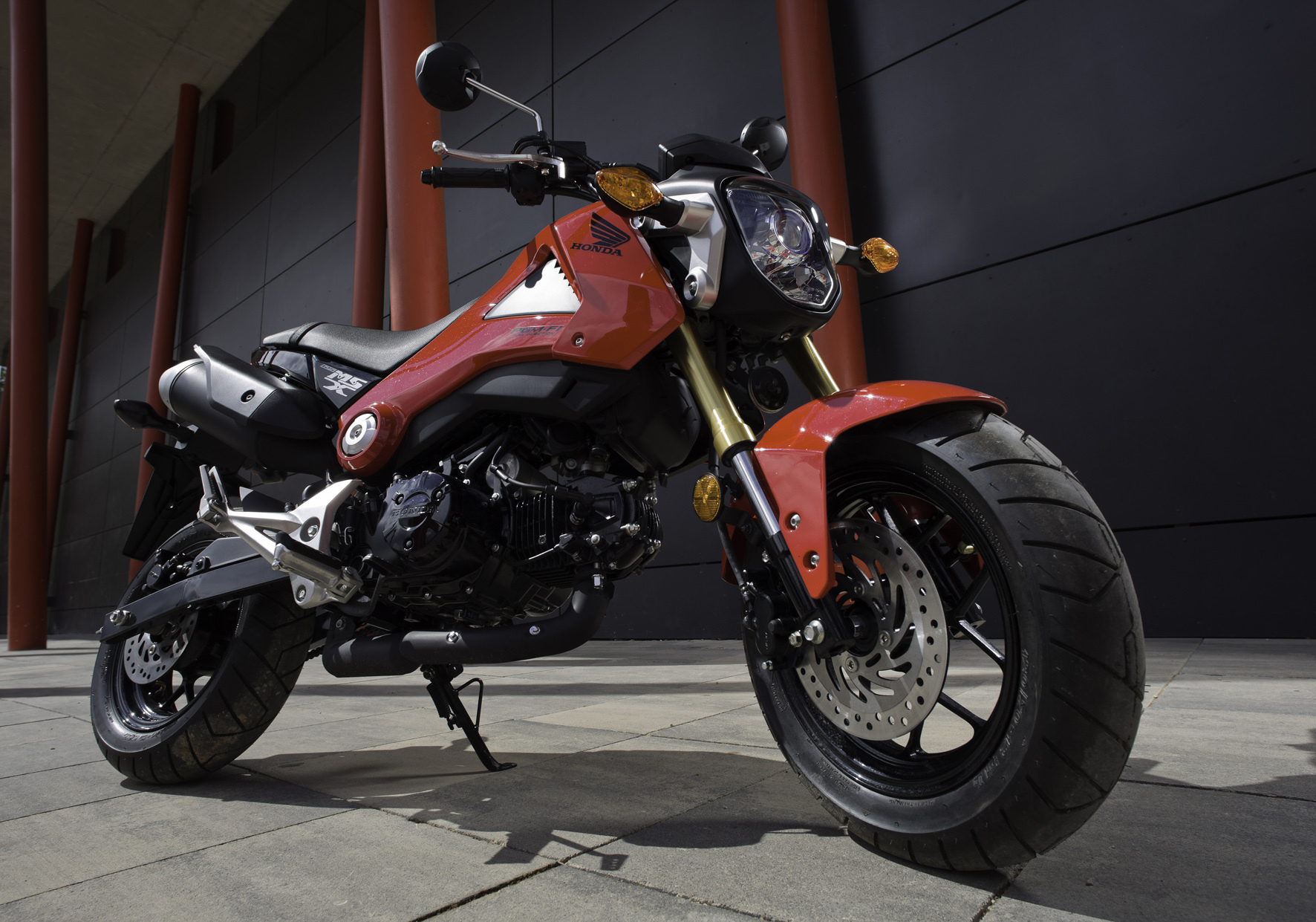 According to the Japanese, this 125 is also ideal for burnouts (when the rear tyre spins so fast it creates a thick fog of smoke), but that's more fantasy than fact.
The bike is compact and easy to handle, which always makes learning new tricks easier, but if you really want to impress your admiring public with a smokescreen you're better off hiring a dry ice machine.
Wannabe stunt monkeys will undoubtedly be on the hunt for some knee-down action as a priority.
The MSX is extremely low at just 765mm, so it's great for learning and gaining confidence as you can scratch your knee sliders without hanging off like a demented ape as you charge full steam at turns.
That said, the 125 doesn't feel completely planted and the featherweight bike reacts nervously to rider input and a shift in your weight distribution. That's logical, given that the rake is just 25 degrees, the trail a mere 81mm and the wheels are both 12-inchers.
Although the MSX is extremely agile, it isn't as stable as a "bigger" bike. With just 1.2 metres between its wheels, it favours a less acrobatic riding style and rewards a steady rider, which sort of goes against everything Honda's full-banzai videos imply.
Is the MSX 125 a damp squid after the hype of Honda's promotional film? Absolutely not. Everything Honda has stuck on YouTube is (mostly) physically possible, and thanks to the bike's light weight and slender build it is an ideal starting point for inexperienced riders to learn the basics of buffoonery.
No one wants to fall off a new bike, though, so whether a young owner would be wiser to practise on something else is yours to decide.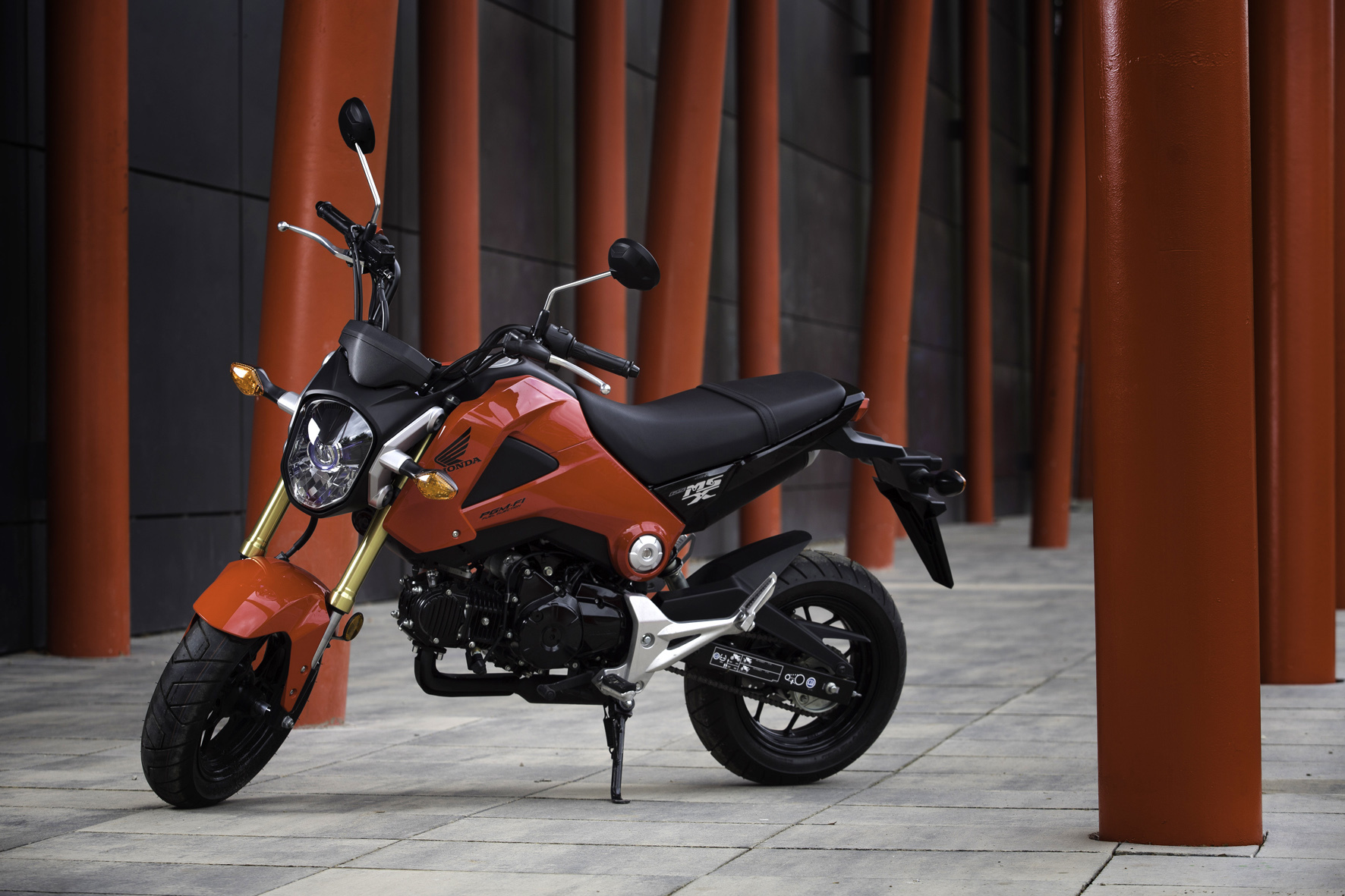 If you prefer to keep both feet – and wheels – firmly on the ground, you can rest assured that this Honda doesn't have a dark side. Instead of burning rubber and treating the MSX like a monocycle, you can enjoy the air-cooled single's trustworthy, economical nature. Its practical mobility can keep up with the traffic flow and, if it's really necessary, a top speed of around 80mph is on the cards, given favourable circumstances.
The next generation of potential bikers have no excuse. The MSX 125 costs just £2,799 as standard, including the first registration and road tax. Its running costs are low, it's compact enough to feel manageable and it has all the attitude and promise that they could ask for. The modern styling and impressive finish are just the icing on the cake.
Facts & figures
Model: Honda MSX 125
Price: £2,799 on the road
Engine: 125cc liquid-cooled single cylinder producing 9.5bhp @ 7,000rpm and 8lb/ft @ 5,500rpm
Transmission: five-speed sequential manual gearbox, chain drive
Ready to ride weight: 101.7kg
Seat Height: 765mm
Fuel capacity: 5.5 litres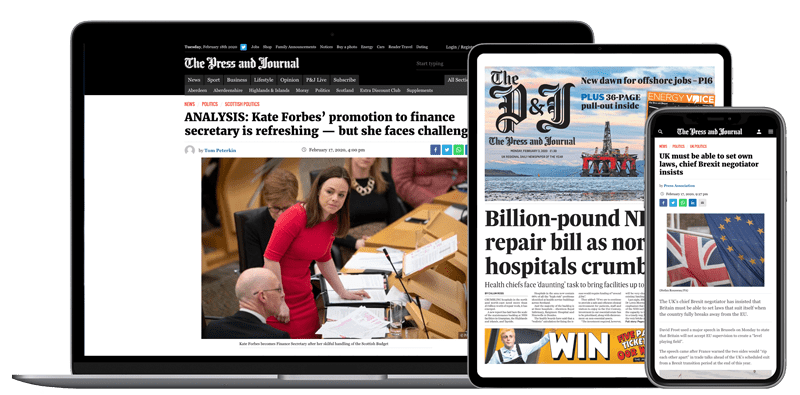 Help support quality local journalism … become a digital subscriber to The Press and Journal
For as little as £5.99 a month you can access all of our content, including Premium articles.
Subscribe