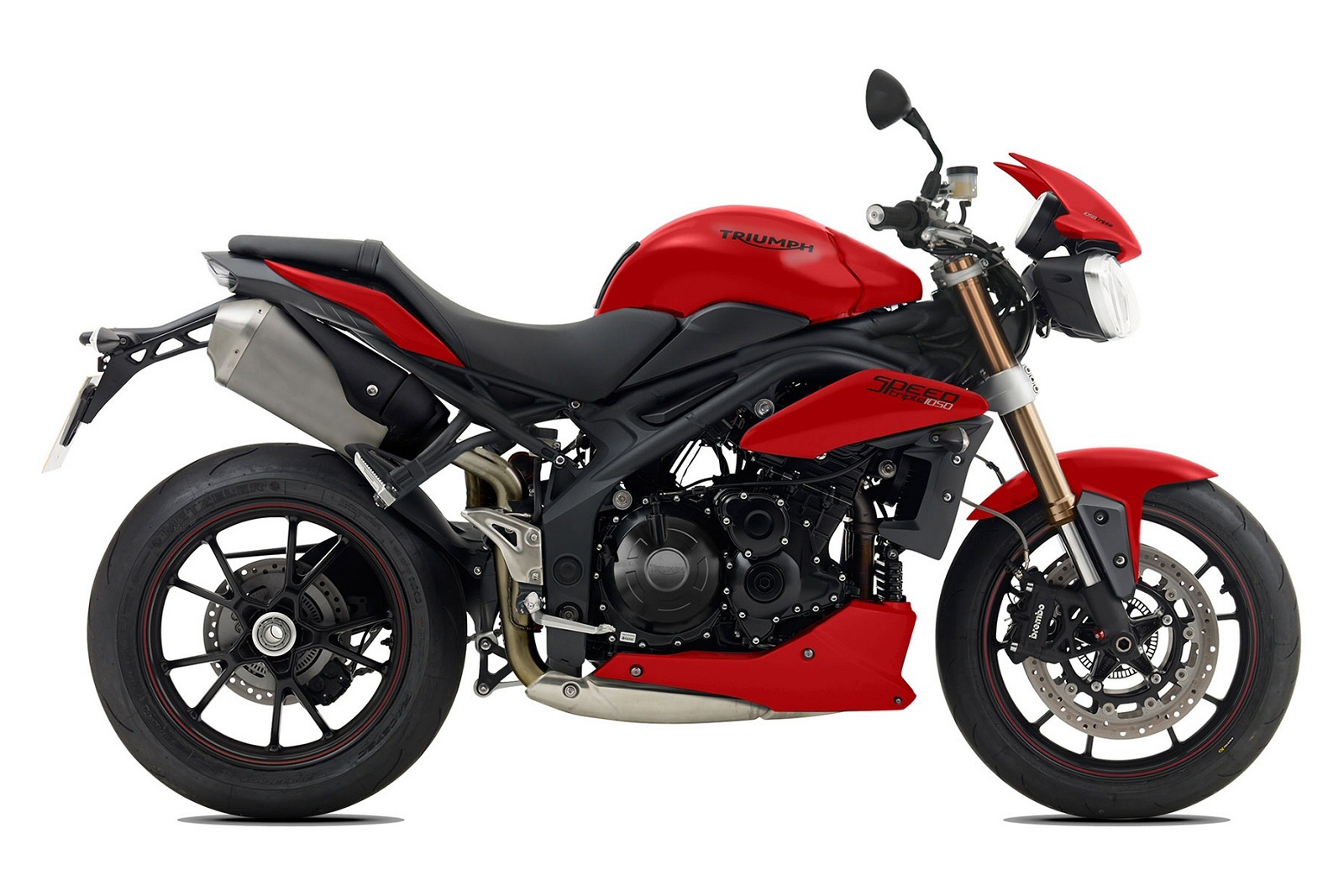 The standard Speed Triple has become one of the most popular forms of this genre of bike in the UK. More people are buying this Triumph than any other two wheeled machine including mopeds and scooters. So why is the Speed Triple so desirable? The simple answer probably lies in its incredible power and very cool looks. The latest 2015 Triumph Speed Triple that we look at here is lighter, sharper looking and even more powerful than its predecessors.
The Speed Triple is still quite a bargain really at just £9,749 and this now includes ABS as standard. OK, it may not have all the technical bells and whistles of the latest BMW and KTM competition but with a bike as good as this who needs them? It features the impressive and trusted 1,050cc engine, a light weight chassis along with high quality Showa upside down forks, 43mm in diameter with adjustable rebound and compression damping.
With a relatively short wheelbase (1,435mm), 125bhp and a wet weigh of just 214kg you know from the outset that this bike is going to be fun and the Triumph Speed Triple doesn't disappoint. It's also a bike that won't spend an inordinate amount of time on one wheel. Despite its lack of the latest multi-level traction control system, the Speed Triple sticks firmly to the road as the raw power is fed smoothly through the transmission and chunky rear wheel – a tribute to the skill of the engineers at Triumph.
The Speed Triple can do in excess of 150mph but as a 'naked' you are going to find it difficult and pretty uncomfortable getting anywhere near that speed, but get the bike in town or on a twisty B-road and you'll have the time of your life.
In certain respects, this big Triumph can be ridden like a point and squirt supermoto. The wide bars, sharp steering and light weight encourage you to wrestle it from corner to corner, utilising the punch of that engine to punt you in and out of harm's way. The front twin 320mm floating disc Brembo four piston, four pad radial caliper brakes are very sharp and complement the front Showa suspension superbly. The rear brake features a Nissin single 25mm two piston sliding caliper.
In the latest Speed Triple, Triumph has worked its magic yet again and has produced probably the best naked there is. It looks fantastic, rides incredibly well and is sure to be in great demand. The only slight downside is that it could be said that it is starting to look a tad 'last season' as the competition starts to catch up. But at this bike's price they still have some way to go.
Facts & figures
Bike: Triumph Speed Triple
Price: £9,749
Engine: 1,050cc liquid-cooled, in-line three-cylinder, 12 valve four-stroke, dohc
Weight: 214kg (wet)
Seat height: 825mm
Power: 125.5bhp@ 9,400rpm
Tank size: 17.5 litres