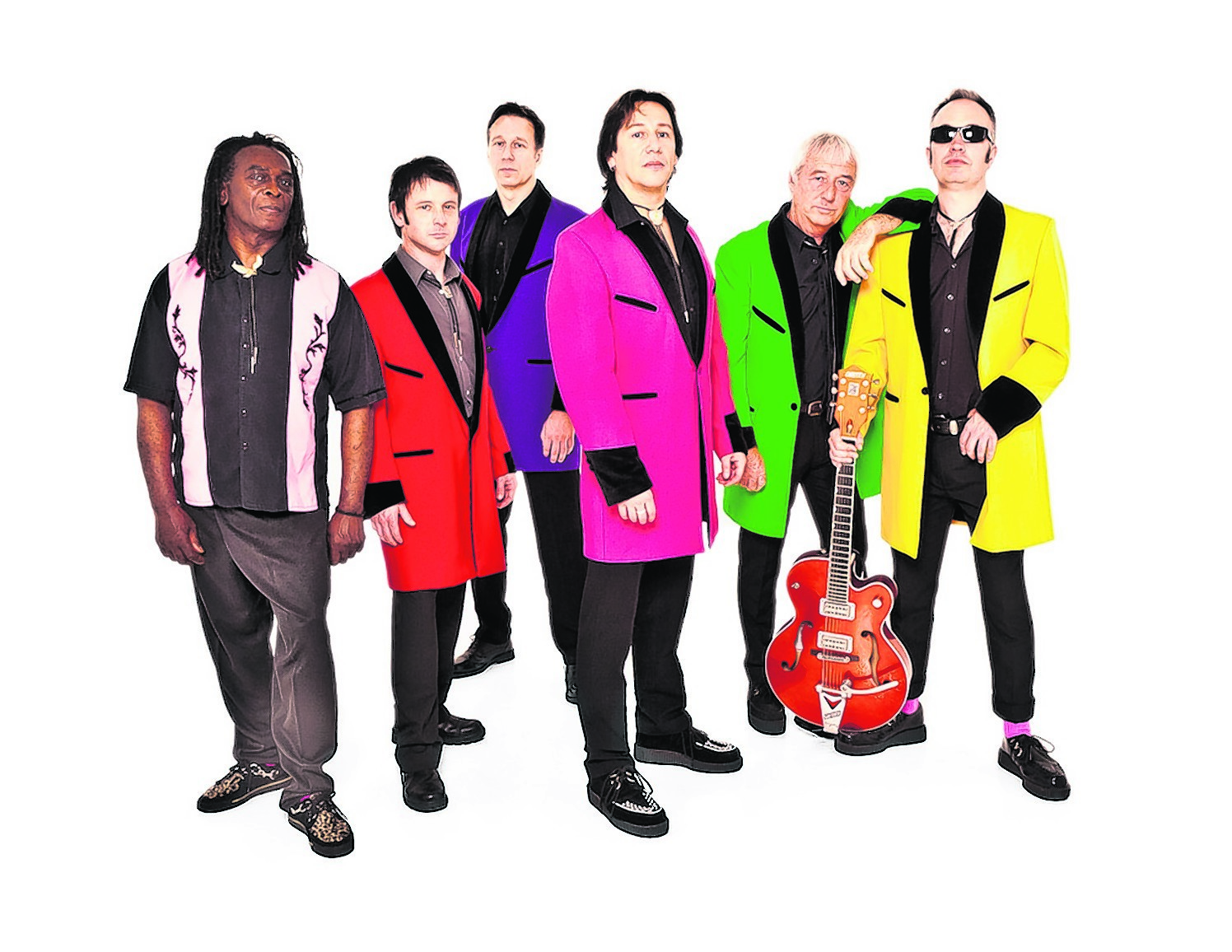 Martin Hutchinson talks colourful clothes and hit songs with Showaddywaddy, as they prepare for their Aberdeen date
Once upon a time in Leicester, there were two rock bands: The Choise (sic) and The Golden Hammers.
In 1973, two became one as Dave Bartram (lead vocalist and guitarist of The Choise), along with band members Romeo Challenger (drums), Trevor Oakes (guitar) and bassist Al James, joined forces with Malcolm Allured, Buddy Gask, Russ Fields and Rod Deas, of The Golden Hammers, to form Showaddywaddy.
After an appearance on the talent show Opportunity Knocks, the band hit the upper reaches of the charts with their debut single, Hey Rock and Roll, in 1974.
The band struck a chord with their original take on the rock'n'roll sound.
Dave Bartram, lead singer of the band from 1973 to 2011, and who has been the band's manager since 1984, tells me how they developed their image.
"We had started doing rock'n'roll songs and they actually made up the majority of our set, but instead of the dowdy image of the clothing – drape jackets were usually dark colours – we decided that we needed brighter colours to reflect the type of music we were playing."
What you might call Glam Rock and Roll?
"I'd never heard it described as that, but yeah."
Strangely, the two bands played different styles of rock, as bassist Rod Deas explains.
"That's right. We (The Golden Hammers) played rock'n'roll, while The Choise preferred to play more Prog Rock."
But it seemed unusual for the two different bands to join forces.
"Well," says Rod, "both bands were playing at a pub in Leicester called The Fosse Way; it had a big back room and one night we'd play, and on others The Choise would be on stage."
"The landlord loved it as he was taking in packets in drinks sales," he laughed.
"Well, we decided to get together to do an extra night and it took off from there."
A string of hits followed, lasting from 1974 to 1986, with chart entries made up of original band-written material alongside cover versions.
The majority of the early hits were composed by the band, but then it was decided to start doing covers.
Eddie Cochran's Three Steps to Heaven and Buddy Holly's Heartbeat both received the Showaddywaddy treatment, as did Chuck Berry's Sweet Little Rock 'n' Roller.
Curtis Lee's Pretty Little Angel Eyes and Under the Moon of Love were also big hits for the band – the latter song hitting the top of the charts in 1976.
And they proved such a big rival to other bands of the day that instead of a "Doo Wop Showaddyywaddy" refrain in their hit Tonight, The Rubettes chose to sing "Rubette showaddy", so that their rival's name would not appear on their song.
Fast forward to 2011 and Dave decided to retire from the lead vocalist slot.
"By the end of 2011," he said, "I'd been on the road with the band for 38 years."
"I was finding it difficult and I had no time for my family."
"I also had an ambition to write books and so I resigned – although I continue to manage the group – and we brought in Andy Pelos, who is a really great singer."
A fact echoed by Rod.
"He has a great voice and is a great bloke, too."
But there were differences between Dave and Andy.
"Of course there were," agreed Rod.
"Dave was a huge personality. With Andy, it's more of a group. Obviously, it took a while to settle in, but everything's great – and it's been three years now."
Over the years, though, there have been changes, and, today, there are only two of the original members in what is now a sextet – drummer Romeo Challenger and Rod.
"We keep going because we want to and we're both fortunate to be able to."
And the shows are forever changing.
"Although we're pretty much governed by the hits, we're changing the shows all the time. They evolve and we're always tweaking things.
So, apart from the hits, what else can we expect to hear?
"Oh, we play lots of rock'n'roll standards and we've introduced Doo Wah Diddy Diddy into the set, which is really going down well."
And the future?
"Oh, we'll be touring into next year and beyond," the bassist said, "and Romeo and I are loving every minute."
Showaddywaddy will be appearing at The Lemon Tree, Aberdeen, on Friday, October 10. Tickets are available from Aberdeen Box Office on 01224 641122 or online at www.boxofficeaberdeen.com