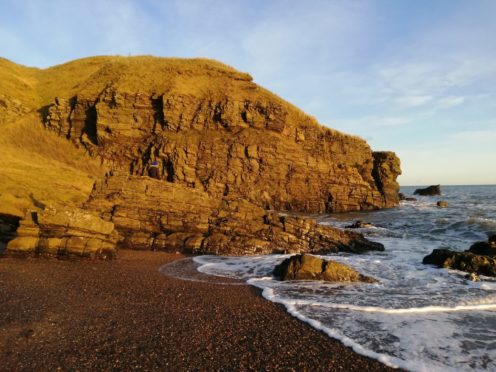 As parents of young children, my wife and I are always on the lookout for fun things to do with the kids and new places to take them.
Soft plays, arcades and cinemas are all well and good, but we think it's also important to get them out in the fresh air and encourage them to embrace nature.
We are so fortunate to have a number of stunning beauty spots in our area, and our latest outing was to the Forvie National Nature Reserve, just north of Newburgh.
We parked at the visitor centre car park, which has space for plenty of cars. Unfortunately the centre is closed at weekends, but there was plenty of information to be found dotted around, including a handy map showing various routes to try. There was also a sign urging visitors to pick up any litter they come across – which encouraged me to do just that later on the walk.
We chose to follow the Heath Trail, which is a two-mile route that takes you through Forvie's dune heath.
A solid path winds its way through an undulating, if unspectacular, landscape and our kids loved climbing to the top of various hillocks for a better view of the wider area.
There are numerous bodies of water which attract many passing birds, who in turn attract wildlife enthusiasts, and we came across a number of people with binoculars, telescopes and cameras trying to spot some feathered friends.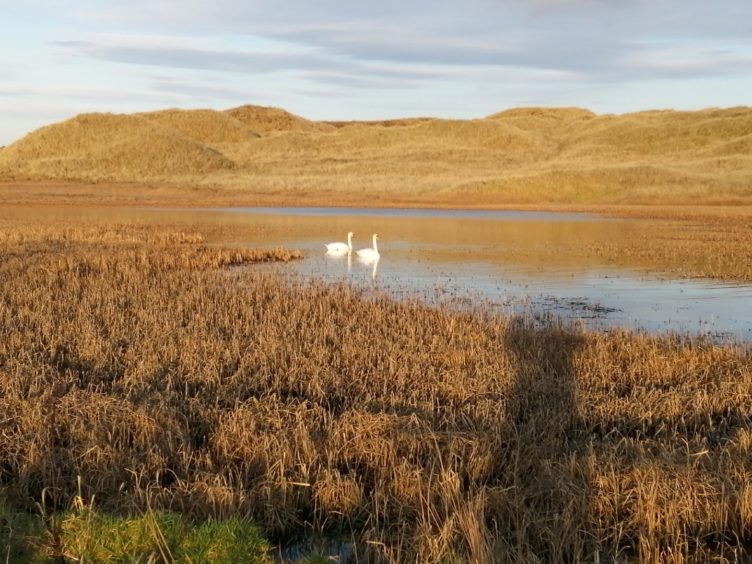 The reserve is renowned for its birds, including a breeding colony of eiders, four species of breeding terns and a wealth of wildfowl and waders.
We didn't spot too much activity, so we continued until we came across a lovely pond with two large swans gliding elegantly through the still water.
By this stage the scenery was changing, as was the path underfoot. It was now just grass, earth and occasional muddy areas, but it was still very manageable for most abilities.
About a mile into the walk came the highlight, as the dune heath gave way to reveal a dramatic rocky shoreline sculpted by centuries of crashing waves.
As the children had been determined to find a beach to play on, we agreed to clamber down the steep hill and on to the small, shingle beach.
They were on to the rocks straight away despite my warnings about them being slippery, while I walked to the other end of the beach to get a better view of the towering cliffs that must be home to many birds.
On our visit though, the only bird we saw was a large bird of prey that swooped above our heads before landing on a hill overlooking the beach. It was quite a sight and remained there for some time, probably searching out its lunch. I later tried to get closer to it, so I could take a photo, but I only succeeded on scaring it off to another perch out of sight. I was pleased to have observed it at such close quarters all the same.
After scrambling back up the hill, we continued in our anti-clockwise direction, which afforded us beautiful views of the seemingly endless coastline. We were incredibly fortunate to have visited on a perfect, clear winter's day, and we could see all the way past the offshore wind turbines and back to Aberdeen beach.
After looping round and heading back towards the visitor centre, we came across the large Sand Loch, which is home to a family of swans and lots of ducks. We took advantage of a perfectly placed bench and cracked open the hot chocolate and snacks and took in the lovely surroundings. The sun was sinking behind the hills, creating a lovely orange haze, and some amazing cloud formations were painted pink and orange by the setting sun. It was quite a picture.
After that, it was a short walk back to the car park followed by a half-hour drive back to Aberdeen.
This whole area is incredibly beautiful and made us want to go back soon to explore more of the Forvie National Nature Reserve, which covers almost 1,000 hectares between the North Sea and the estuary of the River Ythan.
It's a real jewel in the crown and gave us an afternoon to remember.
The walk
Location: The visitor centre is three miles north of Newburgh. Turn right at the Collieston crossroads and follow the signs to the centre, which is off the B9003. Postcode for satnav is AB41 8RU.
Route: Heath Trail, anti-clockwise
Distance: 2.1 miles
Time: Two hours with lots of exploration and snack stops
Difficulty: Easy