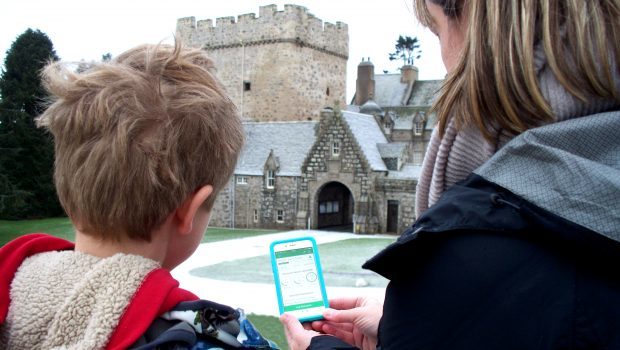 Moira Gash, Visit Royal Deeside project co-ordinator, explains what the Explore Royal Deeside GeoTour is and this weekend's Going for Gold geocaching.
Q. WHAT IS GEOCACHING?
A. Geocaching is a high-tech take on the traditional treasure hunt. The word is a combination of geo for geography and caching, the process of hiding or storing objects.
The goal of geocaching is to use GPS coordinates and a series of clues to track down hidden cache boxes.
To take part, all that is required is a geocaching app downloaded on to a mobile phone which has its location setting turned on. Then head out and hunt down the cache by following the directions on the screen. When you find a cache, you record your name in the cache logbook and in some cases log your find online.
Q. WHO GOES GEOCACHING?
A. People of all ages. It's a fun activity for families and lets children get some fresh air and plenty of exercise. Many older people do it as a way of keeping physically and mentally fit. There are more than 2.5million caches hidden in 180 countries around the world.
Q. TELL US A LITTLE ABOUT THE DEESIDE GEOTOUR
A. The Explore Royal Deeside GeoTour is currently the only official GeoTour in Scotland and is designed to guide locals and visitors round some of Deeside's many attractions, sights and businesses.
The GeoTour is based around the Deeside Way and features 20 cache boxes hidden between Drumoak and Braemar – some are easier to find than others. Each cache contains a unique code word which is used to fill in the Deeside passport which supports the GeoTour and allows geocachers to claim a limited-edition silver or gold geocoin.
The GeoTour has 27 partner businesses located throughout Deeside that offer passport stamps, with one stamp being given out for every £10 spent. To get a silver geocoin, 25 of the passport's 40 boxes must be filled in with a code word or stamp, while all 40 must be completed for gold.
Until the end of March, anybody who completes all 40 boxes in their passport will receive a silver geocoin in addition to the gold geocoin.
Q. WHAT ARE GEOCOINS?
A. A geocoin is a special coin created as a signature item. The Explore Royal Deeside GeoTour silver and gold geocoins feature the tour branding.
Geocoins can be left in caches as tradable items or swapped among friends, with the aim of promoting the location that the geocoin came from. Each coin has a unique ID so geocachers can track where the coin has been.
Q. WHAT IS HAPPENING THIS WEEKEND?
A. This weekend is when Royal Deeside's first ever geocaching weekend takes place. It aims to inspire locals and visitors to get out and explore the area just as spring arrives.
This is a great time of year to go geocaching as caches are easier to find as there is less undergrowth.
The event has a pirate theme, which ties in with treasure hunting. Activities include special traditional treasure hunts, children's competitions, storytelling and face painting. Experts will be on hand to provide an introduction to geocaching.
Saturday's events take place at Deeside Activity Park, while World Horse Welfare's Belwade Farm is the venue on Sunday. Events run from 10am until 2pm each day. Fancy dress is optional.
Tomorrow, The Butterworth Gallery at Ballogie is holding a meet the artist event with hot drinks and children's activities between 3pm and 5pm, an ideal base to hunt caches near Aboyne.
All of the 27 partner businesses are offering double passport stamps this weekend – two stamps for every £10 spent.
The theme and title of the event are aimed at encouraging and assisting people to complete their passports in order to claim their gold geocoin.
Going for Gold takes starts on Friday, March 4 on Royal Deeside and runs until Sunday, March 6. For more information visit www.visitroyaldeeside.com or search for Explore Royal Deeside GeoTour on Facebook, Twitter or Instagram.