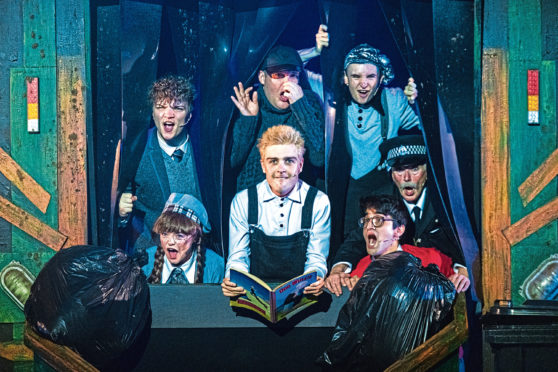 Personally, I feel like a kid just before Christmas. Something really exciting is about to happen and I can't wait for it.
Like generations of other Scots, I grew up reading the comic strip adventures of Oor Wullie and The Broons in the Sunday Post each week, while no Christmas was complete without getting a Broons or Oor Wullie annual.
Now the nation's favourite 10-year-old laddie (the public voted him Scotland's Favourite Son in a vote in 2004) has been transformed from an inky creation to flesh and blood for a brand-new musical suitable for all the family.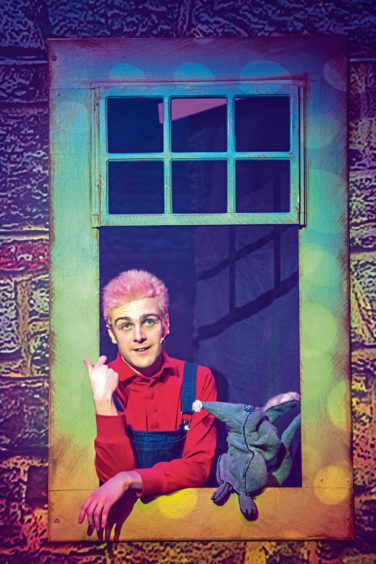 Help ma Boab!
Oor Wullie: The Musical visits Eden Court Theatre, Inverness, from Monday, February 10 for a week-long run, and can be seen next month at His Majesty's Theatre, Aberdeen, from Tuesday March 3 until Saturday March 7.
The musical adventure, which has had praise heaped upon it by those who have already seen it, has been created by Dundee Rep Ensemble and Selladoor Productions in association with Noisemaker.
Oor Wullie has featured in DC Thomson Media comic strips in the Sunday Post for more than 80 years, and the young lad from the fictional village of Auchenshoogle is regarded as a Scottish icon.
Although he's only a wee lad, Wullie's status is so huge that it takes someone with a big personality to play him.
Martin Quinn, who is from Paisley, accepted the challenge of bringing him to life and is really enjoying the role.
"Wullie is a brilliant character to play, and to make sure I'm as like him as possible, I've even dyed my own dark hair blonde and have it spiked up," said Martin, 25.
"It is a real family show, which means it needs audiences from both ends of the spectrum – older people who grew up following Oor Wullie's adventures every week and younger people who perhaps only know about Oor Wullie because of the statues and bucket trail.
"The show has gags that will appeal to both age groups, so in that way, it has some elements of panto, but really, it is a musical with a great story and some fantastic musical numbers."
To help get him into the mindset of how a 10-year-old boy thinks and behaves, Martin did a fair bit of research.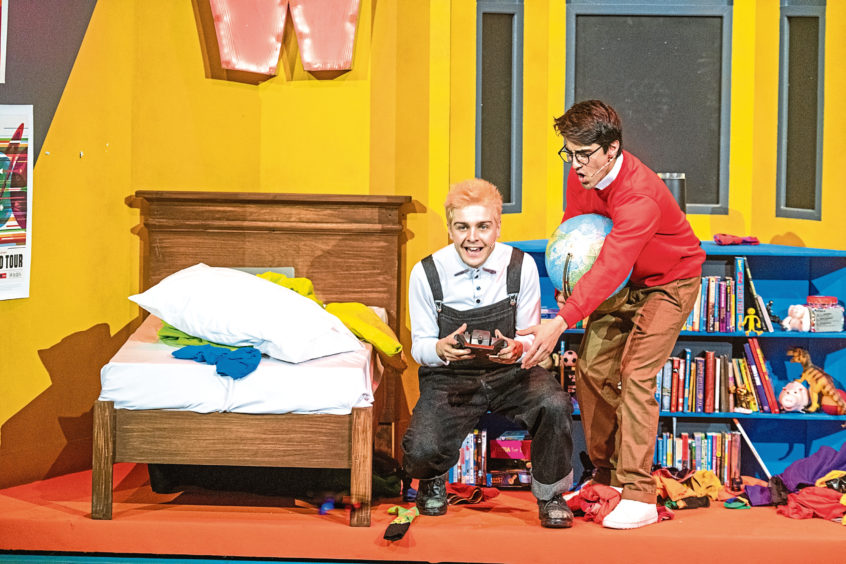 "When I was a wee boy my granny always kept the fun section from The Sunday Post for me to read," he recalled. "I looked back at them and the annuals.
"There are certain body shapes that you can copy, but a lot of the fun comes from the back-and-forth dialogue between Wullie and his pals. There's also a lot of jumping about and high-energy scenes.
"The story jumps between two different dimensions – the comic world and the real world – as it follows the adventures of a young Scottish boy who has Pakistani parents.
"Everybody keeps treating him differently and he begins to feel cut out of school life.
"He ends up in the library, where he is befriended by a kind chap called Dudley (a reference to Wullie's co-creator Dudley D Watkins), who gives him an Oor Wullie annual to read."
The book is magical and from it, Wullie emerges, along with his pals, Soapy Soutar, Wee Eck, Boab and Primrose.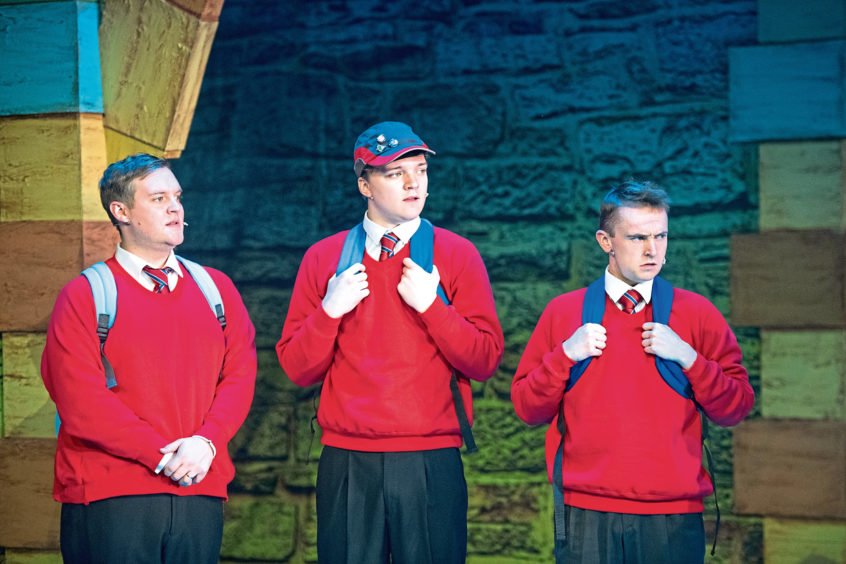 There's also a search to find Wullie's famous bucket, which bully Basher McKenzie has managed to pinch.
There's a superb supporting cast with well-known star Ann Louise Ross taking on the role of the PC Murdoch. Dan Buckley and Grant McIntyre star as Fat Boab and Wee Eck respectively, while Leanne Traynor is the town bully, Basher Mackenzie.
Irene Macdougall, Bailey Newsome, Leah Byrne, George Drennan and Eklovey Kashyap complete the all-singing, all-dancing cast.
"There are lots of energetic pranks and slapstick moments such as running into walls, which makes you laugh," said Martin.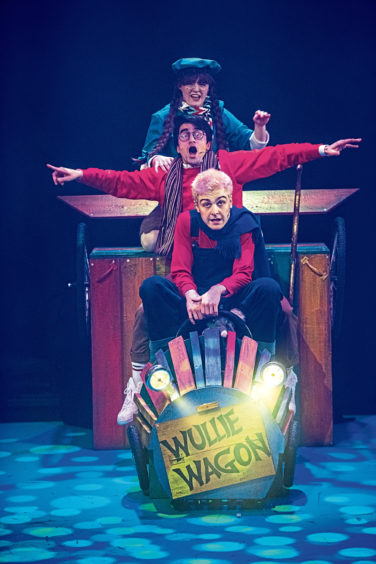 "The jokes are good and the songs are catchy – it's a joy to be in this show."
The show is suitable for children aged five-plus.
Noisemaker's Scott Gilmour added: "Like so many of us, we grew up reading Wullie's stories and they have remained a treasured part of our childhood.
"But the enduring appeal of Oor Wullie is that he doesn't remain in the past.
"The comic has changed and adapted across its 80-year history, heralding Wullie not only as a figure of tradition, but also of Scotland today."
For tickets for Oor Wullie: The Musical in Inverness, contact the Eden Court Box Office on 01463 234234, and for the shows at His Majesty's Theatre, Aberdeen, contact 01224 641122.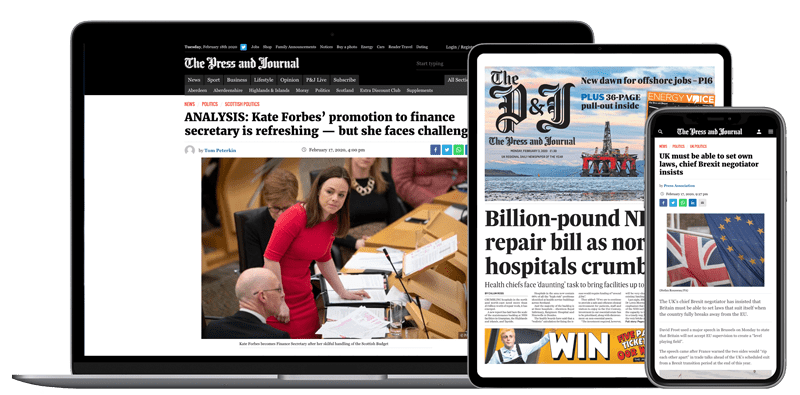 Help support quality local journalism … become a digital subscriber to The Press and Journal
For as little as £5.99 a month you can access all of our content, including Premium articles.
Subscribe