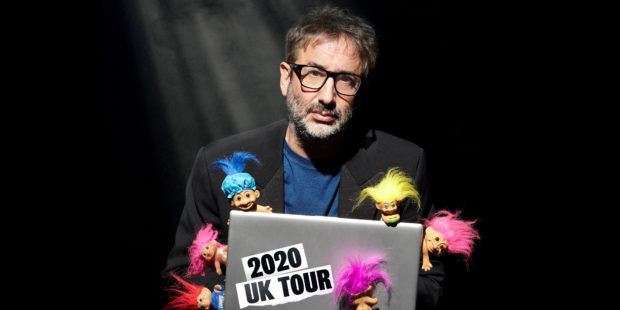 Given that his most recent TV programme was a documentary about holocaust denial, the audience at Aberdeen Music Hall was braced for a show which tackled some serious subjects when comedy veteran David Baddiel returned to the city last night.
His show, entitled Trolls: Not The Dolls, examines the mean behaviour exhibited by certain parties on social media – and has been granted an added potency following increasing concerns about the issue in recent weeks.
Backed by a screen displaying some of his most popular and controversial statements on Twitter, Baddiel began by explaining his tendency to "over-share", whether that be with thousands in a comedy venue or potentially millions online.
The routine explored themes of anti-semitism, the vilification of Meghan Markle, and how growing anger online conflicts with the comedian's natural desire to "say to wrong thing".
At one point, the unlikely image of SNP councillor Christian Allard was beamed onto the backdrop as the comic went through a list of supposed "lookalikes".
The laughs subsided as Baddiel elaborated on how Twitter can sometimes display "humanity at its worst", and how such combative language had crept from the pages of the internet and into everyday discourse.
It ended on a gut-punching note about how comedy online can overcome even the most vile hatred. But as fascinating as his musings on social media were, it was when the backdrop faded and Baddiel opened up about his family life away from the internet that the show shone – and I hope he leaves the projector at home for his next tour.