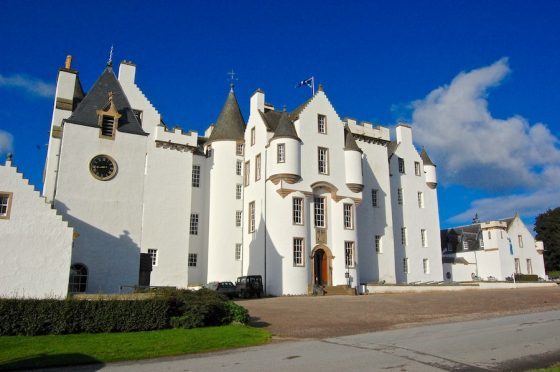 Luxury accommodation, free wi-fi and an on-site beauty salon, all nestled within stunning scenery. Welcome to caravanning, 21st-century style.
My idea of caravanning has been formed by hazily remembered childhood holidays in what can only be described as a tin box on wheels, complete with bunk beds, fold-out table and an eye-watering chemical toilet.

Not that I didn't enjoy it – this was all part of the adventure of caravanning. But times have changed, and so have camp sites, as I discovered as my wife and I, plus our two-year-old son, arrived at the award-winning Blair Castle Caravan Park in beautiful Highland Perthshire.

The caravan park, which is part of the 145,000 acre Atholl Estates, home to Blair Castle, offers everything from traditional caravan and camping to eco-friendly camping pods and relaxing Scandinavian woodland lodges.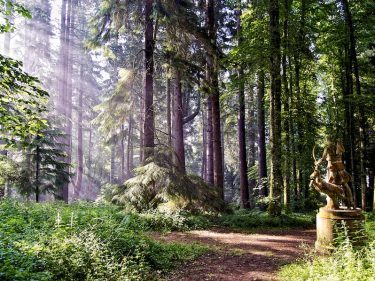 We were spending a couple of nights in one of the caravan park's two-bedroom luxury holiday homes. Complete with a handy decking area, the holiday home was more like a stylish new-build apartment than anything I remembered from my past caravanning experience. A modern kitchen, comfy living area and, joy of joys, two flushing toilets – it was the perfect place to cosy up and plan the next day's activities.
After a night of torrential rain, we woke to a calm, fresh summer's morning, and headed out to make the most of the day.

A walk around the village of Blair Atholl afforded my wife the opportunity to disappear (with my wallet I may add) into The Heart of Atholl, a quaint gift shop. Knowing that she could be quite some time, us blokes went for a wander. Past experience has taught me that gift shops are no place for a toddler.

We walked along to the Blair Atholl Watermill, which has been around since the 1590s, and is one of the last working original watermills in Scotland. After the previous night's deluge of rain, the mill was in full thundering flow, and made a great backdrop for a few holiday snaps.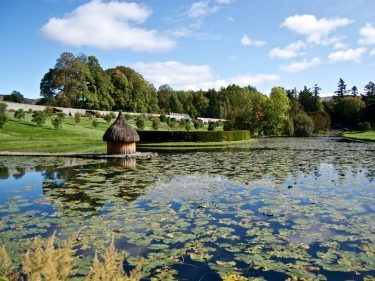 We soon spotted my wife, who had torn herself away from the gift shop, carrying a suspicious package. "Just a little something for the house," she said, as I retrieved my (somewhat lighter) wallet.

After a peaceful breather next to the picturesque River Tilt, we decided to head up the long, tree-lined entrance road to Blair Castle.
The castle has been transformed through the ages, from its cold mediaeval beginnings to a fine Victorian castle in the Baronial style.
The castle tour is a must, as 30 rooms are open to view, each alive with characters from the past.

Entering the Baronial Entrance Hall and armoury is enough to impress anyone, be they a history buff or just a big Game of Thrones fan. Featuring weapons used at the Battle of Culloden, it's a suitably grand introduction to this amazing castle, which also features fascinating pieces of antique furniture, art and tapestry and extensive displays of Jacobite relics.

Faces from the past stare out at you from the Georgian picture staircase, while you'll find yourself marvelling at the magnificent ballroom, bedecked in hundreds of antlers.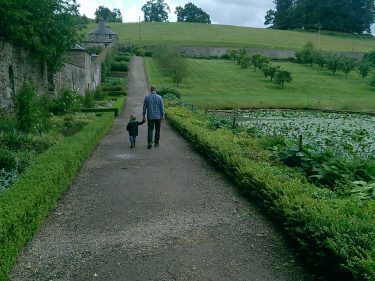 Back outside, we decided to stretch our legs by exploring the fantastically named Hercules Garden, which has recently been restored to its original Georgian design.

Our wee one loved exploring this peaceful walled garden of fruit trees, vegetables and herbaceous borders, which also features a large landscaped pond complete with Oriental bridge, as well as a trail of contemporary and 18th-century sculpture.

Keen walkers and cyclists are spoilt for choice at Atholl Estates, as it has 40 miles of marked trails leading directly from the castle grounds into the beautiful Highland Perthshire countryside. But our legs were starting to tingle, and our bellies to rumble, so we made our way back to our luxury digs to plan dinner.

Blair Atholl itself has a number of tasty options if you fancy eating out, but we decided to just grab a carry out and settle down for a relaxing night in – not something I would have considered doing in a caravan of old, that's for sure.

So if you are in the market for a relaxing break with plenty to see and do, either as a family or just as a romantic weekend getaway for two, 21st century caravanning might be just what you are looking for.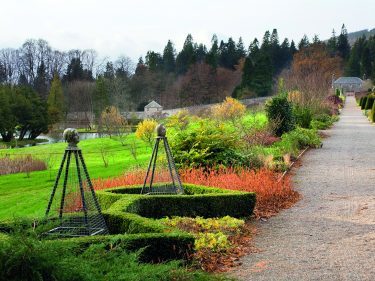 TRAVEL FACTS

Blair Castle Caravan Park, Blair Atholl. Phone 01796 481263 or visit www.blaircastlecaravanpark.co.uk

Activities include pony trekking, pony rides, Land Rover safaris, walking, cycling and fishing. For details, phone 01796 481355.
For castle tours, visit www.blair-castle.co.uk

Red Brolly Inn, Ballinluig, is a small hotel nearby serving food all day.
Phone 01796 510300 or visit www.theredbrolly.co.uk
The award-winning Blair Castle Caravan Park is part of the 145,000 acre Atholl EstatesHistoric Blair Castle