We're basking on a picture-perfect Tahiti island –swaying palms, white sandy beach, crystal-clear lagoon – and have to keep reminding ourselves it's all real and not some fictional set created by a movie director.
Guests stroll around with cocktails in coconut husks, swim and snorkel among sea creatures on the lagoon's bed while beautiful Tahitian women crowned with flowers and their tattooed menfolk strum ukuleles, guitars and beat drums.
We're on Paul Gauguin's own piece of paradise, Motu Mahana, an islet part of Taha'a Island, a replica of one of a string of awe-inspiring volcanic outcrops clothed in dense rainforest we're experiencing on a seven-day cruise around Tahiti's islands.
The French Post-Impressionist artist Paul Gauguin is never far from our minds. He was inspired by the stunning beauty of the islands and the Tahitian women, fathered children with them and produced paintings rich in colour and symbolism which now hang in major galleries around the world.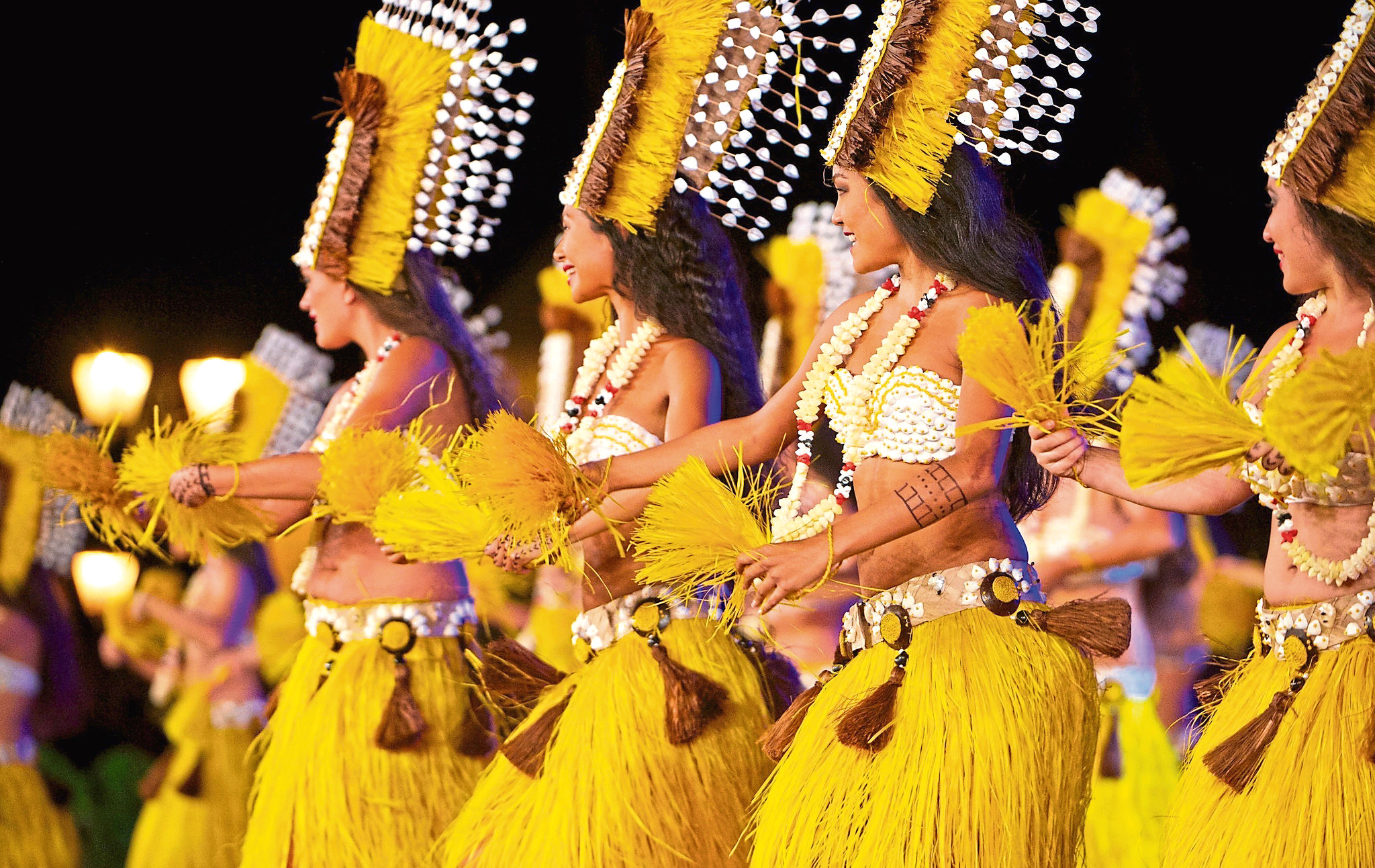 Gauguin moved to Tahiti in 1890, lived among Tahitians beyond the capital, Papeete, painting exotic, raven-haired women, finally settling in the remote Marquesas Islands where he died from syphilis in 1903. He inspired the French avant garde and modern artists such as Picasso and Matisse.
The Paul Gauguin is small and elegant, has a 332-passenger capacity and is fully booked. The ship is designed for the South Pacific's shallow waters and able to reach ports inaccessible by larger cruise vessels. Our stateroom with balcony is small and compact; we're welcomed with a huge floral array, Champagne and chocolates.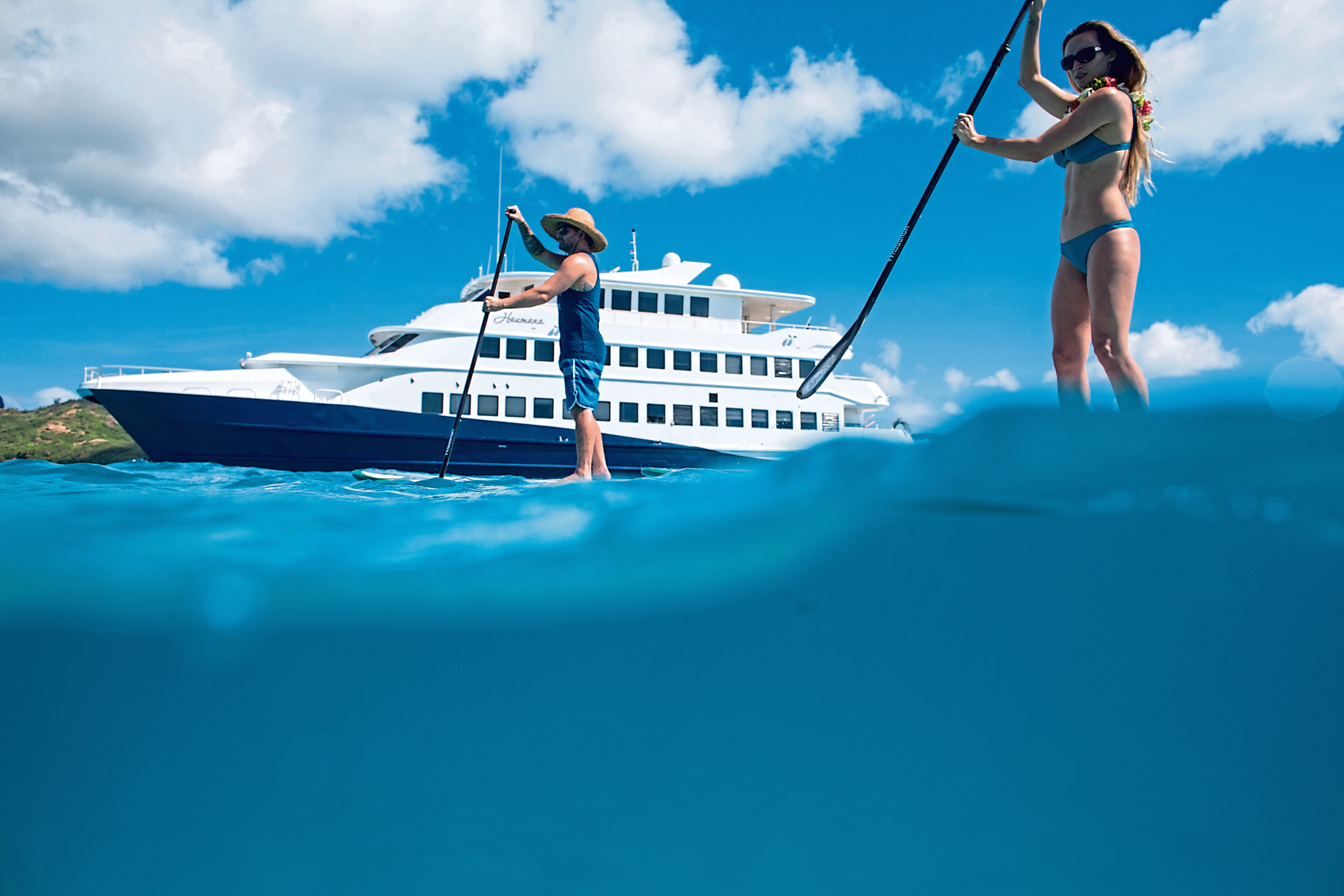 Americans and French comprise our biggest passenger complement, with nine Britons among the total of 18 nationalities. It's a laidback cruise with casual dress code, passengers young to mature. Tahitians are part of the crew as staff, entertainers and storytellers. Travel + Leisure readers voted Paul Gauguin the World's Best Small Ship Cruise Line and World's Best Small Ship Cruise Line for Families.
On Huahine, The Garden Island, we travel for half an hour in an ancient, rickety "bus", the ubiquitous Le Truck, to a white sandy beach to swim, skirting acres of bananas, coconut palms, modest homes to tin shacks, all with TV antennas. The island has some of French Polynesia's best-preserved sacred and archaeological sites.
As we arrive at Tahiti Lti – wild beauty, rugged cliffs, caves, waterfalls and dangerous surfing – a canopy-topped launch with ukuleles and drums circles the ship in welcome. It's where Robert Louis Stevenson wrote The Master of Ballantrae and Zane Grey went deep-sea fishing.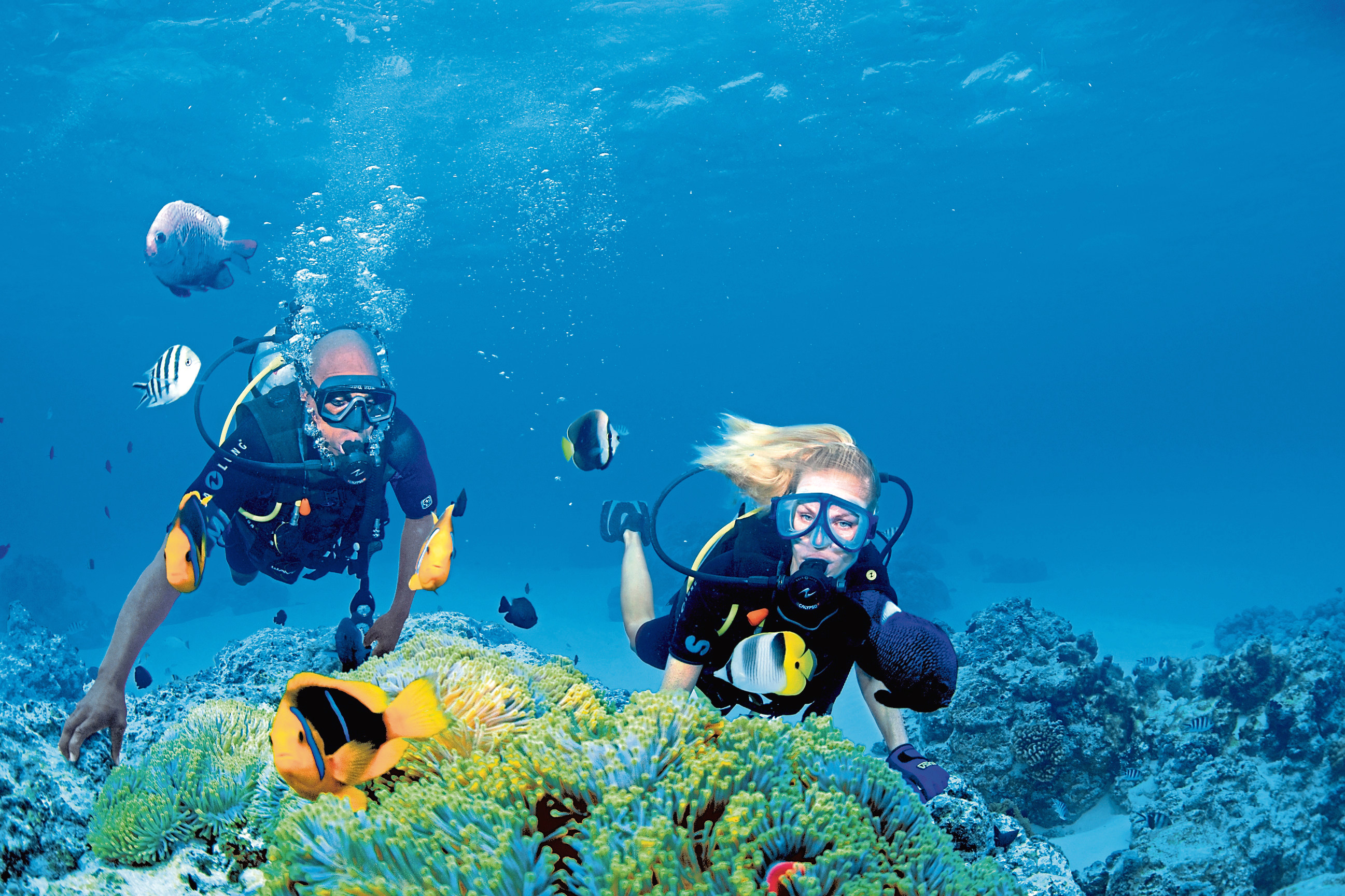 At Bora Bora, where Mt Otemanu's twin peaks rise more than 2,400 feet above the lagoon, the pier is lined with black pearl shops, small and large, modest facades belying prices. Sellers, with roving promoters, are persistent though characteristically polite and non-aggressive.
Moorea, with massive, jagged volcanic peaks reflected in the placid waters of Cooks and Opunohu bays, is breathtaking – James Michener found inspiration here for the mythical island of Bali Hai. Prolific dolphins, sharks, tuna and tropical fish attract divers; honeymooners, too, to the heart-shaped island.
Like many Paul Gauguin passengers, we're accommodated pre and post-cruise at the cruise company's Tahiti Intercontinental Resort and Spa in Papeete. The vista from our Superior Lagoon View room encompasses all the magic of the South Pacific: azure seas, bobbing yachts, waves cresting on distant reefs, lagoon alive with colourful fish, huge swimming pool, tropical gardens dotted with thatched-roof bungalows.
The hotel sprawls in a series of three-storey, all-white, latticed buildings and bungalows across 32 acres, only five minutes from the airport. Bamboo fronds flutter intriguingly from a corner of our large balcony. Our room's decor reflects French Polynesia: white and cream with teak furnishings, king-sized bed with intricately carved tiare flowers, Tahiti's floral emblem, on the ceiling and wall behind the bed.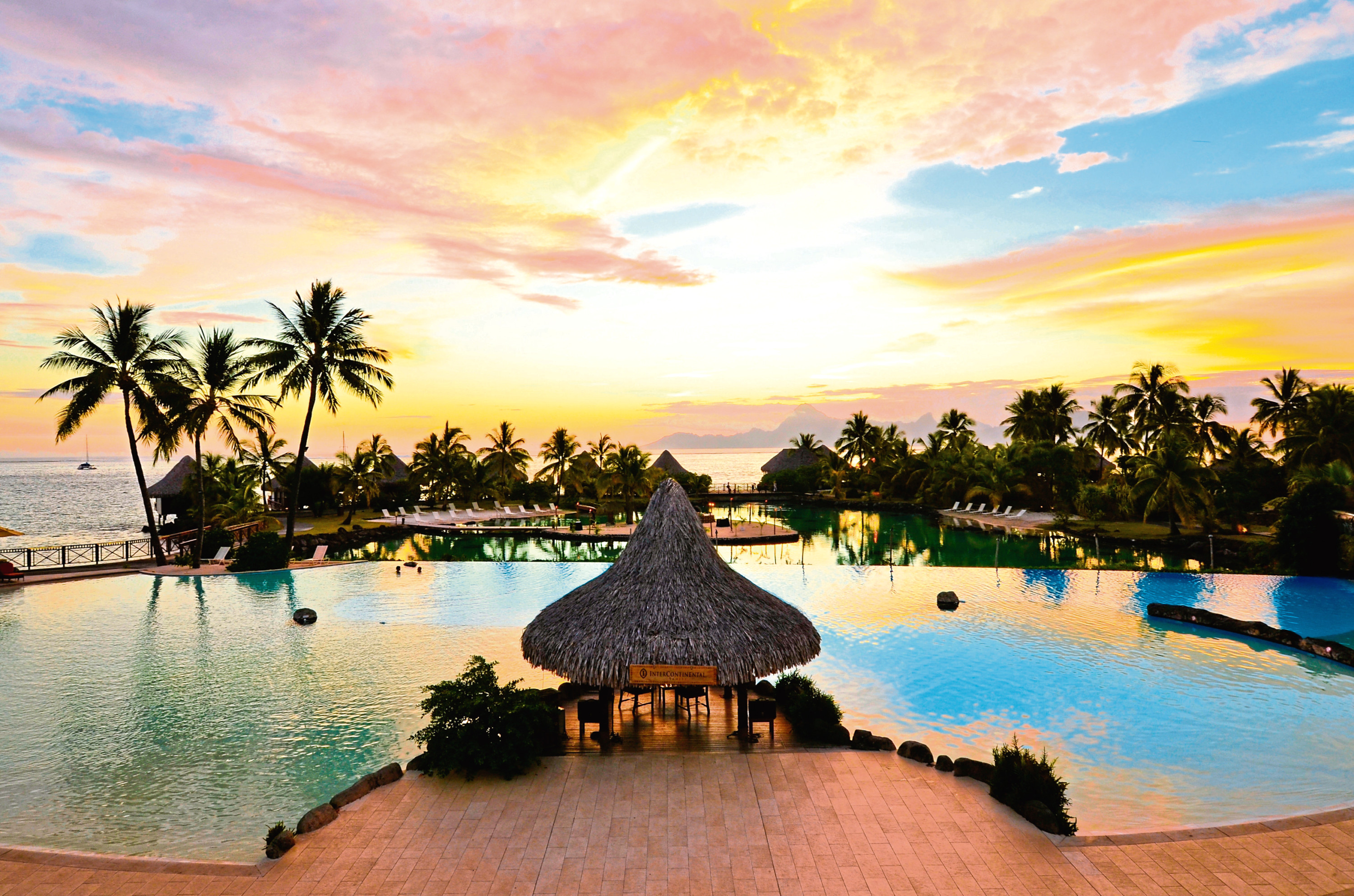 The over-water bungalow I view has a deep sense of privacy and rustic feel, down to driftwood fence on the veranda. The tiare flower is finely carved on the ceiling's edging, bed queen-sized with thatched matting on the wall behind, steps leading from the large balcony to swim in your own sea space.
Tahiti Intercontinental is one of seven luxury resorts in French Polynesia developed by Pacific Beachcomber. They include the eco-themed The Brando on Tetiaroa Island, 30 miles north of Tahiti, once owned by Tahiti's Pomare royal family and Marlon Brando, who was granted a 99-year lease after falling in love with his Tahitian co-star when filming Mutiny on the Bounty in the 1960s. He visited the island often and developed cottages for tourists.
Because of an inconvenient flight schedule to Australia, we stayed overnight in Auckland, New Zealand, and experience another hotel, Accor's multi-storey Novotel Airport Hotel, with its own, special attributes: A remarkable 30-second walk from the Baggage Claim, spacious, tastefully furnished bedroom and lounge, king bed, huge bathroom – all the last word in modernity and comfort.
---
For more details on a Paul Gauguin cruise visit www.pgcruises.com
Tahiti Intercontinental rooms start from around £226. Taxes, including city tax and fees, are added to all rates; a Superior Lagoon View room with breakfast costs about £378, and over-water bungalows are from about £529. See www.intercontinental.com/Tahiti
There's much to see and do in Papeete: swimming, surfing, snorkelling, diving from black sandy beaches; a museum dedicated to pearls; huge municipal markets selling fruits, vegetables, food, crafts; parks and gardens; shopping and lively nightlife.