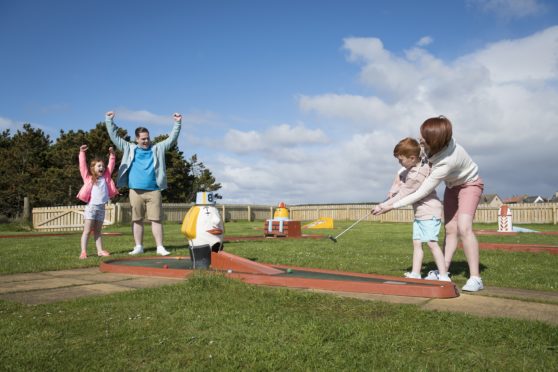 Since having children, I have become a bit of a holiday park aficionado.
There was a time when I was unaware of the joys of staying in a caravan and enjoying some of the simpler pleasures in life.
Until about eight years ago, I had never set foot in a caravan and had many preconceived ideas about them having been stuck behind plenty on the A96 over the years.
But then I had my eyes opened by Parkdean, a holiday company which has eight parks across Scotland and dozens throughout the UK.
While the parks offer pitches for tents and towing caravans, we've always chosen to stay in the larger, lodge-type homes which are surprisingly spacious and offer high levels of comfort and functionality.
Having visited parks in Wemyss Bay, Pitlochry and Southerness in previous years, we decided to take a trip to Grannie's Heilan' Hame at Embo, in the Highlands.
For such a remote location, Grannie's has a big reputation. Almost everyone I spoke to about it before going had a story or knew someone who was a regular visitor, so we travelled with high hopes.
We certainly weren't disappointed, especially with the views.
We were fortunate enough to have a sea-facing lodge which afforded a spectacular vista over the Dornoch Firth and on to Portmahomack. In fact, my personal highlight of the holiday was sitting out on the balcony with a glass of wine, enjoying the late summer light, listening to the waves gently lapping on the shore and watching the light from the Portmahomack lighthouse ripple across the water. Sheer bliss.
But that kind of tranquillity does not keep two young children entertained. And that's where the park excels. There is so much to do, from the great playpark, two tennis courts, swimming pool, crazy golf, football pitch, fun arcade and much more.
On top of that there is a super entertainment programme hosted by some really enthusiastic Troupers – the resort's entertainers, who as well as keeping the little ones busy during the day, also host lively shows for adults at night.
The main man on our visit was Vinnie, a very funny chap full of jokes and mischief who had everyone in stitches and got on brilliantly with the children.
The aforementioned swimming pool, as well as offering the usual fun and games, also hosted Aqua Paddlers (mini paddle boats), Water Walkers (zorbs) and Party Time sessions for a small fee. My two loved the party session where they had inflatables, floats and balls to play with. Well worth booking up for.
Away from the park, you are literally just a few steps from Embo beach, where we spent a glorious morning rockpooling, paddling and building sand castles. My 10-year-old son and six-year-old daughter absolutely loved this. My daughter caught her first fish in a bucket – a tiddler no bigger than her thumb that she wanted to take home and cook for lunch! – while my son collected crab shells and tried to build his own rockpool. The weather was scorching and I had to remind myself we were in the Scottish Highlands.
I had to do the same a couple of days later when we drove round to Portmahomack to spend the day with friends. Again, the weather was roasting hot and we spent the day at the beach, watching speedboats shoot across the bay, children playing on a surfboard and a few brave souls heading out on waterskis. It was like a scene from the Mediterranean. Scotland at its best.
On that short journey round to Portmahomack, we spotted large numbers of seals sunning themselves, and the roadsides were busy with tourists taking holiday snaps. No surprise as this road is part of the North Coast 500, and I can see why people travel from far and wide to come to Scotland to enjoy our spectacular scenery. We also passed signs for the Glenmorangie distillery which is fairly near the park, and there is a plethora of golf courses in the area for those who enjoy that challenge.
Historic Dunrobin Castle is just along the coast past Golspie. I can't recommend it highly enough as we spent a fantastic day there taking in the history, grandeur and falconry display on offer. It is a very popular tourist attraction, and it isn't hard to see why.
There are also plenty of nice restaurants nearby, and as well as sampling the fare away from the park, we also enjoyed a very nice evening meal at Grannie's restaurant, which had plenty of old favourites for kids and adults alike.
Grannie's Heilan' Hame has a place in the heart of many, and while she might be showing her age in places, she still offers a warm welcome and all the ingredients you need to make a holiday full of happy memories.
What more could you ask for?
THE HOLIDAY
Grannie's Heilan' Hame Holiday Park, Dornoch, Sutherland IV25 3QD
Call: 0330 123 4850
Visit: www.parkdeanresorts.co.uk
Current deals at Grannie's include: Arriving Friday October 11, for three nights, priced at £199, staying in a two-bedroom Fyne caravan which sleeps up to six people. Arriving Monday October 28, for four nights, priced at £109, staying in a threebedroom Dochart caravan which sleeps up to eight people.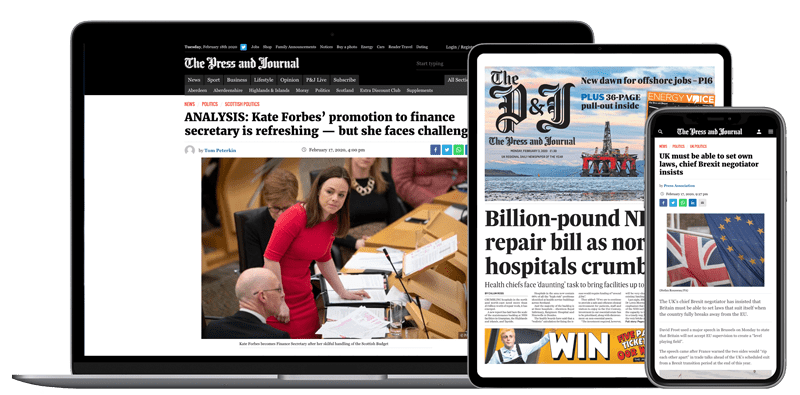 Help support quality local journalism … become a digital subscriber to The Press and Journal
For as little as £5.99 a month you can access all of our content, including Premium articles.
Subscribe