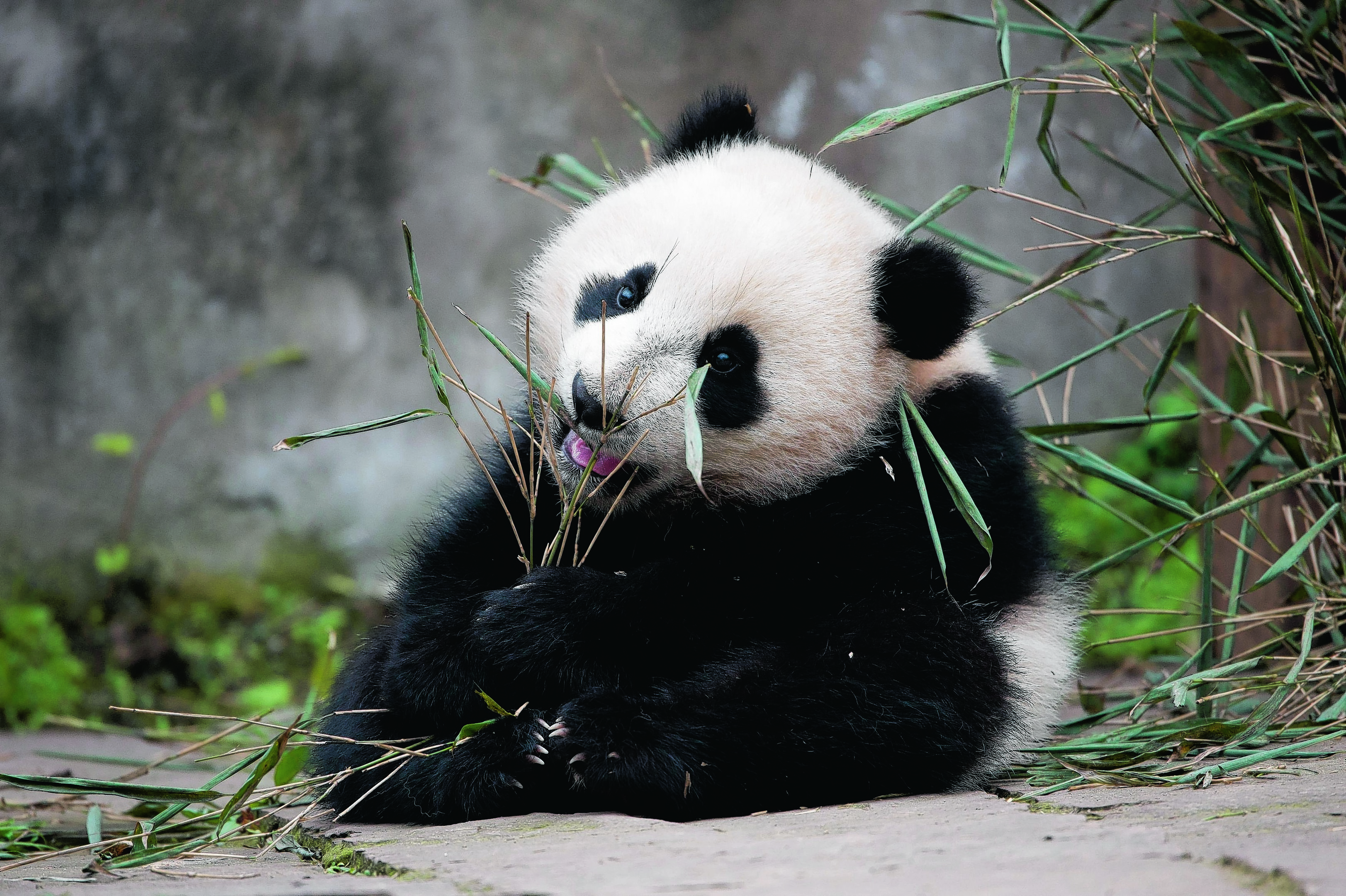 Panda fans will need to wait and see if Edinburgh Zoo's Tian Tian falls pregnant, but in the meantime, they might want to consider a trip to the giant panda capital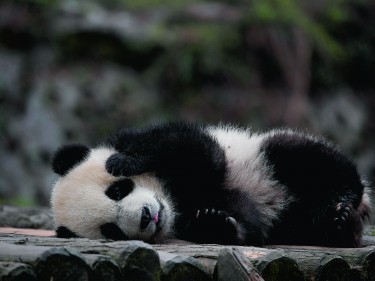 In the space of just a few hours, it's impressive how much a giant panda can defecate.
I'm inside five-year-old Yoaxin's enclosure, using a shovel to chase enormous floating pellets of compressed orange mush around a pond.
As I skilfully scoop the mess into a bucket, I wonder if Michelle Obama, who recently visited the Sichuan province's most famous residents, opted to roll up her sleeves to pick up panda pooh as part of her official duties. Probably not.
But having enrolled at the Bifengxia Panda Conservation Centre as a voluntary panda keeper for the day, I can't complain about getting my hands dirty.
As one of the world's most endangered species, whose existence now depends heavily on conservation efforts, the rarest member of the bear family has earned adoration from wildlife lovers worldwide.
Earlier this year, Edinburgh Zoo's resident giant panda Tian Tian, on loan from the Chinese government, was artificially inseminated, with hopes she will give birth in August or September.
But panda fans eager to see the animals in their homeland can now do so with greater ease, thanks to increased flights from airlines such as Cathay Pacific to the panda capital, Chengdu.
According to a 2003 census by the Chinese State Forestry Bureau, there were 1,596 giant pandas in the wild with 83% of the population found in the Sichuan province. (Results of a forthcoming census have not yet been published.)
Three hundred of those bears can be found in reserves such as Bifengxia and Chengdu's Giant Panda Research Base.
Seeing pandas in the wild is almost impossible; solitary creatures who roam in areas of 20 square km, they're often only captured by camera traps.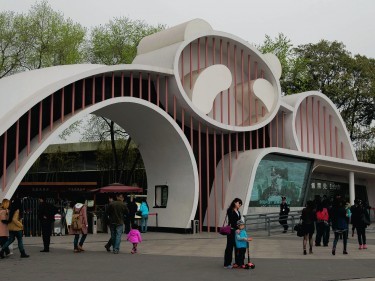 Plans are under way to reopen the mountain Wolong retreat, destroyed in a 2008 earthquake, but in the meantime, a good alternative is the misty, bamboo hills of Bifengxia in Ya'an, 150km from Chengdu.
At 11am, I prepare Yoaxin's second snack of the day – a chunk of steamed rice bread, carrots, apples and a stick of bamboo. Pandas are notoriously fussy eaters, eating only arrow bamboo in the wild, and their stubborn refusal to switch to new foodstuffs is partly responsible for their steady demise. But keepers in the reserves are having some success at converting them.
Legs splayed like a small child, with those distinctive dark eye smudges making her look like a haggard insomniac, Yoaxin appears quite sad and helpless.
Far more lively are a group of baby pandas who emit high-pitched squeaks as they tumble on top of each other and scramble up trees.
An audience of local tourists dressed in ridiculous fluffy panda hats snap happily on their smartphones before racing off to souvenir shops to buy tat emblazoned with the symbolic monochrome bear.
Even centuries ago, soldiers would wave flags decorated with pandas, which they believed represented power. There's no doubt these creatures have become a national treasure.
But given the country's controversial track record for using endangered species in traditional medicine, Chinese animal welfare almost sounds like an oxymoron.
When I ask my guide, Jack, why pandas are one of the few endemic animals to have survived, he partially jokes: "Because they don't taste very good!"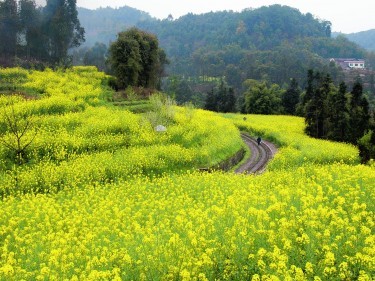 But there is some truth to his words; history books recount tales of local people attempting to cook pandas in pots with highly dissatisfying results.
"Chinese people like to put things in their mouths," he adds, as we drive towards the Chengdu Giant Panda Research Base.
Located in the middle of the city and easily accessible, this is the most popular reserve for foreign tourists.
Walkways wind around spacious enclosures, in a set up similar to a zoo. Right now, the temperature is mild, but in the sticky summer months, pandas sleep on ice beds in air-conditioned rooms and eat watermelon and carrot lollies to keep cool.
Posters advertise the opportunity to hold a panda, if you're prepared to pay £124 and dress up in an overcoat and surgical mask. The money, I'm told, is needed for the expensive upkeep of the pandas and investment into the artificial insemination unit, currently the main method by which the sluggish, sex averse pandas are able to reproduce.
A morning spent watching them shred sticks of bamboo, then slump languidly in the treetops is enough for me. But fortunately, Chengdu has much more to offer than its cute and cuddly bears.
Green spaces, excellent cuisine and a strong tradition of teahouses has earned the 2,000-year-old Sichuan capital a reputation for being the most relaxed city in the People's Republic.
"People come here to spend money rather than make money," says Jack, taking a swig from a flask of loose green tea, which, like most local people, he carries with him and refills throughout the day.
At one time, there were 10,000 tea houses in Chengdu, but today, 1,000 are in operation.
One of the biggest is the Hemin teahouse in the People's Park, where groups of old men and university students gather at bamboo tables to play the traditional Chinese game, mahjong.
Competitors are locked in serious concentration, their expressions as blank as the flat sky overhead. (On average, the sun only shines in Chengdu 100 days per year.)
I step over tea urns and the discarded shells of sunflower seeds – a popular snack for gameplayers – and wander over to a corner where local artists are selling Chinese paintings.
Jack tells me this is a place to relax, but the sight of a man using metal tongs and a head torch to "massage" a woman's ears clean looks more torturous than leisurely to me.
Elsewhere in the park, retired women wearing oversized glasses and pouts like a baboon's bottom amuse themselves by parading up and down on a makeshift catwalk in a bizarre public fashion show, while others perform traditional Tibetan dances. The only purpose is to enjoy themselves.
Aside from the 17th century Qing dynasty Wide and Narrow Alleys, now revamped as an up-market complex of restaurants, boutiques and street food stalls, much of the high rise architecture in Chengdu is modern.
As people from rural areas seek better health care, education and employment, the population of the city is swelling. Yet many would agree that their hearts still lie in the surrounding scenic countryside.
Used in the 1950s to carry coal from mines, the Jaiyang railroad now takes tourists on day trips through peaceful farmlands, while a separate carriage still carries locals and their livestock to market. A journey on the small steam train provides welcome contrast to the grey smog and concrete of the city; fields of brilliant yellow rapeseed flowers radiate colour in a place where the sun rarely seems to shine.
Although China is a country that's rapidly industrialising, with new roads and buildings springing up like weeds and choking the environment, there is the glimmer of hope that people are beginning to appreciate the enormity of what they could lose.
It's true that, culturally speaking, the Chinese are not a nation of animal lovers, but efforts to protect the giant panda, their national treasure, are educating a new generation.
Like many parents, Jack hopes to take his son to a panda reserve when he's older.
"I'd like him to be a panda keeper for the day," he laughs. But his voice takes on a more serious tone. "Because if people learn to love animals, I think they could learn to love everything."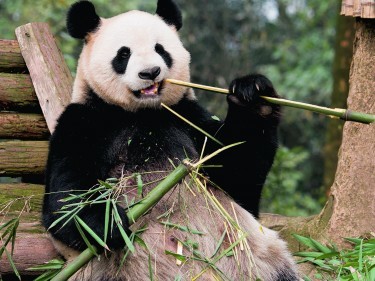 THE HOLIDAY
Wendy Wu Tours offers a seven-night panda package, including Chengdu Panda Reserve, Bifengxia Panda Conservation Centre and Hong Kong, from £1,790 per person, based on two people travelling in November.
Price includes international flights with Cathay Pacific, domestic transportation, accommodation, touring with guides, entrance fees, meals and visa fees for EU (inc UK) passport holders.
Cathay Pacific (www.cathaypacific.co.uk) operates flights to Chengdu from London, in Premium Economy, from £1,049.
To find out more about panda conservation, visit www.saveapanda.com