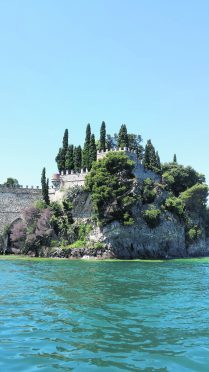 2016Were a legion of Roman soldiers to march out of the history books on to the streets of Salo, then the illusion of living in times past would be complete.
A simple cry of "lights, camera, action" and a film director could almost let their narrative play out without the need to create an appropriate set.
That work was begun many years ago and no one has been allowed to destroy it.
In fact, when it comes to preservation of built heritage, Italy truly excels and here in Lake Garda the layers of history set solid in stone, sit easily side by side. Even modern signage and the odd accent of neon is tastefully absorbed, leaving an overall impression of enduring elegance.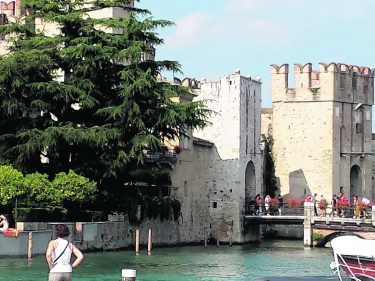 We have come to stay in Inghams' Hotel Galeazzi which is just down the road from Salo Town. It's run along the same lines as a winter ski chalet and manager Mikaela guides her young staff with motherly warmth. The family feeling spills over to the guests and we soon feel at ease and ready to plan some holiday fun.
Our fellow guests mostly comprised older couples, many who enjoy walking. They spend their days wending along stony tracks on the lush hillsides, where abandoned farmsteads and uncultivated fields hint at an intriguing story of desertion and relocation. In fact, if you are prepared to put in some effort and gain altitude, it's possible to pass an entire day without encountering many people but the fierceness of a sudden heatwave suspends us in a pleasant, lethargic haze.
We are content to keep things simple and to wander by the shimmering waterfront which is fringed with grand villas and lush vegetation. Being a keen swimmer, I am quick to locate a small wooden jetty and plunge into the lake to splash about in its unfamiliar freshness alongside a mother duck and her hectic brood.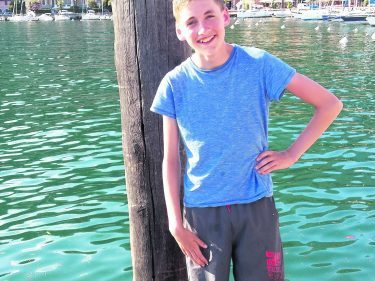 Son Ruairidh has other things on his mind. He orders up his first authentic, Italian ice-cream, beginning with a conservative, two-scoop portion of fruity flavours and progressing, later in the week, to cones that are so enormous they almost eclipse his face and draw the attention of passers by.
Lake Garda is a perfect place to engage in water sports. Warm, gentle breezes propel windsurfers and yachts but there is scope for fun on a stand up paddle board or a simple pedalo. We had wanted to try kite surfing but cannot bring ourselves to negotiate the somewhat infrequent bus service. So we settle for a boat trip to the Isola del Garda.
It's a private island, just a mile offshore, inhabited by Contessa Cavvaza, four of her seven children and four of her grandchildren. En route, with around 40 fellow passengers, we are followed by buzzing jet skiers who play with the wake of the motor boat and perform acrobatic feats, like a pod of leaping dolphins.
Our island guide Anja is a composed and erudite multi linguist whose true fascination for the place she is revealing to us comes across. She sets out its history by telling us about a timeline of artefacts. Roman tombstones were found here and it was once home to Franciscan monks whose cloisters set the template for the grand Neo-Gothic Venetian Villa we see rendered bright yellow in morning sunshine.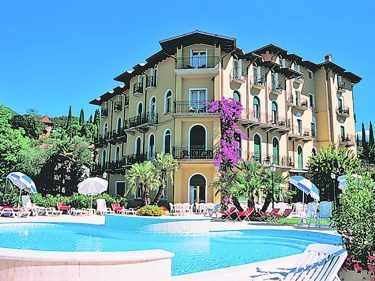 The villa has been added to by a succession of owners but it is the current Contessa who can be credited with laying out the beautiful gardens we are enjoying today. These are set out into different styles, each of which is nurtured by a micro climate. There is an Italian one and an English one among them. When a fellow visitor tells me that this place is listed in the top gardens of the world, it's easy to see why.
However, we are left in doubt as to the hard work and hard cash required to keep the island up to scratch. The fine tufa limestone is prone to crumbling, so it has to be hand cleaned with a toothbrush and, in winter, the family needs to burn a lot of fuel to ward off the harsh effects of cold weather in stone surrounds. The four children who live on the island commute to school by boat and every family member is expected to play their part in the running of the many family businesses.
During World War II, fascists took possession of the island and the family was banished. However, the servants were allowed to remain and such was their loyalty that they tended to the grounds and buried valuables in secret locations thus smoothing the path to the owners' return when Mussolini eventually decreed they might be allowed their home back.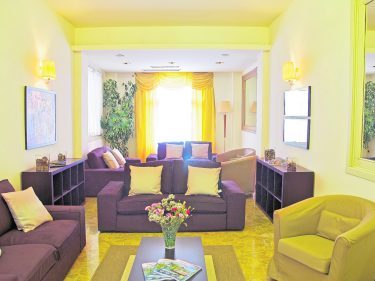 Historical sites and beautiful gardens are of limited appeal to a teenage boy, so Ruairidh and I decide that we will go horse riding together and, happily for us, assistant hotel manager Jessica is tireless in her efforts on our behalf. She researches all possible modes of transport that could take us to the Scuderia Castello. So we catch a bus and get as far as Maderno when our luck runs out. There's not a taxi to be had in this town in late afternoon. There is nothing for it but to head to a local hotel and ask for assistance. Taking a leaf out of the Italians' book, we stay calm, order a drink and ring the stables owner, Giovani who agrees to pick us up in his truck.
We meet our mounts and embark on a sedate trek alongside verdant orchards and across cobbled lanes. It is such a pleasant experience that we spontaneously make plans to return in the autumn for a longer stay on Giovani's farm. All too soon it's time to catch the fast ferry back to base for another hearty evening meal in the company of those doughty walkers.
As a final holiday treat, Ruairidh and I head back to Salo town to sample the food at the Lepanto restaurant which was recommended by a local. There I derive great pleasure from seeing my son discover the delights of home-made ravioli which bears little resemblance to the stuff back home that comes in tins.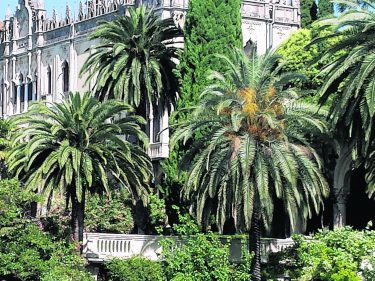 Of course, sunshine has the potential to elevate any experience and to render the everyday sublime. For whatever reason, we are now confirmed in our love for Italy and our intention to return whenever possible.