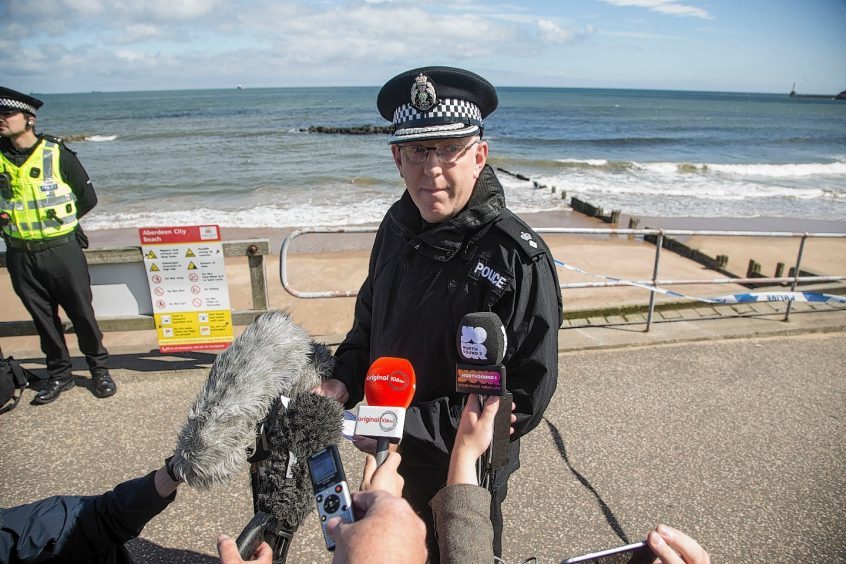 A mother and her young son died in hospital at the weekend despite heroic attempts to save them.
Julie Walker, 37, and her son Lucas, six, were pulled out of the sea during a massive rescue operation at Aberdeen beach.
Police praised older brother Samuel, who bravely entered the water in an attempt to rescue his mother and brother.
The 13-year-old was still recovering at Aberdeen Royal Infirmary last night.
Emergency services received numerous reports of people in difficulty in the water at 4.45pm.
Personnel from Police Scotland, HM Coastguard, Scottish Fire and Rescue and the Scottish Ambulance Service attended the scene.
Altogether, five people were rescued before being taken to Aberdeen Royal Infirmary.
A 25-year-old woman and 28-year-old man – who went into the sea to help – have since been discharged.
Hundreds of people had been enjoying a beautiful sunny afternoon at the beach when the tragedy unfolded.
It is understood the family had been playing on a stretch of the sea wall when Lucas fell into the sea.
His mother, brother and several other selfless members of the public, including off-duty police officers went in to try and save him.
Yesterday, officers could be seen scouring the beach with metal detectors as part of their investigation.
Floral tributes had also been laid in memory of Julie and Lucas.
Police Scotland's north-east divisional commander Chief Superintendent Campbell Thomson said: "This is a very tragic incident and our thoughts are with the Walker family at this sad and difficult time.
"Whilst officers continue to investigate the circumstances of the incident, it is clear heroic attempts were made to save Julie and Lucas by both on and off duty police officers, emergency service personnel and members of the public, facing treacherous sea conditions and high winds during their rescue bid.
"Their brave efforts cannot be overstated.
"I'd like to pay special tribute to Lucas's brother Samuel, who very bravely entered the water in an attempt to rescue his mother and brother.
"We are all very thankful Samuel is making a steady recovery in hospital.
"Police Scotland would like to thank all rescue personnel who assisted at the scene yesterday in addition to the many members of the public who offered assistance and support during the incident.
"Our seas can be extremely unforgiving – even during the summer months – with conditions changing rapidly.
"I would urge people to be extremely careful when near any body of water whether you're swimming, sailing or walking near the water's edge."
Onlooker, Claire Lewtas, said the boys had their tops off and were letting the waves come over the top of their heads.
She added: "There was a woman with them either videoing it or taking pictures.
"I was going to go down and tell her it was unsafe but I didn't want to interfere so my husband and I left with my son.
"On the way home a friend contacted me saying there had been an incident down the beach and someone had been dragged into the sea.
"I only wish I had said something to her."
Writing on Facebook, onlooker Stacie McPherson said the incident was "absolutely heartbreaking".
Scotland's First Minister Nicola Sturgeon was also among those paying tribute.
She tweeted: "Tragic, heartbreaking news. My thoughts are with all those involved."
Aberdeen Central MSP Kevin Stewart posted: "Sorry to hear of the tragic event that has taken place at Aberdeen beach.
"My thoughts are with those involved, their families and friends."
Aberdeen City Council Leader, Cllr Jenny Laing said: "The tragic incident at Aberdeen Beach has resulted in a mother and young son sadly losing their lives.
"My thoughts are with the family and friends of those affected at this time and those who remain in hospital following yesterday's events.
"Aberdeen City Council is providing support to the family during this difficult time.'