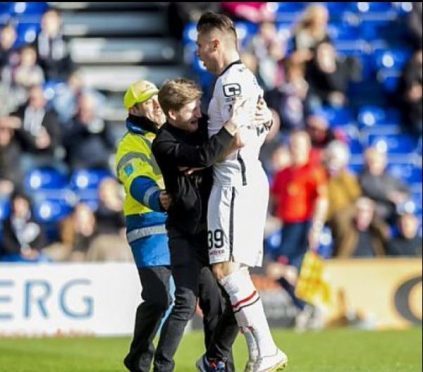 A football fan paid a £500 penalty for celebrating with his footballer friend who scored in a Highland derby.
Struan Balfour, 22, got carried away when his friend and then Inverness Caledonian Thistle player Miles Storey scored against rivals Ross County earlier this year.
Balfour rushed on to the pitch to hoist his mate into the air and join in the celebrations. But match stewards were not impressed by Balfour's attempt to get in on the act and chased him off the park in Dingwall on March 19.
As he left the stadium, Balfour was arrested by police – but not before he had tweeted a photograph of his impromptu congratulations captioned: "On the pitch when Storey scores a belter in a derby is what dreams are made of."
Storey now plays for Aberdeen.
Yesterday at Inverness Sheriff Court, Balfour was fined £500 after admitting a breach of the peace.
However Sheriff John Rafferty stopped short of banning Balfour of Drumfield Road, Inverness from future football matches.
He said: "In some way it is creditworthy he supports his local team. I feel the matter can be dealt with by the club.
"I will instruct the Sheriff Clerk to write to the club with the details of the offence and the penalty so it can consider what action to take."
Defence solicitor Roger Webb told the court: "He is a keen ICT supporter and there is a peaceful rivalry between the clubs.
"Last season, Ross County had the bragging rights and ICT were not doing well. So it came as a pleasant surprise that Caley Jags went three up.
"My client knew the player who scored. He is very friendly with him and socialises with him. Filled with an abundance of enthusiasm, he ran on to the field to congratulate his friend.
"There was no drink involved and when a steward approached he ran back into the stand. It wasn't until after the match that he was arrested. The fact he was not kept in custody indicates the police didn't treat the matter too seriously."
Fiscal depute Ross Carvel told the Sheriff that Balfour was the only fan to invade the pitch although fans surged forward towards the fence when the goal was scored.
Balfour said after the court: "I got carried away when Miles scored. I won't be doing that again. I just hope the club treats me leniently."