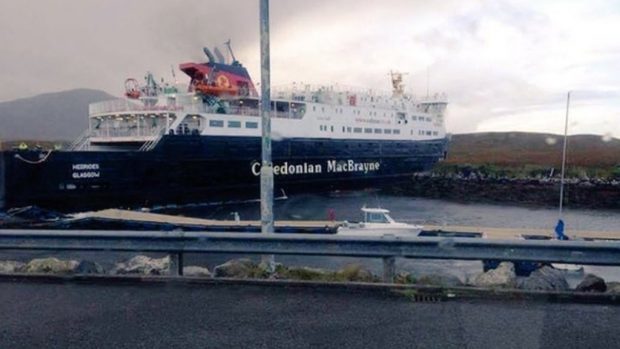 A Cal Mac ferry which was damaged after running aground on North Uist needs to be taken out of the sea for repairs.
But severe weather and wild seas have delayed her voyage to a drydock repair yard in Greenock on the River Clyde.
The MV Hebrides has been out of action after crashing in Lochmaddy harbour in the Western Isles on Sunday.
The vessel had 76 passengers onboard when it ran aground on the rocky seabed and shore.
The vessel also destroyed pontoons after colliding into Lochmaddy Marina and then heavily then banged into pier whilst going astern after freeing off rocks.
A team of divers carried out an underwater inspection to check if her propellers were damaged when churching up pontoons when the vessel went astern to free herself from the shore.
There was concern about damage to the Cal Mac ferry's bottom, lower hull, propellers and rudders, particularly on her port side, after the accident.
The shipping firm confirmed the drydocking and said it will give details of the damage later.
It said: "MV Hebrides will depart Lochmaddy for Garvel Clyde shortly for repairs," referring to the drydock yard at Greenock, the nearest facility to the Western Isles."
The announcement means repairs – required to parts of the vessel below the waterline which hit rocks or the heavy chains anchoring the pontoons – cannot be undertaken alongside a quay.
The ferry and the pier are presently out of action with no sailings to Harris – which is also served by the ferry – until the weekend at least.
Travellers for North Uist are being diverted via Stornoway or Mallaig.