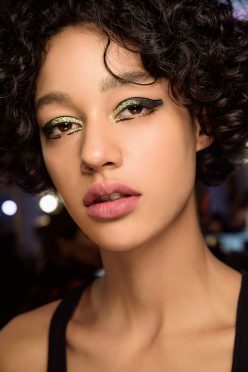 Make sure you sparkle this festive season with our glittering guide.
There were gasps of surprise when the first model exited at the Burberry AW16 show.
"Is that… glitter?" we wondered collectively, shocked that the storied house would unleash such a frivolous look on the catwalk.
And it didn't stop there.
There was dazzle-dust on the Paris and Milan runways too, as even brands like Vetements, known for the cool restraint of its model's make-up, caught the glitter bug.
And with festive fun-times on the horizon, now's the perfect time to get in on the sparkly action.
PRETTY IN PUNK
Falling like golden tears onto models' razor-sharp cheekbones, Burberry's take on glitter is more punky than princessy.
Recreate the look by patting a smoky matte shadow above and below the eyes, then use a liquid highlighter pen to create a dewy surface for Burberry Shimmer Dust to cling to.
Don't worry if the two sides don't match exactly – that's all part of the appeal.
CATCH THE RED EYE
Inspired in part by The Rocky Horror Picture Show, the fierce eye make-up look at Charlotte Olympia combined bleached brows, masses of black liner and a flurry of red glitter.
To make it more wearable, just stick with the glitter, using MAC Mixing Medium Eyeliner across your eyelids to stick the ruby red particles in place.
Finish with a pale shimmery lip gloss to really let your eyes do the talking.
DISCO HOPPER
"A girl who has been out dancing all night in LA" is how make-up legend Val Garland described the Fausto Puglisi look, which explains the smudged black eyeliner and artfully scattered glitter.
Use a black kohl pencil and start the line in the middle underneath your eye, extending into a rough V at the corner, then use Too Faced Glitter Glue to blend the pencil out slightly then pat on your silver glitter – if you struggle with fingers, a small, clean eyeshadow brush will help position the dust.
VIOLET TENDENCIES
Matte skin and clean lips were contrasted with a flash of glistening purple eyeliner at Vetements, which was created using mixing medium (a liquid, gel or cream solvent) and loose glitter.
There is a cheat's way, however, which won't leave you covered in shining specks for days (or weeks) after.
Urban Decay Heavy Metal Glitter Eyeliner is easy to paint on precisely and comes in seven beautifully bright shades.
GREEN-EYED GIRL
To create the "rock 'n' roll eyes" at Emanuel Ungaro, Garland added yellow-gold glitter to a base of dark green eyeshadow, creating a shimmering lime green effect.
Sounds a bit out-there, but it's actually really flattering, especially on dark eyes, and can easily be achieved with just a finger-smudge of shadow, a slick of glitter glue and golden flecks encrusted close to the inner-eye then dabbed outwards.
BUY IT NOW
After weeks of swaddling them in socks and boots, we'll soon have to unleash our tootsies again when we slip on our strappy party shoes. Prep your feet for the big reveal, with a weekly once over with Dr Ceuticals new Pumice Foot Scrub, £6.99, followed by the doc's Foot Rescue SOS Cream, £9.99, both available at Boots now (www.boots.com).
STEAL OF THE WEEK
Palmolive Gourmet Body Butter Shower Creams are half price at Superdrug, so you can lather up with the scrumptiously scented Strawberry Touch, Vanilla Pleasure or Chocolate Passion for just £1.24 a pop (offer available from November 23 to January 4; www.superdrug.com).