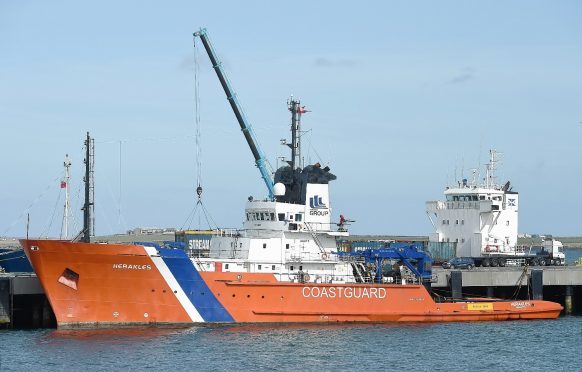 Western Isles Council wants bank fines to pay for a new coastguard tug.
It has urged the UK Government to use part of a new cash fund announced in the Autumn Statement for a second Emergency Towing Vessel (ETV).
The chancellor announced last week that £102million of so-called Libor fines will be used for civil resilience and community safety.
The fines were collected from banks who broke the rules in a lending rates scandal.
Politicians across the north have long argued for the reinstatement of a second ETV based on the west coast.
Speaking yesterday, Western Isles Council leader Angus Campbell said: "This is the perfect opportunity for UK Government to utilise what would equate to less than 2% of this fund, to protect the lives of mariners and to protect the environment.
"We've had numerous incidents on the west coast over recent years, the most recent of which saw the Transocean Winner oil rig coming ashore at Dalmore which could have seriously impacted marine wildlife and the coastal environment.
"We also have nuclear waste being transported through the Minches and other dangerous cargoes which could lead to a disaster for the west of Scotland. Surely the UK Government could spend a small amount of money on decreasing the risks."
Council convener Norman MacDonald added: "Unfortunately, we don't have the luxury of commercial tows here on the west coast, as was the case where a French ETV was called to assist the Saga Sky cargo ship off Dover last week."
The head of the UK Coastguard insisted last week that the decision to withdraw an emergency tug from the west coast of Scotland had been "vindicated."
Sir Alan Massey, chief executive of the Maritime and Coastguard Agency, claimed it would take a "very unfortunate coincidence or some very bad luck" to prompt any consideration of a return to two towing vessels.
He also told MPs that he could not find any evidence to suggest that a second tug, based in Stornoway, would have altered the outcome of the Transocean Winner disaster.
The 17,000-tonne offshore drilling platform was being towed by MV Alp Forward from Norway to Malta when it broke adrift during a storm and subsequently ran aground off Lewis in August.
Some 30 ballast and fuel tanks on the unmanned 33-year-old rig subsequently ruptured, spilling fuel into the sea.
The incident was the focus of the Commons transport committee meeting at Westminster last Monday.