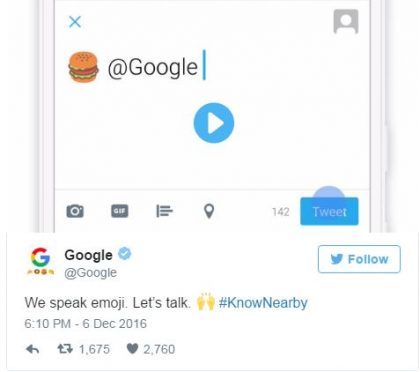 We have endless amounts of information at our fingertips – almost anything can be learned just by typing a query into Google.
But now even that tiny smidgen of effort is unnecessary.
Looking for somewhere close to grab a burger? It's likely never been easier to find. Just tweet Google a burger emoji.
We speak emoji. Let's talk. ? #KnowNearby pic.twitter.com/HjIMs3KPKe

— Google (@Google) 6 December 2016
Google says the feature will work with 200 emojis, although some are currently still under construction.
It's not just information about local restaurants though – tweet the video game emoji and receive a link to play Pac-Man or tweet everyone's favourite emoji, the peach, and get schooled in Destiny's Child songs.
You can use the football emoji to get the latest Premier League scores, the beer emoji to find bars, the dancing lady to find nightclubs, and the snow emoji to get a weather report. And the replies come almost instantly.
@adamcobb15 No extra time needed. https://t.co/i6EeDlvnxx pic.twitter.com/VluNRGSkBz

— Google (@Google) 10 December 2016
Something else incredible – tweet some animals and you'll receive a link to the noises they make. Just in case you forgot how a pig sounds.
But tweet a dog or a cat and you'll be directed towards your local shelters.
So next time you're on the hunt for a good pizzeria, you know what to do.