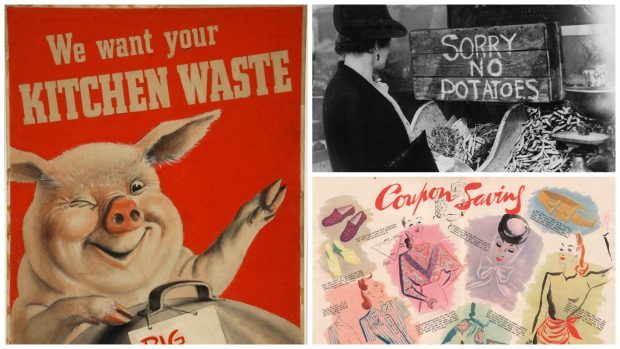 Surrounded by vast quantities of food and drink, most of us today have no idea what it was like living during the years when food and goods were rationed.
The overwhelming majority of Scots coped with what they had and patiently queued to get their hands on, what seems to us today, meagre rations of food on which they had to survive.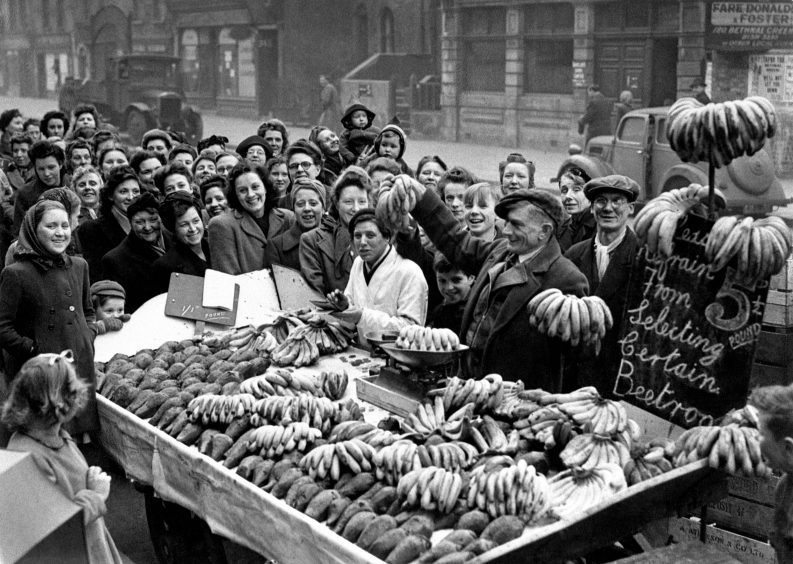 What was rationed from month to month changed as foods became more or less plentiful, but for one adult, a typical weekly ration was: 2oz butter, 4oz bacon and ham, 4oz margarine, 8oz sugar, three pints of milk (sometimes less), 2oz cheese, one fresh egg a week, 12oz sweets every four weeks, 1lb jam every two months and meat to the value of one shilling and sixpence a week.
Coal, petrol and clothing were also rationed during WWII and rationing continued for years after the war ended in 1945.
While most coped admirably, often by growing their own fruit and vegetables and embracing the spirit of make-do-and-mend, others wrote furious letters to newspapers when they thought improvements could be made.
Until now, these letters have never been published in a book, but in Make Do and Send: Nostalgic Letters, there's a chance to see how that generationreally felt.
The book includes a foreword from Esther Rantzen, who says: "I was born in 1940, so I can just remember the blackout and the gas masks, the sound of air-raid sirens, and the taste of rose-hip syrup and the thick, heavy malt mixture which was fed to me on an enormous spoon.
"Some doctors tell us now that the war-time diet was better for us because we had more fish than meat, and very little butter, few eggs. I can still remember the disgusting taste of powdered egg. And I would find it very hard now to give up the fresh fruit and vegetables I've become used to.
"I hated the gas masks, but I can't remember ever being frightened in spite of the danger my parents must have been aware of, and there is no fear reflected in the letters to the newspapers reprinted in this book.
"The British had too much pride. They would complain about the food, and the queuing, but never about shouldering the responsibility of defending the world against Hitler and his hideous regime, and the lives that were sacrificed to save families like mine.
"There is a great deal of detail about food rationing in these pages which resonates with my own memories of those tough times. I feel no nostalgia for SPAM, the slices of meat that looked like bright pink plastic, or the equally strange fish called 'snook'.
"But as a child I had no idea what it was like to make-do-and-mend, and try to feed a family on the sparse rations we were allowed. I do remember my parents talking nostalgically about the cream and meringues they had enjoyed in the enchanted land they lived in 'before the war'. Such luxuries seemed so far away, my party food made by my mother consisted of the 'junket', thin, pale, slightly bitter, with a light dusting of nutmeg.
"How fascinating to learn that during the war Dr Edith Summerskill, the minister in charge of food, had decided that the only delicacy to be allowed to remain unrationed would be haggis, not, it seems because otherwise the Scots would revolt, but due to its ingredients, which are best not dwelt upon.
"As you read this kaleidoscope of images from the 40s and 50s, you will find certain ones stay in your memory. For me, it is the revelation that strong underpinnings were even more important to the morale of Britain's women than good food.
"As a lady who describes herself as 'an ordinary housewife and mother' writes, it would do wonders for her vigour and confidence if she could have 'a good corset', 'decent elastic' for her underwear and 'four really strong elastic suspenders'."
The past may be a foreign country, but it's one we can be amused by, startled by, but above all, we have to admire, writes Esther.
Below is a selection of letters written to a variety of publications, including many from people in Aberdeen and Dundee who weren't shy about coming forwards with their views, which often makes for fascinating reading.
BELGIAN HAM
SIR – Being one who would gladly exchange my bacon ration for boiled ham once in a while, but not registered with a grocer who can provided it, I thought I was in luck last Friday when, in a Union Street Aberdeen shop, I noticed cooked ham being sliced.
Yes, non-registered customers were being served, so I asked for half a pound. Mercifully, for my pocket, the assistant mentioned the price—12/6 a pound! He said it was Belgian ham. I bought a pork pie instead.
Single Ration, Aberdeen, 17th November, 1950
GAS GUZZLING SHAKESPEARE
SIR – I am one of those numerous motorists whose basic ration ceases at the end of this month and who were informed that shortage of supplies of petrol, shortage of shipping for its import, increasing requirements of our fighting services, and curtailment of mere pleasure-seeking, made the restrictment necessary.
It rather jars, therefore, to see an advertisement of a Shakespeare play at Kemnay to which special buses are to be run from Aberdeen, a distance of 15 miles either way. Is this not pleasure seeking and is it for this our sacrifice is being made?
Fair Play, Aberdeen, 23rd June, 1942
TEACHER TRAUMA
SIR – Your correspondent 'Concerned' must, I am afraid, consider the teaching profession consists of a group of beings of superhuman endurance and goodwill. The teacher, besides having the obvious task of imparting knowledge, has to be the milkman, the bank-clerk and the general nurse to her charges – and all this for a salary equivalent to the wages of an 18-year-old manual labourer!
Yet 'Concerned' wishes the teachers to supervise, not only the school meal, but also the whole lunchtime break. In other words, the teacher has to do without his, or her, lunch hour. If you want your children out of the cold and snow – which, I agree, is important – agitate with the Education Authority for a paid supervisor to keep them out of mischief in the school at lunchtime.
A. Camel, Aberdeen, 21st November, 1949
PUNITIVE PETROL
SIR – Regarding this iniquitous 9d on petrol, which rations it more severely than when we had 'basic' would it not have been a workable plan to let motorists decide whether to remain on 'basic' and pay half the licence or to be derationed and have to pay the full amount?
In the case of those who only use a car for necessity in a country district (where no bus is available) and do not go long joy-rides, surely this scheme would be appropriate.
Also, it is most unfair that an old car, say, of 9 h.p., is taxed twice the size and power.
Oldmeldrum, Aberdeen, 26th June, 1950
MEALY PUDDINGS
Sir – Dr Edith Summerskill, parliamentary secretary at the Ministry of Food, said that haggis would remain unrationed. Mealy puddings came within the definition of flour confectionery and would require the surrender of B.U. coupons.
The decision that haggis would remain unrationed was not taken to prevent an uprising in Scotland, but because haggis contained the heart, lungs and liver of sheep chopped up with suet, onions, and oatmeal, while mealy pudding contained oatmeal and fat. Col. Gomme-Duncan (Con., Perth and Kinross) congratulated the honourable lady on having given the first real definition of haggis.
Anonymous, Dundee, 24th July, 1946
NUDISM
SIR – Rationing does not always work out as equality of sacrifice. So far as perishable goods are concerned the scheme works well enough, but in the matter of clothes it is different. A slender purse could meet my modest winter requirements – one overcoat, one pair shoes, two pairs socks, and two pairs pyjamas. Total coupon cost – 47. 47 from 24 you cannot, as we used to say in the arithmetic class.
Perhaps I am greedy. Perhaps night attire is no longer being worn. In my case it cannot be worn much longer.
Dalton Nudist, Dundee, 10th January, 1944
IN THE BLACK OUT
SIR – The difficulty and danger of the black-out? Firstly, people carrying umbrellas are a nuisance. Secondly, people with dogs on a long leash cause considerable trouble. The leash trips others. Better to let the dogs run about. Girls who walk along arm-in-arm are a third nuisance. You dodge one and run into the others.
Souter, Selkirk, 16th January, 1941
TROUBLESOME CORSETS
SIR – Is simply impossible to wear the present utility corset with any comfort, that for middle-aged women good corsets are absolutely necessary, and that women are suffering in health because they cannot get comfortable corsets.
Anonymous, Dundee, 3rd February, 1946
POOR EGGSECUTION
SIR – There seems to be something far wrong with the egg rationing system. Here in Dundee it's a big week when we're given two for each person, while in Pitlochry – only 50 miles away – anyone can have as many dozens as they want. They are priced 4s 6d per dozen in several shop windows.
Disgusted, Dundee, 22nd May, 1951
FISHY PRICES
SIR – Why is it that shopkeepers are not made to display the price on all their foods? I went into a Cheltenham shop for some rock salmon. I inquired the price, and was told 1s. 8d. per pound. When I asked why was it 1s. 6d. in other shops, I was told that it must be a different kind. I was not aware that there were two kinds of rock salmon.
Wondering, Cheltenham, 21st March, 1941
EVEN A LITTLE GUMPTION
SIR – May I call to attention for a second time to bread wasting? I noticed on Saturday a quantity of bread in our nearby pig food bin. There were some biggish chunks, and also some very thick slices, with margarine on. I called two persons who were near to see it, and no doubt they would corroborate this statement.
Indignant, Cheltenham, 10th September, 1942
CLOTHING NEEDS
SIR – I am just an ordinary housewife and mother, and like all the rest of us, I am rather tired of coping with rations and the lack of variety in food. But I really believe I should go to it with renewed vigour and confidence if I could have a good corset, some decent elastic for my underwear, and four really strong elastic suspenders. It would be mental as well as material support.
Housewife, Leeds, 30th January, 1946
SCRUB UP
SIR – Our country must indeed be in a very bad way if the ridiculous soap ration is necessary. Heaven forbid this monstrous piece of folly should be allowed to stand. It really does look as though more women are needed in parliament.
Why do not the government stop the manufacture of filthy lipstick and nail varnish rubbish, which make the women of today look like Indian squaws? Personally, I have a home to keep going and clean, two men to wash for besides myself, including bed and table linen.
Disgusted Householder, Plymouth, 12th February, 1942
SWANKY YANKIES
SIR – May I, as an Englishman's wife, say I think it very unfair that girls who have married Americans should be given extra coupons to buy more clothes before sailing. I read an account of one young bride who had 16 towels given her, also sheets and blankets as gifts. I myself have patched and darned until I shall now have to patch the patches. In fact, it is a nightmare to all of us.
Patches, Nottingham, 13th October, 1945
SAUSAGE DOGS
SIR – A sample of some sausage I bought to-day. Words fail me when I try to describe the taste. The dog was hungry, but when I offered her some, she just sniffed and walked away. Socialists are very fond of recalling the Tories' soup kitchens, but an unemployed man derived more nourishment from that soup, than we do to-day from some the expensive rubbish we have had to eat since this government took office.
A. Smith, Portsmouth, 23rd April, 1951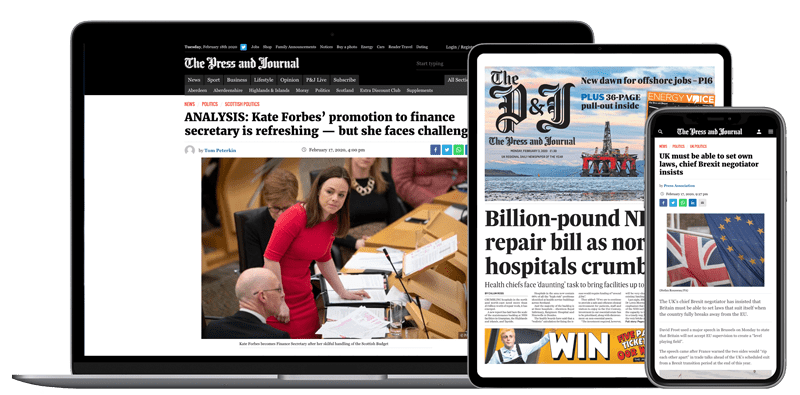 Help support quality local journalism … become a digital subscriber to The Press and Journal
For as little as £5.99 a month you can access all of our content, including Premium articles.
Subscribe