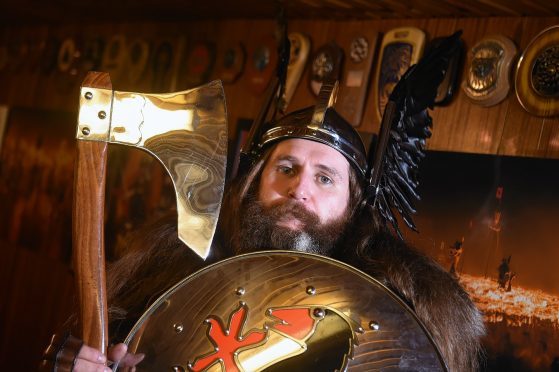 One of the youngest men ever to lead the Up Helly Aa fire festival says he has harboured a burning passion for the spectacle for as long as he can remember.
Lyall Gair, 37, has been dreaming of becoming Guizer Jarl since Lerwick's Viking celebration first captured his imagination as a five-year-old.
The lifelong Shetlander has been involved with the event since 1990 and joined the Up Helly Aa committee in 2004, aged 24.
Members usually have to wait a minimum of 15 years to take on the role of Guizer Jarl – the Chief Guizer and leader of the Jarl squad.
But Mr Gair's climb up the ranks was hastened when two other members had to leave the island and quit their spots.
The Quarff native said he has been preparing for his big moment for more than a decade.
The self-employed joiner said: "Me and other members of the squad have been saving £15 a month towards the suits since 2006.
"I've been thinking about how I would arrange my squad for even longer than that, and we now have our marching and singing down to perfection.
"When I was five I saw a neighbour of mine, Geordie Miller, dressed up as part of the Jarl squad and that has stayed with me."
His team of men consists of 58 adults, 15 children and eight musicians.
Among those ranks will be Mr Gair's dad, Geordie, brother, Russell, and brothers-in-law Liam Summers and Neil Fraser.
Mr Gair's girlfriend, Elaine Hughes, will look on with pride as he leads the fiery procession of 1,000 costumed torchbearers.
And friends from Canada and New Zealand will return home to Shetland to cheer him on.
The festival marks the passing of the darkest days of midwinter, and regularly attracts thousands of visitors.
A Viking galley is paraded through the streets before being set alight in a spectacular blaze at a public park.
The St Sunniva Street shed where the galley has been fashioned played host to a good-natured get-together last night.
Children of squad members excitedly clambered aboard the galley, as they were offered a sneak preview.
The finishing touches will be put to the boat today, ahead of tomorrow's day-long ceebrations.