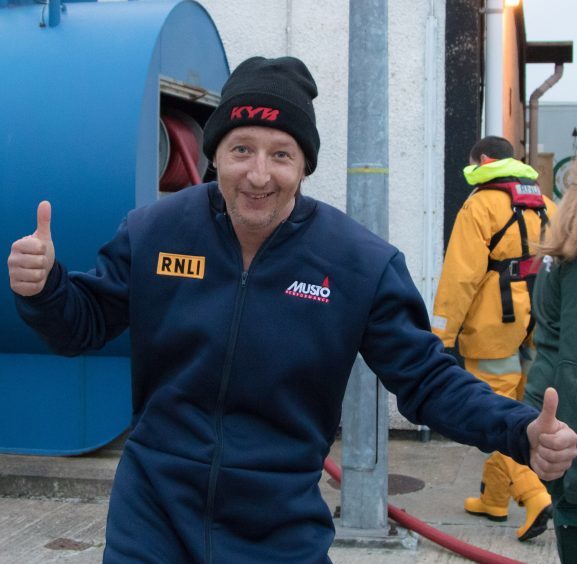 A scallop diver who survived more than 11 hours drifting in the notorious Pentland Firth has thanked his rescuers – and said the key to his survival was "don't panic".
Ivan Doychev drifted from his dive position in Scapa Flow while on a routine, sparking a full search including lifeboats and helicopters.
Hope faded as the hours went on – but, against all the odds, the 40-year-old was plucked to safety by a Russian boat off the Caithness coast – and even managed to swim towards his rescuers.
Mr Doychev arrived back in Orkney on the Gills Bay to St Margaret's Hope ferry around 7.30pm last night.
And when asked how it felt to be back he said: "I feel OK. Everything is OK.
"I am exhausted but OK. Maybe I'm lucky. All I did was stay positive. I did not panic. I knew not to panic and just keep swimming.
"I knew I could not stop swimming."
He added: "By my watch I was in the water for 11 hours and 33 minutes. My advice is to not panic, if you panic you drown.
"I am very appreciative of the coastguard. I could see the choppers and boats. They were far away but I could see them so I knew they were looking for me which kept me going.
"Thanks also to the people that have helped me.
Mr Doychev was one of two divers working off South Ronaldsay on the Fair Morn when he became adrift on Wednesday evening.
The Bulgarian has lived and worked in Orkney for around a year and is an experienced professional diver, having been in the industry for around 24 years.
By the time the boat returned to his dive position there was no sign of Mr Doychev or his marker buoy.
A large-scale search was launched, including lifeboats from Longhope, Stromness and Thurso as well as two coastguard helicopters and ground search teams.
Several other private vessels joined the search as well, including one piloted by the Fair Morn's owner Fred Brown.
He said: "The worrying thing we had was that his buoys had disappeared and we didn't know if he was trapped under the water or where he was.
"We knew if he was on the surface he would be ok because he's a very experienced diver."
When the search was initially called off after dark, Mr Brown had to return to tell Mr Doychev's partner Iskra that they hadn't found him.
He said: "It was the worst thing I've ever had to do in my life.
"How do you say that to someone?"
Having stood the lifeboats down at 11pm after an extensive search, the coastguard then recalled them and resumed the search in the early hours of the morning.
The search was suspended for a second time before 3am – but around that time Mr Doychev himself spotted the Russian sail training boat Yunyo Baltiets a few miles east of Duncansby Head and began to swim towards it, shouting to catch their attention.
He was collected by the vessel before being transferred to the Thurso lifeboat and taken to land and onwards to Caithness General Hospital.
Mr Brown got the call to say the diver was safe around 4am.
He said: "We were just getting ready to go back out and look for him when we got the call.
"It was like the world had been lifted off our shoulders."
The diver was initially described as being in "reasonable" condition by the coastguard when he was retrieved and he was released from hospital last night.
Although the search proved a success, it was criticised by a local fisherman Hamish Mowatt, who said he had contacted the coastguard in Shetland to tell them the location where Mr Doychev was finally recovered.
He said: "The search went the wrong way.
"Instead of going south where the diver drifted in the tide, they headed north and west in the wrong direction completely.
"I phoned them three times and told them where to go but they wouldn't send the helicopter or the lifeboats.
"They went north and west and they would never find him there."
A spokeswoman for the coastguard said that all information received was taken into account, along with information from their own systems.
She said: "Both the coastguard helicopter from Sumburgh and the Thurso Lifeboat covered the area in which the diver was later found during the search.
"The diver, who was wearing a black drysuit, would have proved difficult to spot in open water, but his drysuit undoubtedly aided survivability."Mr Doychev added: "The tide was too strong, it pushed me out of the islands.
"The first hour was terrible, the tide pushed me out and out and out – I was in the middle of the sea.
"The tides changed and I started to go back.
"I am very appreciative. I could see the choppers and boats. They were far away but I could see them so I knew they were looking for me, which kept me going.
"By my watch, I was in the water for 11 hours and 33 minutes. My advice is to not panic, if you panic you drown."
He added: "I was really cold, I had to swim continuously or be dead. In the end, everything is OK."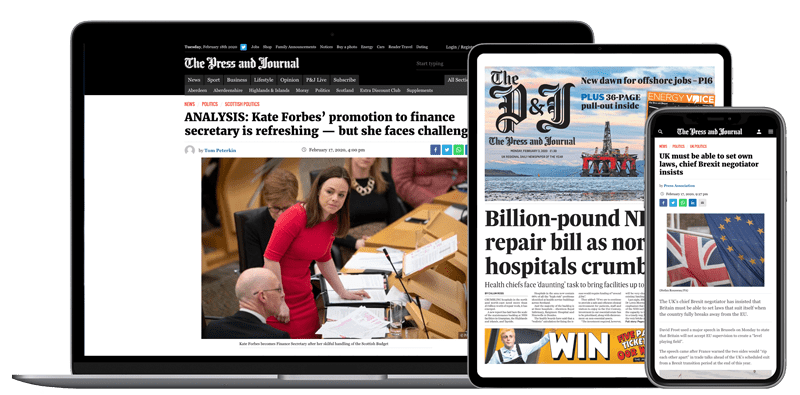 Help support quality local journalism … become a digital subscriber to The Press and Journal
For as little as £5.99 a month you can access all of our content, including Premium articles.
Subscribe