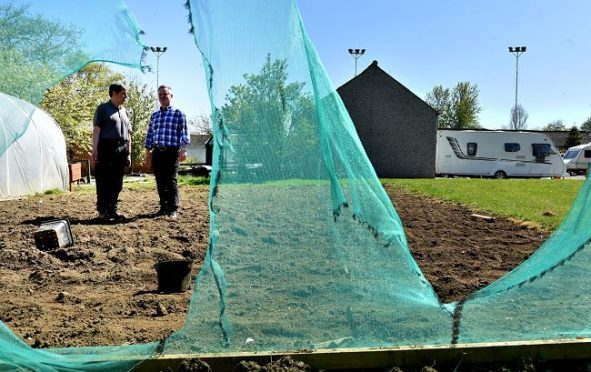 A popular north-east facility has been "devastated" by vandals once again – only three months after it was previously wrecked.
The polytunnel, owned by the Men's Shed organisation in Inverurie, was targeted over the weekend causing extensive damage.
The group re-opened in December, with funding of £20,000, and offers local men a creative and social safe haven.
But now, one of the trustees of Inverurie and District Men's Shed, Alistair Smith, revealed "very few people" are attending the club.
He said: "We are all really sickened by this latest round of vandalism. I just don't understand why we should keep being penalised.
"It has got to the stage now that people are being put-off from using the polytunnel – they feel too intimidated.
"All of our produce has been wrecked – and it has completely wasted our whole season."
The group was previously targeted in March when tools were also stolen as well as vandalism to the polytunnel and garden.
Mr Smith described the latest damage, saying: "Hanging baskets have been emptied out, tomato plants have been pulled out and trampled on, all the vegetables have been pulled out and the polytunnel plastic has been damaged beyond repair."
The garden occupies the space behind the soon-to-be-demolished Harlaw Day Centre on Harlaw Road which is currently housing a small traveller encampment.
The vegetables and plants grown are sold to raise money for local charities.
Councillor for Inverurie, Colin Clark last night said: "I am bitterly disappointed that this has happened yet again.
"I will be contacting the council officer this week because we need to have a joint meeting to find a way forward, as the site is now just a target for vandals.
"The site needs to be developed or demolished as soon as possible – I had hoped it would have been started this summer – but at least it could be cleared."
The Inverurie and District Men's Shed can be found at Unit 19, Harlaw Industrial Estate and is open on Mondays and Thursdays 10am-4pm.