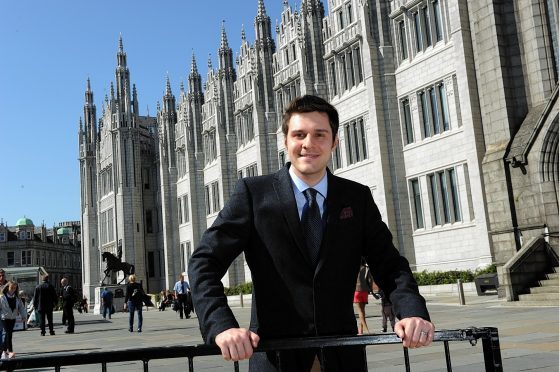 Political parties in the north-east united in condemnation last night after more election campaign signs were vandalised.
A number of placards in support of Ross Thomson, the Conservative candidate for Aberdeen South, have been smashed on the North Deeside Road at Bieldside.
SNP signs have previously been targeted in a similar area and there have also been incidents in the West Aberdeenshire and Kincardine constituency.
A Scottish Conservative party spokesman branded the behaviour "disgraceful", while the SNP's Kevin Stewart insisted the "crass attempts to intimidate and silence democracy" would not be successful.
Labour's candidate in Aberdeen South, Callum O'Dwyer, described the vandalism as "deeply disappointing" and Jenny Wilson, his Liberal Democrat rival, called it the "kind of appalling act which turns people away from politics".
Long-term SNP supporter Serena Arif, whose sign was damaged four times before she installed a CCTV camera, also hit out at the latest incident.
She said: "It's intentional criminal damage and it's an attempt to intimidate you as an individual.
"This clearly shows a huge lack of respect for others' opinions. It's an intolerance. That's clearly something that should not be seen in a democratic society."
Aberdeen Central MSP Mr Stewart added: "The person or people responsible for these criminal acts must stop this idiotic and aggressive behaviour.
"We hold dear our democratic right to vote and express our political opinions, and these crass attempts to intimidate and silence democracy will not be successful."
The Tory spokesman said Scottish Conservative field posters and signs had been vandalised in each of the last three national elections.
He added: "We know that in the past this has not been limited to one party, however, and we would urge everybody involved to conduct themselves in a respectful manner at all times."
Mr O'Dwyer said: "It is deeply disappointing to see such acts of vandalism. We should seek to test the resolve of our arguments in respectful, democratic debate – and not through petty destruction."
Ms Wilson added: 'This is the kind of appalling act which turns people away from politics.
"As a Liberal Democrat, I respect everyone's right to an opinion, but that must be exercised in debate and at the ballot box, not through these aggressive acts of vandalism."
The SNP's candidate in the seat is Callum McCaig.