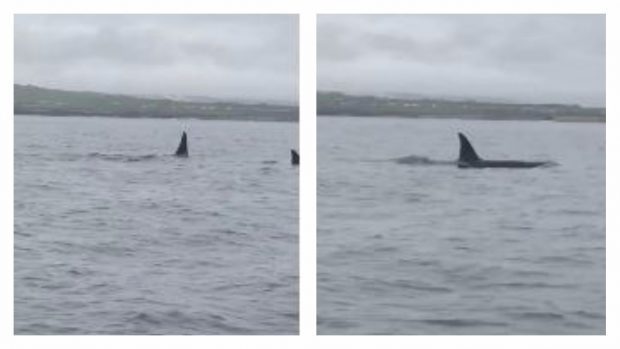 It's World Orca Day so we thought we would look through our archives.
Here are seven of the best videos our readers have shared with us of their killer whale encounters.
1) VIDEO: Orkney fishing party has "experience of a lifetime" encounter with pod of orca whales
This is the moment a routine fishing trip turned into "the experience of a lifetime" after an extremely close encounter with a pod of orca whales.
Erlend Manson, of Finstown, was enjoying a leisurely trip off the north coast of Orkney with friends when the killer whales made their presence known.
2) VIDEO: Moment fisherman spots pod of orcas off Aberdeenshire coast
When Andrew McKenzie set off for work yesterday morning he thought it would be just another typical day.
But something happened that made it one he won't be forgetting in a while.
3) Video: Thrilling footage of orcas circling baby seal as it hides under North Sea boat
A terrified seal pup has been captured on film seeking shelter from a pod of killer whales by hiding beneath a boat.
The incredible footage was captured with an underwater camera by wildlife fans and brothers Vivian and Nigel Clark, who were out fishing.
4) VIDEO: Moment killer whale confronted terrified North Sea swimmer
A woman who swims in the sea near Lerwick every day has told of her "terror" at witnessing a killer whale emerge just five feet beneath her.
Catriona Barr took to the sea at Breiwick on Wednesday morning as usual, but her swim was cut short after she realised that a "huge" orca was in the water around one and a half metres below her.
5) VIDEO: Incredible footage shows killer whales seal hunting off Shetland coast
This incredible footage shows how killer whales stalk and hunt their prey even in the most picturesque of backdrops.
In the video, posted to Facebook by social media user Craig Nisbet, the creatures can be seen jetting around in the water before speeding up as they chase seals.
6) VIDEO: Lifeboat crew film killer whales playing near north east harbour
A lifeboat crew have captured stunning footage showing a pod of killer whales playing off the north east coast of Scotland.
The video shows at least three whales playfully swimming close to the Buckie lifeboat and not far from Buckie Harbour.
7) VIDEO: The incredible moment a lucky seal escapes from killer whale in North Sea
This is the moment a sleekit seal defies the food chain and escapes from one of the ocean's most deadly predators just as it started to attack.
The footage of the creature's daring escape from the encroaching jaws of a killer whale was captured by James Adamson at Levenwick, Shetland.