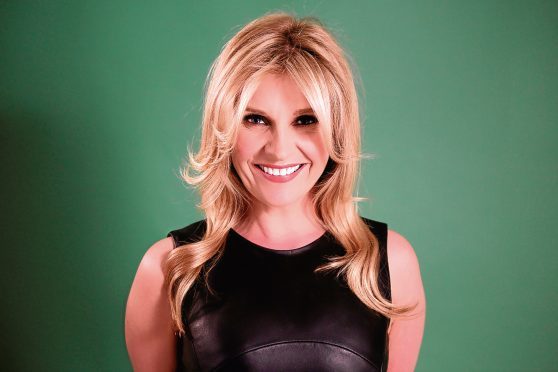 Yvie Burnett is more used to hitting the high notes than putting pen to paper, but the opera singer and vocal coach is heading in a new direction thanks to her first book aptly named "Yes, you can sing'"
It's a tempting accolade from the mezzo-soprano who has helped train the likes of Sam Smith and also worked alongside Simon Cowell and Gary Barlow, but does her latest work hit all the right notes?
The down-to-earth mother from Methlick launched her book earlier this week with the help of chum and former Countdown star Carol Vorderman, and she's hoping it will help people across the UK get in tune.
Be under no illusion that Yvie can turn tone-deaf into superstar however – even she admits she's not quite that good – but her top tips may be just the answer for those who can at least carry a tune.
From vocal exercises to keeping your voice in peak condition, Yvie believes that people need to realise that singing is in fact rather hard work, and she hasn't ruled out book number two!
"I think writing my column for The Press and Journal actually really helped because it was at least some practice at getting words down, but writing a book was certainly a mammoth task," she said.
"Once I sorted out the structure it wasn't as daunting, I had all these ideas floating around my head, so getting them in order really helped."
But can reading a book really make you a better singer?
"I kept thinking that writing a book is always something I would do eventually, and as an opera singer it has always been normal for me to think like an athlete," said Yvie.
"Athletes train to within an inch of their lives and it's a similar concept for opera singers, you really have to look after your muscles.
"I think there's this discrepancy when it comes to the approach of pop singers, however, who think they can just turn up and sing without really exercising their voices.
"I always use the comparison of Andy Murray because a similar work ethic is needed, he's one of the best in the world but he still has a coach.
"He's still taking advice and constantly trying to make himself better, which is something I do myself."
Yvie hopes people of all singing abilities will find her work a page turner, but says her book isn't aimed at those who are already trained.
"People often think that if you start using opera techniques then you'll go all la la la, but it's really not the case.
"Everyone has a different style, but you need the basics and that's where exercising your voice is really important.
"I don't think you can be taught to sing in the way that if you're tone deaf, you'll read my book and become a superstar.
"But if you can hold a tune then I can definitely help, it's just like having your own personal voice coach.
"Think of it as marathon running, you get better with practice, but if you're 80 and have never run in your life, then it's probably not going to happen."
Aside from the technicalities, Yvie believes that singing is good for the soul and champions local choirs.
"I started off at Haddo House choral and operatic society in Ellon and I think that's where I discovered my love of singing," she said.
"I come back to Aberdeenshire all the time and there are some brilliant groups in the area with people of all ages joining in.
"Attending a group can be brilliant for mental health whatever your age because it gives you a purpose.
"Even if you are feeling down, by the time you've finished your session you feel de-stressed and full of joy.
"Singing seems to be a universal thing which makes people really happy, you can even go and sing in church and it's brilliant to hear people singing loudly."
Yvie previously coached hopeful singers on The X Factor and has more recently been involved with Gary Barlow's hit show, Let It Shine.
She hasn't lost her Aberdeenshire roots to showbiz however, and believes tough guy Simon Cowell has mellowed since becoming a father to his son, Eric.
"I saw Simon not so long ago and I think to everyone who knew him well, it was of no surprise that he actually has a softer side, but the public didn't really get to see that in the early days of X Factor," she said.
"He had this TV persona where he was typically the bad guy, but I always loved working with him, and his softer side has gradually been revealed over the years.
"I used to take my children to rehearsals and he was always great with them, so it wasn't a big shock that he has taken to fatherhood so well.
"He also loves animals, dogs in particular, and I still get on really well with the X Factor team.
"It was a different experience working on Let It Shine because I worked with an all-male group as opposed to both sexes.
"The boys all got on really well, and although they were competitive, we had brilliant fun.
"Everyone worked so hard from the choreographer to getting the singing up to scratch, because the contestants obviously had to be of a Take That standard."
Yvie has no plans to return to the X Factor and is relieved her first book is out the way, having dedicated the last year to making sure her advice can benefit others.
"No one can ever know all there is to know about singing, and if you think you can get by without a coach you're very much mistaken," she said.
"Even top footballers have coaches and I benefit from refresher sessions.
"I think the launch was almost as stressful as writing the book; right after I finished I said I wasn't doing it again, but never say never."