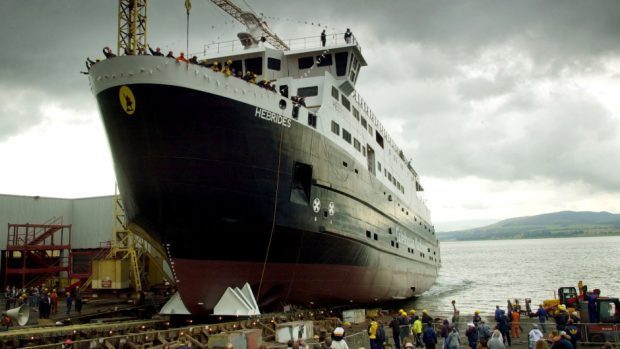 A screw which was not secured in position correctly contributed to a CalMac ferry running over mooring pontoons and grounding in the Western Isles last year.
Control of one of the MV Hebrides' pitch propellers was lost when the 326ft-long vessel approached the pier at Lochmaddy, North Uist, on September 25 last year.
None of the 45 passengers and 32 crew members on board were injured, but damage, estimated at £100,000, was caused to the ferry.
CalMac ferry crash: Experts arrive in North Uist to assess damage
A Marine Accident Investigation Branch, MAIB, report on the grounding, published today, described it as a "serious marine casualty".
It found it was highly likely that "stress and panic were significant factors" in reducing the 58 year-old master's awareness of the status of the propeller.
And there was also poor communication between the bridge and the engine room.
The Hebrides was approaching Lochmaddy when control of the vessel's port controllable pitch propeller, CPP, was lost due to a mechanical failure.
The report stated: "This was within a linear servomotor actuator in the propulsion control system, and a setscrew was not secured in position with thread locking compound.
"Neither the service engineer nor the ferry's engineers who inspected the actuator were aware of the manufacturer's instruction to secure the setscrew with thread locking compound when part of the actuator's coupling was replaced in March 2016."
It took the bridge team two minutes to realise that control of the port CPP had been lost.
By then, the ferry was less than 700 feet from the pier and was still making a speed of 10 knots.
It stated: "The crew's response to the loss of control was well intended but was un-coordinated because they were not sufficiently prepared or practised to deal quickly and effectively with the loss of pitch control in the confined waters off Lochmaddy."
The report also found that recommended upgrades to the propulsion control system to mitigate the consequences of a propeller control failure had not been implemented.
The MAIB recommended that Rolls-Royce Marine who provided the control system should ensure that service instructions are made available to engineers with documentation also provided to vessels.
And safety critical system upgrades received from manufacturers are properly documented and processed by CalMac with crews better prepared to deal effectively with propulsion failures.
A company spokesman said: "We note the MAIB's report which largely confirms the findings of our own investigation into the incident.
"Since the grounding in September last year we have put in place a number of processes to mitigate the issues raised and will continue to monitor these areas to ensure our procedures meet the highest possible standards and give our customers assurance that we take their safety very seriously."