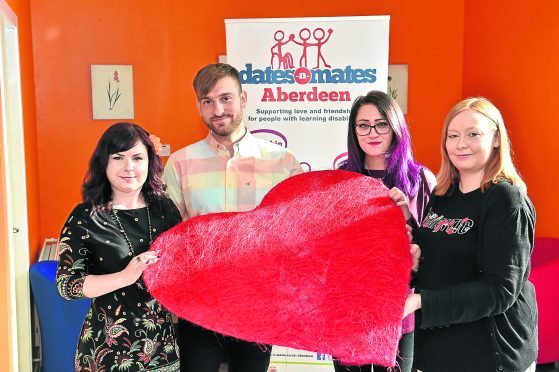 First dates: sweaty palms and awkward hellos before you embark on a nerve-wracking experience which could actually change your life.
Romantic cliches aside, whether you meet your life partner or don't quite feel that spark, dating can be difficult at the best of times.
Alongside all the usual worries of turning up on time and not spilling your drink, what is the dating world like for those living with a learning disability?
Learning disabilities can make it even more challenging to find love in the modern age; especially if you struggle with social interaction.
Even making friends can prove difficult and many people who have a learning disability can feel increasingly isolated in their search for a varied social life.
A charity project in Aberdeen hopes to tackle the struggle to make friends and find love head on however, and Dates-n-Mates promotes opportunities for people with learning disabilities in Aberdeen and Shire to form friendships, socialise with others, experience dating and find love.
The initiative has seen people of various ages and abilities embark on dating for the first time.
The national project is run by supported living charity C-Change Scotland, but has only been operating in Aberdeen for the last two years.
It is Scotland's very first National friendship and dating agency for adults with learning disabilities with projects also running in Glasgow and Renfrewshire.
Some staff members have learning disabilities themselves and there are also a variety of volunteering opportunities within the project.
With National Lottery funding secured for the future, the Aberdeen branch which is based in the city centre has recently run its own version of TV dating show Take Me Out.
Put together by five members of staff, the event was a major success and some couples are now embarking on their third date.
The team provides support on every level, from organising days out to sitting in on dates for moral support.
For Piotr Wojtalewski, who is a project development and volunteer coordinator, Dates-n-mates is an incredibly rewarding experience and he confesses in sharing the excitement of members following a successful date.
He has attended cinema trips and meals and also provides dating tips from starting conversation to saying good bye.
With his easy-going nature, Piotr clearly adores his job and believes some members only need a small level of support before a friendship or romance is on the cards.
"Sometimes I'm not needed at all and the couple will actually tell me to go and sit on another table, I'm more than happy to oblige," said Piotr.
"It really is amazing to see members hit it off on a date, quite often they haven't dated before so this is a major step forward for them.
"I think there was a real need in Aberdeen for something which could focus on a dating aspect as well as general social events.
"You can't force people to fall in love but we provide the opportunity to at least give dating a try, and we do a lot of interactive exercises during our trainings for members.
"We have a training called 'What to say after hello' and it helps members to improve their social and communication skills.
"I love going on the dates and social events and seeing members grow in confidence, it's wonderful.
Anyone over 18 years old, who has a learning disability is eligible for membership with dates-n-mates. All they need to do is to provide two suitable references and attend an informal interview with a team member to see if the project is right for them.
For Rosalind Hawkey, the group has completely changed her life as she had never dated before joining ,despite keeping busy with social activities.
At 39, she is due to go on her second date and her sheer exuberance is infectious.
An outfit has been carefully chosen and Rosalind believes her suitor, who she met on the Take Me Out night, may tick all the right boxes.
Piotr will accompany the couple to the cinema and they'll decide what to see on the day so as to avoid any anxiety.
"I honestly can't explain how excited I am, Dates-n-Mates has changed my life completely," said Rosalind.
"I did a lot of activities before joining but nothing that led to dating, I wanted to date but I didn't know where to start."
When asked about her learning disability, Rosalind grows quiet and stares into the middle distance with her hands carefully folded in her lap.
She has told herself year upon year that it is simply not possible to date, that her mental health problems will prevent her from finding love.
"In my eyes there is so much wrong with me, I have bipolar disorder, epilepsy, and I also suffer from depression," she said.
"It can make dating and my life in general really difficult, but when I come to Dates-n-Mates I feel normal.
"I don't think about my problems and I can actually believe that I have a brilliant personality and a lot to offer someone
"The gentleman I'm going on a date with tomorrow ticks all the right boxes, we matched with each other so I've got high hopes."
But regardless of whether Rosalind finds love, she will keep coming to the events of which there are at least four each month.
"The thought of having someone in my life keeps me going," she said.
"I want to be loved and to love someone back, that's really important to me."
Fellow member Paul Stratton shares a similar sentiment, and had never dated before joining Dates-n-Mates.
He often brings along his support worker, Christopher Pirie, who also attended Paul's very first date.
Paul has autism and can struggle in social situations.
Body language and making eye contact is particularly challenging, but he is gradually blossoming in confidence.
"I've been coming to Dates-n-Mates for a year because I wanted to meet new people, and I haven't been able to do that in the past," he said.
"I'm 30 but I've never dated, now I can say I've been on my first date and I actually enjoyed it.
"I'm pretty open when it comes to what I'm looking for, I'd like a girlfriend though and I think I want to find love.
"Everyone is equal here and I don't talk about my autism, the group has changed everything for me."
Paul regularly turns to Christopher as he talks, looking for guidance and reassurance.
But in the eyes of his support worker, Paul can stand on his own two feet.
"He has been coming to Dates-n-Mates for the entire period in which I've been working with him, and it has been pretty fun to go along and seem Paul really push himself to find love," said Christopher.
"I think this is an amazing service which has given Paul a focus in life."
Alongside date nights there are also group trips, as many members have not ventured out of Aberdeen before.
Other events include bowling, discos, shopping, meals out, and other dating events.
"This isn't the normal 9-5 job but we provide a service which was very much needed in Aberdeen," said Piotr.
"Members start off saying they want to meet friends and then after a while, they want to start dating.
"I'm not sure I'm a dating expert but helping people to find love is the most rewarding experience."
For more information, contact Dates-n-Mates on 01224 974730 or e-mail dnmaberdeen@ c-change.org.uk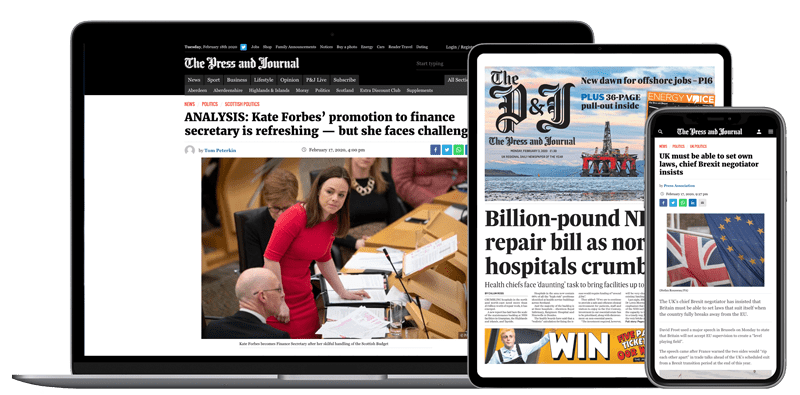 Help support quality local journalism … become a digital subscriber to The Press and Journal
For as little as £5.99 a month you can access all of our content, including Premium articles.
Subscribe