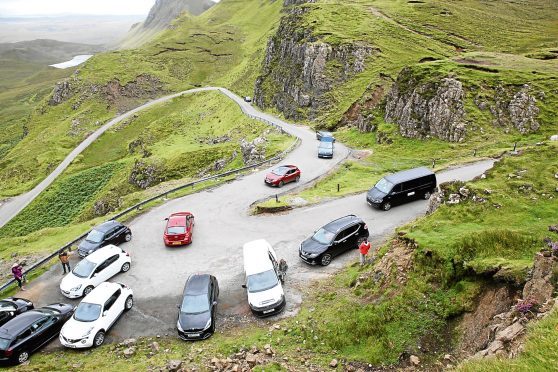 The Scottish Government will today announce plans to create a new tourism taskforce to help Skye cope with rising visitor numbers.
Tourism Secretary Fiona Hyslop will reveal the move at a summit on the island – saying the group would aim to secure a "successful and sustainable future" for the vital industry.
Chaired by Highlands and Islands Enterprise (HIE), the strategic taskforce will include representatives from Highland Council, VisitScotland, the police, and Scottish Natural Heritage, as well as local community and business figures.
It is understood it will be similar to a working group set up to oversee the hugely successful North Coast 500 driving route, and would first aim to identify specific problems, before drawing up an action plan to address the issues.
More than 150,000 tourists now visit Skye each year, with the rate rising by about 5% annually as visitors flock to famous beauty spots such as the Fairy Pools, Neist Point lighthouse and the Old Man of Storr.
But the impact on local infrastructure was thrust into the spotlight this summer amid complaints about overflowing car parks and congested single-track roads, as well litter and visitors are going to the toilet in the open.
It even prompted controversial calls for a "tourist tax" to be introduced, but local business leaders have been keen not to discourage tourists from making the trip.
Today's tourism summit at the Sabhal Mor Ostaig college was arranged to discuss the concerns, and Ms Hyslop will also use her visit to meet local community representatives at the Fairy Pools.
Revealing her plans for the new group last night, she said: "The new strategic taskforce's priority will be to assess the impact of tourism on Skye and to take action to ensure it benefits communities and businesses while providing the best possible visitor experience.
"I am pleased that the group will include key public sector interests, alongside representatives from the industry and local community.
"I am sure this collaboration and partnership working will help ensure a successful and sustainable future for tourism on the island."
The move follows suggestions in recent weeks that Skye could help attract funding for improvements to facilities for tourists with a "World Heritage" or "Geopark" status from Unesco.
Community surveys reveal massive pressures on popular part of Skye
Last night, Highland Council leader Margaret Davidson said: "I am pleased to see the idea of a tourism taskforce for Skye and hope that one of the local elected councillors for Skye will be on that taskforce, as they have been imaginative and energetic in bringing forward ideas and support," she said.
"I also look forward to the cabinet secretary's reply to my recent request for a meeting so that we can discuss the formation of a Highland Taskforce for Tourism, as the issues emerging on Skye are applicable across the region and also need dedicated attention."
Anna Miller, HIE's head of tourism, said: "It is important that tourism provides a  positive experience for communities and local businesses as well as the many visitors who come here.
"There is a great deal of collaboration ongoing in that respect, through for example the Community Planning Partnership and groups such as Skye Connect. This new strategic group should be an extension of this existing collaboration and assist in tackling some of the challenges associated with tourism such as pressures on infrastructure and services."