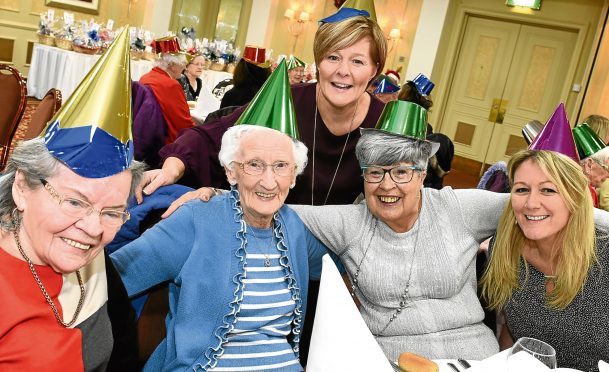 Laughter was shared and stories exchanged as a group of pensioners enjoyed a break from loneliness with a moving festive gathering yesterday.
Several of the 55 people who attended Contact the Elderly's charity lunch at Aberdeen's Marriott Hotel face the bleak prospect of spending Christmas Day alone.
The organisation arranges monthly tea parties for north-east residents who are older than 70 and at risk of social isolation.
It staged yesterday's event to bring some Christmas magic to people who won't share the season with friends or family.  Contact the Elderly organiser, John Gall, said: "Some of our members won't get a Christmas lunch, and some of them won't get any presents as they don't have family.
"This is to give them an experience they would otherwise have missed out on."  Mae, 77, has health problems which prevent her from getting out and about or driving, but revealed the charity had brightened up her life since joining earlier this year.
She said: "It's wonderful having people to speak to, I don't think anyone really wants to be alone."
Anne, 91, added: "I don't have any plans for Christmas Day, so this is my outing and I have really enjoyed it."
Altens-based 88-year-old, Anna, said: "You're never too old to meet new people, and everyone I have met through this has been so nice."
The Press and Journal has teamed with Contact the Elderly for its Share the Cheer campaign, encouraging readers to spend time with lonely neighbours, friends or relatives. The charity's volunteers donate a few hours every month by picking up pensioners and driving them to tea parties, which are generally attended by about six people and take place at different homes.
Approximately 40 of the drivers also attended yesterday's uplifting bash and mingled with the friends they have made through the project.  Laura Taylor, 29, has volunteered for more than three years, after seeing an advert for the charity.  She said: "It is nice to give something back, and I love doing it. The older people all have funny stories, about how things used to be.
"Growing up, my mum and dad used to invite our next door neighbour in for Christmas dinner, so Share the Cheer is something I hope people think about over the next few weeks."
Fellow volunteer, Debbie Knorz, added: "I always thought older people could be neglected, and suffer loneliness, so this is a good thing to do." Guests donned shiny Christmas hats as they tucked into a hearty lunch of soup, roast turkey and cheesecake.  They were serenaded by the Aberdeen Gaelic Choir and married folk duo Peter and Lynne Saunders.
Many guests sang along with the choir, and some even played instruments like tambourines and bongo drums to accompany Mr and Mrs Saunders.  Hampers packed with treats were donated by the EthosEnergy turbine company and handed out as guests left.
The firm's Shona Campbell said: "We were delighted to be able to support this excellent charity and bring a smile to people's faces."